College football: Week 2 boasts wild wins and gut-wrenching losses
Like the first week of action, Week 2 of college football delivered with down to the wire games, rough performances, and emotional comebacks.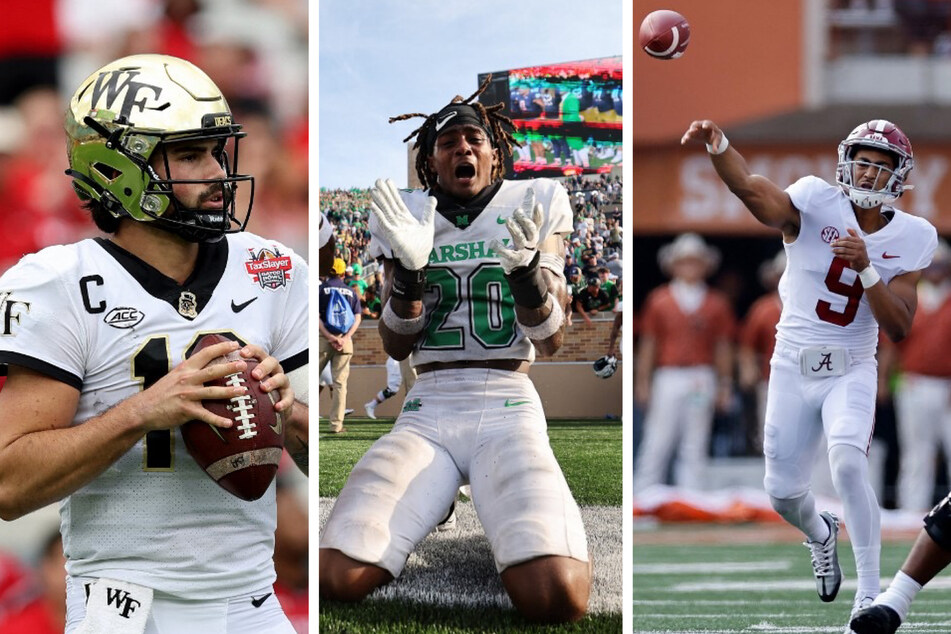 The second week of the 2022 college football season continued to shock football fans around the country.
In the week's headlining game featuring Texas vs. Alabama, the Longhorns nearly pulled off an incredible upset against the top-ranked Crimson Tide despite losing their quarterback Quinn Ewers to a clavicle sprain in the first half. But ultimately, the Longhorns fell short in one of the most-watched games of the week.
Following the mid-afternoon headliner, Marshall University celebrated after a stunning upset against eighth-ranked Notre Dame, leaving the Fighting Irish fighting for more than their namesake.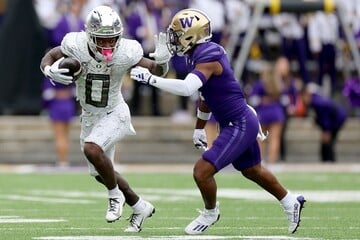 Here are the most jaw-dropping wins, losses, and notable moments from Week 2 of college football.
Week 2's biggest wins: Marshall tackles Notre Dame out of the rankings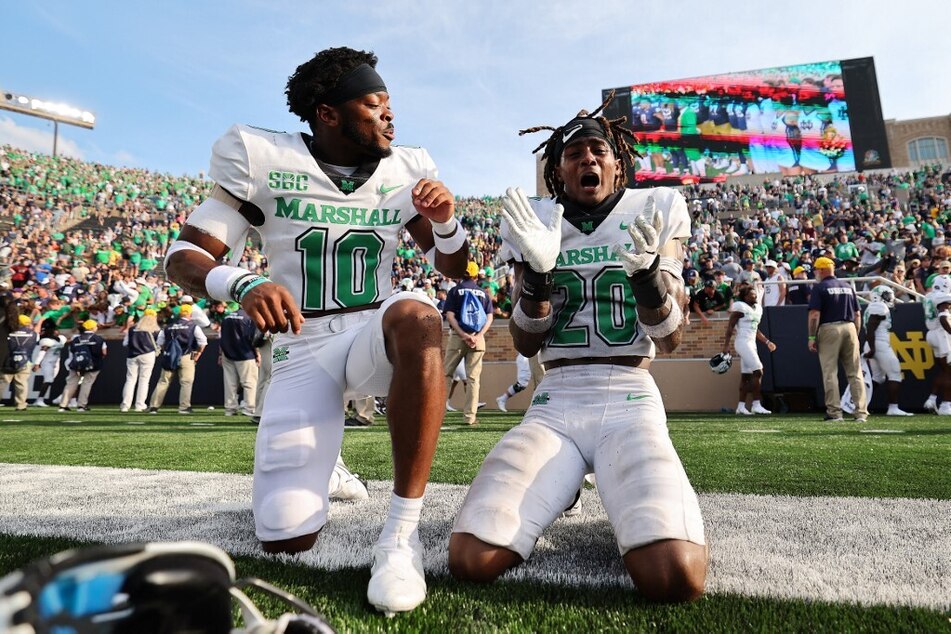 A week after losing their season opener in Columbus, the Notre Dame Fighting Irish ended their first home game in shocking style with a 26-21 loss against the unranked Marshall Thundering Herd on Saturday.
Adding insult to injury, Marshall won without their best player in running back Rasheen Ali, who's been sidelined until the second half of the season for undisclosed reasons.
Ali's backup, Khalan Laborn, led Marshall with 163 rushing yards and a touchdown, while the Thundering Herd's chief quarterback Henry Colombi completed 16 of 21 passes with one for a touchdown and no interceptions.
Defensive end Steven Gilmore continued to dominate over the Irish, picking off Notre Dame's QB Tyler Buchner's pass and returning it for a 37-yard touchdown to give the Herd a two-score lead in the fourth quarter.
Notre Dame's head coach Marcus Freeman became the first coach in program history to start his tenure 0-3. For the first time since 2017, the Fighting Irish are now unranked following their disappointing loss.
With their statement win, the three-touchdown underdogs Marshall Football will take their talents to Bowling Green on September 17.
Week 2's biggest loss: Texas nearly defeats Alabama by the skin of their cleats
One of the most exciting matchups of Week 2 concluded in one of the most nerve-wrecking and disappointing ways.
In what was supposed to be an easy win against the unranked Longhorns, the Crimson Tide squeaked past Texas in a 20-19 nail-biting victory.
Heisman Trophy winner Bryce Young delivered a clutch last-minute drive to set up Alabama punter Will Reichard's game-winning field goal as the clock expired.
But for the first time in Nick Saban's era of coaching, Alabama's offense looked rattled and shaken at the Longhorns' home field of Darrell K. Royal-Texas Memorial Stadium.
The Crimson Tide's offensive line noticeably struggled against Texas, and its award-winning receivers also struggled to create separation against a ruthless Texas defense.
"Them boys are gonna have a tough practice on Monday," former Ohio State linebacker Derrick Malone told TAG24 about Alabama's performance. "I don't know if they [Alabama] felt they were under pressure or if Texas [was] really outplaying them. Either way, that was not a Nick Saban team that went out there on Saturday, and [Saban's] gonna make sure that's the last time we see a team perform like that under him."
Even more surprising, the Crimson Tide committed 15 penalties alone for for 100 yards – the most ever by a Saban-led team.
As for the Longhorns, the mullet-rocking star quarterback that is Quinn Ewers might be just what Texas needs. Ewers came out of the gate with poise and confidence that garnered him and the Longhorns a great deal of respect by football fans and experts alike.
Keeping the Crimson Tide on the heels of their cleats, Ewer was nine of 12 for 134 yards in just one quarter while creating two scoring drives before he left the game with an injury.
Week 2's most notable moments: Wake Forest's Sam Hartman makes an emotional return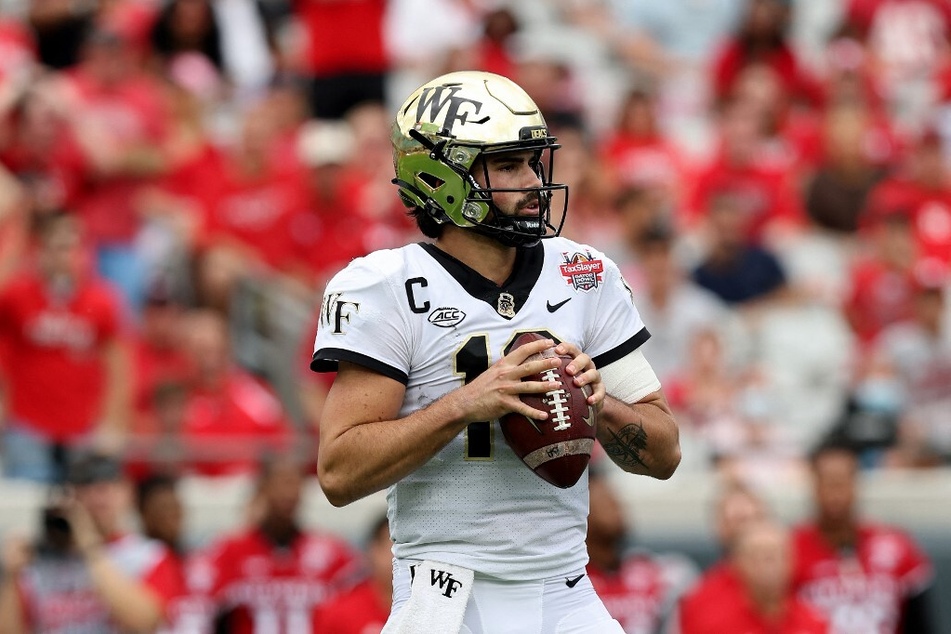 Last year, Wake Forest's starting quarterback Sam Hartman accounted for 50 touchdowns and helped bring the program to the top of the ACC's Atlantic Division.
But in August, Hartman suffered from a medical issue that was later revealed to be a blood clot, which sidelined him indefinitely.
Originally, there wasn't a timetable given for Hartman's return. But heading into the second week of football, the Deacons received word their offensive chief would be medically cleared to play against Vanderbilt.
As hoped, the record-setting quarterback returned in style.
In Wake forest's breezy 45-25 victory over Vandy, Hartman completed 18 of 27 passes for 300 yards and four touchdowns. He even contributed a key block for his teammate Quinton Cooley's 24-yard touchdown run.
Following Hartman's emotional comeback, the 23-year-old earned the conference honor of ACC Quarterback of the Week on Monday, and was named to the Davey O'Brien Great 8 and Manning Award Stars of the Week lists.
With Hartman settling into his role as starting QB, the 23rd-ranked Deacons are officially a contender in the ACC again.
Next up, Wake Forest will host Liberty University on September 17 at 5 PM ET.
Cover photo: SAM GREENWOOD / Michael Reaves / Tim Warner / GETTY IMAGES NORTH AMERICA / Getty Images via AFP