Tua Tagovailoa gets benched after head injury controversy
Miami, Florida - The concussed Tua Tagovailoa has been ruled out of playing in the Miami Dolphins' upcoming Week 5 game against the New York Jets on Sunday.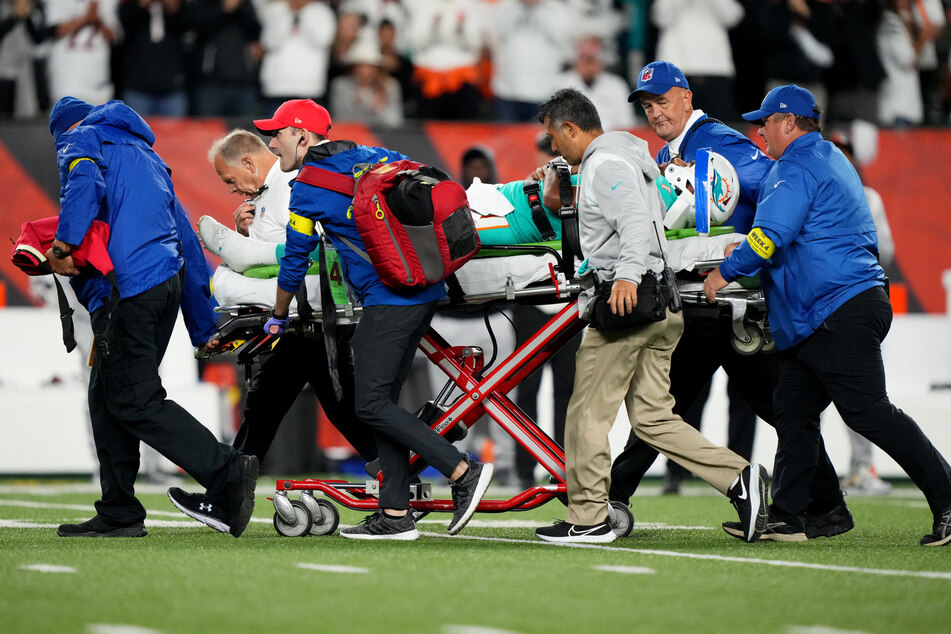 After coming under significant scrutiny for the handling of Tagovailoa's Week 3 injury and then the concussion he suffered four days later, Dolphins coach Mike McDaniel decided to make it clear on Monday that his starting quarterback won't be suiting up this weekend.
McDaniel told reporters it's still too early to formulate a timeline for when Tagovailoa could return.
Teddy Bridgewater will instead start against the Jets after completing 14-of-23 passes for 193 yards with one touchdown and one interception while relieving Tagovailoa in Thursday's 27-15 loss at Cincinnati.
Tagovailoa was hospitalized in that game after being whipped around and flung to the ground by the Bengals' Josh Tupou, causing his head to snap back onto the turf.
He then laid flat on his back with his hands in front of his face while his fingers bent at awkward angles in a "fencing response" caused by a traumatic blow to the brain.
He was diagnosed with a concussion and McDaniel said he had a headache Thursday night and Friday morning.
Tua Tagovailoa will not play with the Miami Dolphins this week after their response to his injury
The Dolphins have been heavily criticized for having Tagovailoa on the field for that game after what transpired on September 25 in a 21-19 win over the Buffalo Bills.
After being pushed to the ground by linebacker Matt Milano, Tagovailoa's helmet slammed into the turf. He managed to get back on his feet quickly, but after shaking his head and looking woozy, he appeared to lose his balance as he stumbled back to the ground.
He went to the locker room to be assessed by the team's medical staff, with the team announcing a head injury that made him questionable to return. He only missed three snaps, however, returning for the start of the third quarter – a decision that prompted the NFL and National Football League Players Association to conduct a joint review of how the decision was made to allow Tagovailoa to return.
McDaniel maintained, however, the proper protocols were followed and that Tagovailoa was cleared by the team and the independent neurologist.
The neurotrauma consultant who evaluated and cleared Tagovailoa was fired by the NFLPA on Saturday.
Cover photo: USA TODAY Sports