Austin FC shows growth in historic win over Inter Miami CF
Austin, Texas – Austin FC showed up and showed out yet again on Sunday with a resounding 5-1 victory over Inter Miami CF that broke another MLS record.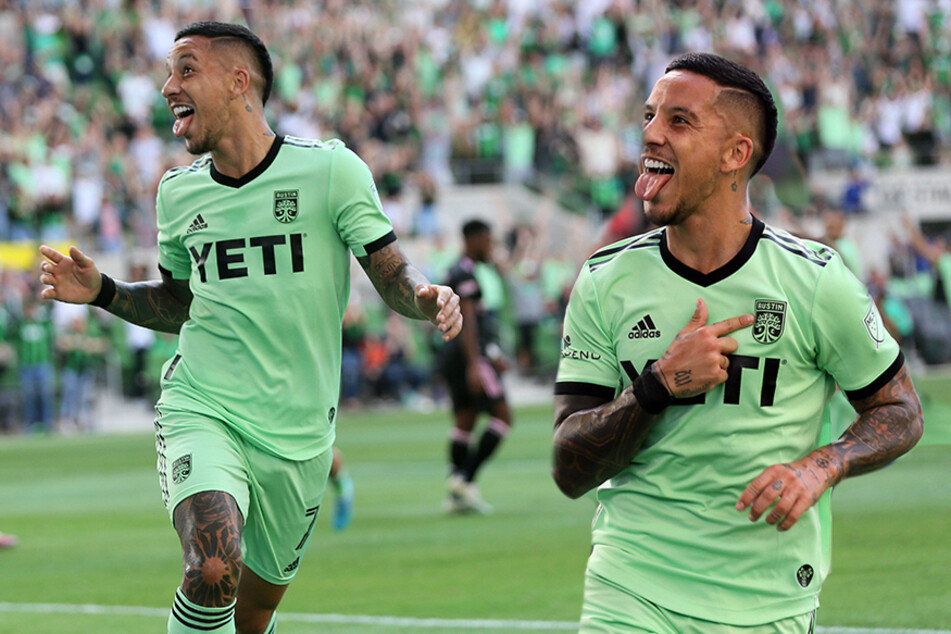 Playing against a team like Inter Miami CF that's looking to bounce back after a less-than-stellar performance last week can have its challenges.
But with Austin FC coming off a historic 5-0 win against a disheveled FC Cincinnati in its home opener on February 26, the Verde and Black was prepared to show fans it wasn't a one-off win.
With a strong starting lineup that featured the likes of goalkeeper Brad Stuver, captain Alex Ring, newcomer Kipp Keller, Diego Fagúndez, Sebastián Driussi, and Cecilio Dominguez, things got off to a relatively quiet start.
A few no-calls led to a near open shot on goal by Maxi Urruti, until the referee decided to blow the whistle for a call against him, leading to a few thousand boos from Austin FC fans at a packed Q2 Stadium.
Once Austin FC got on the board thanks to a goal by Sebastián Driussi – who was named the player of the match – there was little to nothing Inter Miami could do to slow them down.
With a final score of 5-1, Austin FC not only secured its second win of the season, but the club also racked up the most goals in the first two games of a season by any team in MLS history with 10 total.
If the disorganization of both FC Cincinnati and Inter Miami shows anything, it's that Austin FC's work in the offseason is paying off, throwing opponents for a loop that's created back-to-back wins for the Verde and Black.
Racking up goals at Q2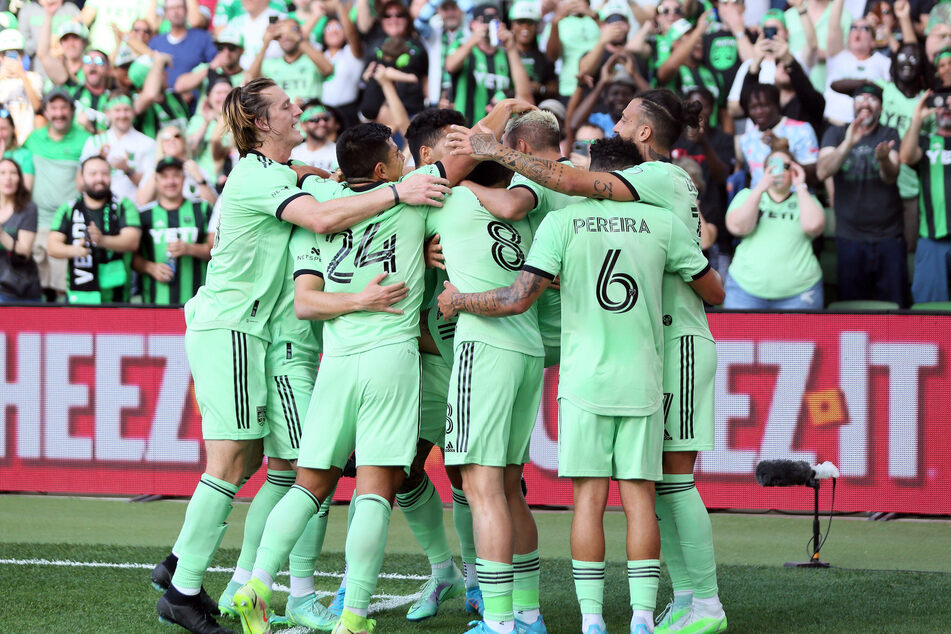 Seeing countless shots on goal during Austin FC's second showing of the season is a welcomed change to many of the club's performances in its inaugural season.

That's not to say Austin FC put on a perfect showing of soccer on Sunday. Compared to last week's display that saw points on the board within the first two minutes, the team seemed a little lost in the first few minutes of play.

Nearly 22 minutes into the first half, a cross by Fagúndez that nearly went out of bounds was sent to the back of the net with the help of Driussi, giving Austin FC a 1-0 lead.
Three minutes later, a poorly planned free kick led to several passes back and forth until a header by Julio Cascante led the Verde and Black to a 2-0 lead over Miami.
Fagúndez's hesitation to take a shot on goal nearly cost Austin FC on Sunday, but a swift pass to an alert and goal hungry Driussi brought the Verde and Black to 3-0.
Before fans could finish celebrating his brace, Inter Miami's Leo Campana caught Austin FC's back line off guard, thus putting Miami on the board.
Once the Verde and Black found their footing, it was near impossible for Miami to stand in its way as Finlay joined the party at the 64-minute mark, securing his first goal with the club and bringing the score to 4-1.
With seconds left in regulation, Finlay struck gold yet again, securing the brace and another victory for the Verde and Black with a final score of 5-1.
Josh Wolff and Brad Stuver sing Driussi's praises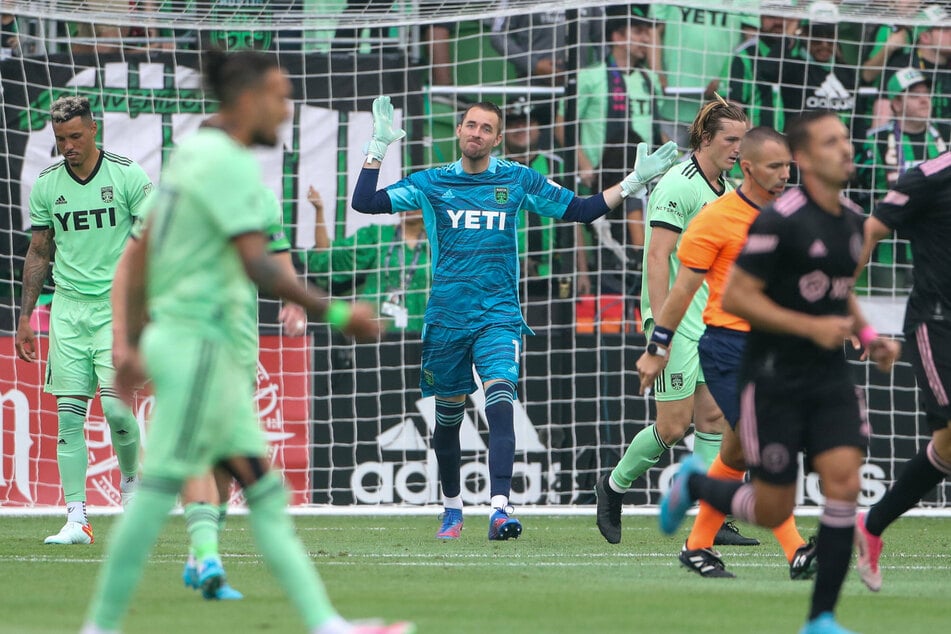 Following the match, Austin FC's head coach Josh Wolff spoke to the press about the on-field performance by the club and the hunger that's driving the players, including Driussi.
According to Wolff, Driussi sets the bar for what it means to be a star player in the league.
"His work ethic, his charisma, his quality is impeccable," Wolff said, adding, "He has such a hunger to move the attack, and we're certainly pleased to have him."
Given that the first two games of Austin FC's second season have been at home means the Verde and Black have yet to play without a home-field advantage, which is something that's not lost on Wolff.
"We're playing at home, [and] our expectation is to win," Wolff said, adding that the goal is to keep building the already impeccable energy at Q2 Stadium so that it's nearly impossible for a visiting team to win or even think straight while on the pitch.
Speaking further on Driussi's impact for Austin FC was Stuver, who said, "Just knowing that [Driussi] is gonna be working his butt off for 90 minutes kind of makes everyone else do the same."
As for taking more shots on goal, Stuver noted that it was something the team collectively addressed following its inaugural season, adding that they wanted to create more high-quality opportunities to get the ball in the back of the net.
"We know what we need to do, and now we get to layer things in," Stuver said of lessons learned In the off-season, adding, "varying the way we attack was a big thing, and it's paid off."
The party continues at Q2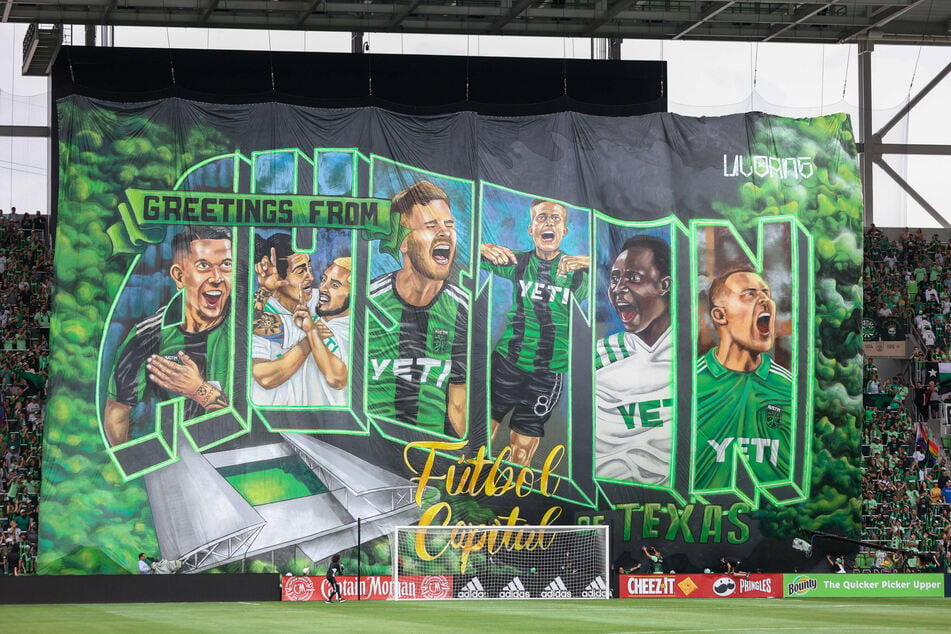 Before kickoff, the supporters' section got the tifo treatment. Though this was supposed to take place at the home opener, rather wet and chilly weather forced the display to be moved to week two's matchup against Inter Miami CF.
The tifo itself showcased paintings of various Austin FC players that read, "Greetings From Austin, Fútbol Capital of Texas," kicking things off the right way.
Although there were several moments in the game where the fans let their emotions and true feelings about the referee's calls – or lack thereof – shine through with resounding boos, La Murga de Austin Capos did their best to redirect the negatives into positives and keep things jumping.
It would be great to see the energy that's widely present in the supporters' section take over all of Q2.

With such stellar soccer taking place on the pitch this season, it's not far off to assume it'll happen sooner than later in year two.
With Austin FC's sterling performance on Sunday, it seems the only place for this team to go is up.
The Verde and Black will head to the Northwest next to face off with the Portland Timbers on March 12 at 9 PM CST.
Cover photo: Collage: IMAGO/Icon SMI