What were the most popular baby names of 2022?
With the new year settling into 2023, it's time to look back at just what stood out from last year, and the legacy it will carry on. What were the most popular baby names of 2022, and what naming trends are sticking around?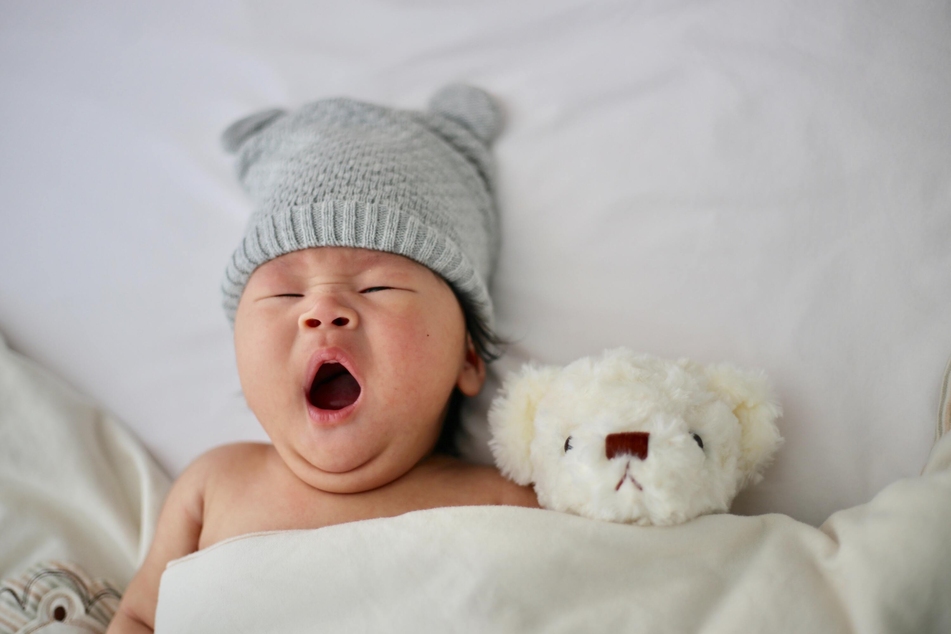 Babies are darn-well cute, but many parents need to remember that this little human will grow into an adult soon enough.
Naming conventions and trends are important because they are part of our society's evolution and identity. The biggest names of the year – just like the words of the year – are clearly a sign of the times.
So what names were all the rage in 2023, and what do they say about us?
In this guide to baby names, TAG24 takes a look at the most popular names of 2022. What were the biggest trends, both in the USA and across the world?
Let's dive in to find out.
Top baby names of 2022: The best, the worst, the ugly
As we all know: an individual's name is part of their identity, and wasn't their choice. As parent's get more and more creative, we're breaking down into the most popular girl, boy, and gender-neutral names of 2022.
Let's talk about the data:
The US Social Security Administration (SSA) is the authoritative source for baby name census data, but have yet to release the official 2022 standings. Of course, the 2021 data is available, which may give a jumping off point.
As a result, we've taken a look at some of the top online aggregators - chiefly Baby Names and Baby Center. Both of these have listed the top baby names provided to them by their respective audiences.
We've taken these numbers to form our own list based on the cumulative data available, as well as the 2021 baby name data provided by the SSA.
Just so you know: Once the SSA releases the official 2022 numbers, which they usually do within the first quarter of the following year, we will update this list.
Most popular girl names in 2022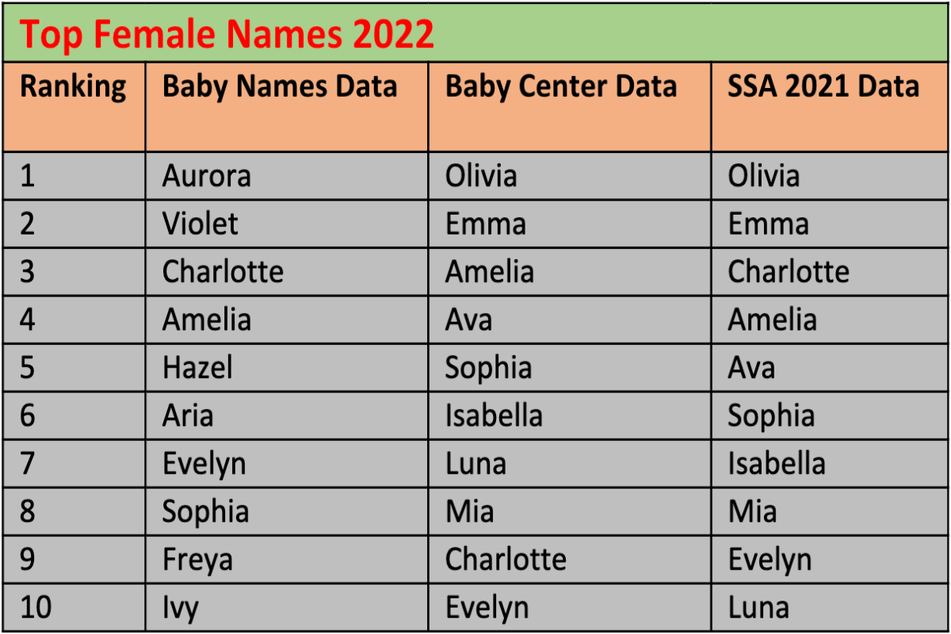 There are many similarities between 2021 and 2022 in terms of the most popular female names. It is clear that, between both years, the names Olivia, Emma, Charlotte, and Amelia have all been extremely popular.
Combining the most popular predicted by Baby Names and Baby Center, and comparing it to the SSA Data, these are the most popular girl names in 2022:
Number 1: Olivia
Number 2: Emma
Number 3: Charlotte
Number 4: Amelia
Number 5: Ava
Number 6: Sophia
Number 7: Isabella
Number 8: Evelyn
Number 9: Luna
Number 10: Mia
Most popular boy names in 2022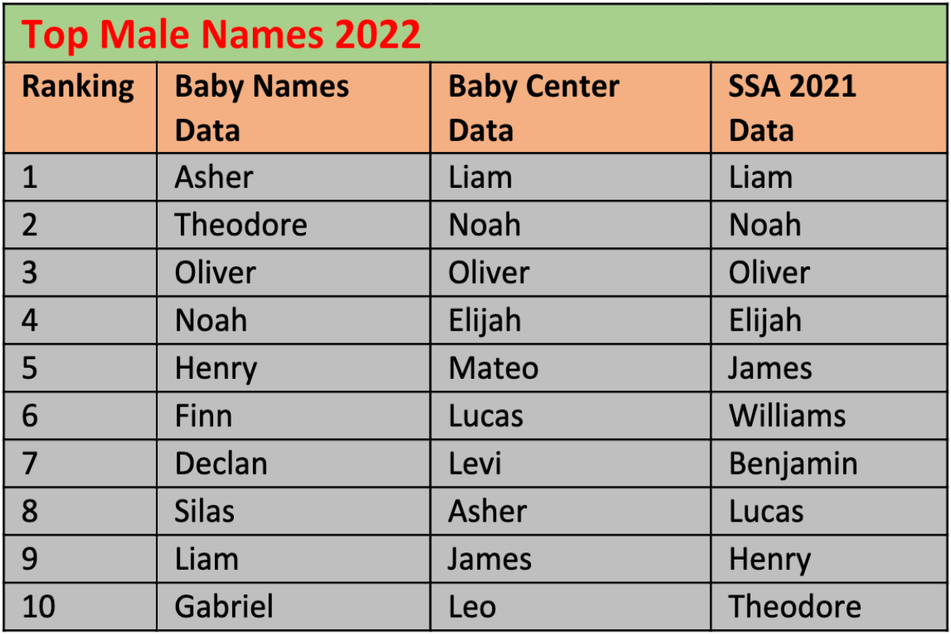 There are some real classics on the 2022 list of most popular male names. From babies named after biblical characters, to those reminiscent of Dickens, there's actually quite a variety on display.
Just as with the year's female names, we have compiled two reliable sources (shown above) and compared them to publically available SSA data. As a result, here are the most popular male baby names in 2022:
Number 1: Liam
Number 2: Noah
Number 3: Oliver
Number 4: Elijah
Number 5: Asher
Number 6: Lucas
Number 7: Theodore
Number 8: Henry
Number 9: Mateo
Number 10: Finn
There are some great names here, but it's interesting to see that the world's most popular male named didn't get much love in 2022. More on that below.
Keep in mind: There were tons of popular gender-neutral baby names in 2022 as well. Some highlights include Willow, Riley, Luca, Quinn, and Rory.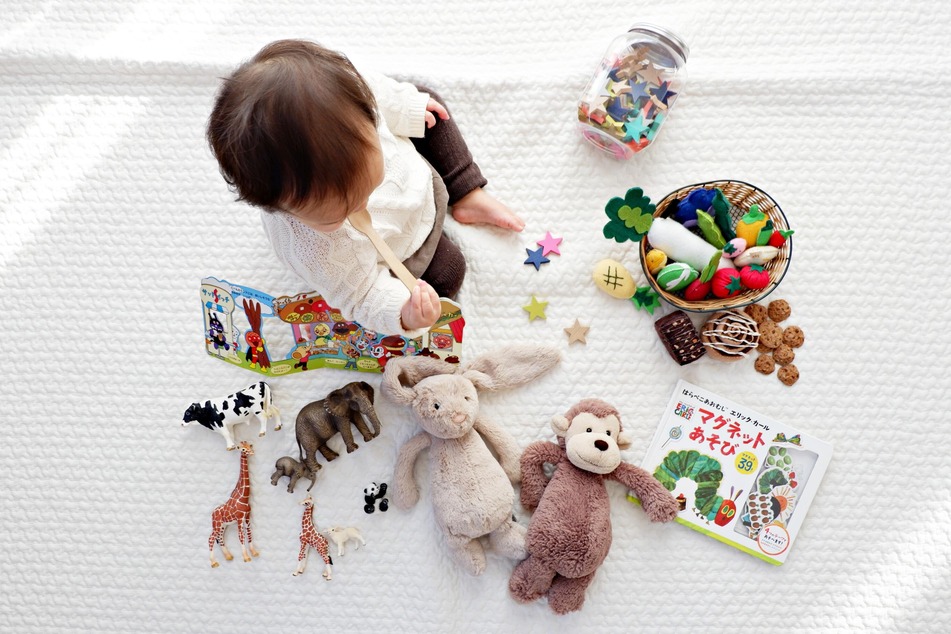 What is the most common name in the world?
The most common name in the world is often split between Maria and Mohammed because it is rather difficult to determine exact numbers. According to Forebears, the most common names in the world are Maria, Nushi, and Mohammed, with an incidence of 61,134,526, 55,898,624, and 45,652154 people, respectively.
If we are talking about the US specifically, the numbers are a little more clear. The most common name in the US, according to the US Social Security Administration, is James (male) and Mary (female), given to 4,663,035, and 3,124,584 people, respectively, born between 1922-2021.
2022 brought some interesting names
It's nice to see a bit more of a variety in last year's selection of most popular baby names. From Noah to Charlotte, Liam to Olivia, and Oliver to Emma, it's clear that a variety of both seemingly older – think bible and monarchy monikers - and newer names have come into popularity in 2022.
The top titles have set the stage for an exciting year of more new baby names to come.
Cover photo: Unsplash / Minnie Zhou