HarperCollins Union "takes it to the top" at News Corp building with picket line
New York, New York - The HarperCollins Union rallied outside the News Corporation building and held picket lines in an effort to take their demands for a fair contract to the top!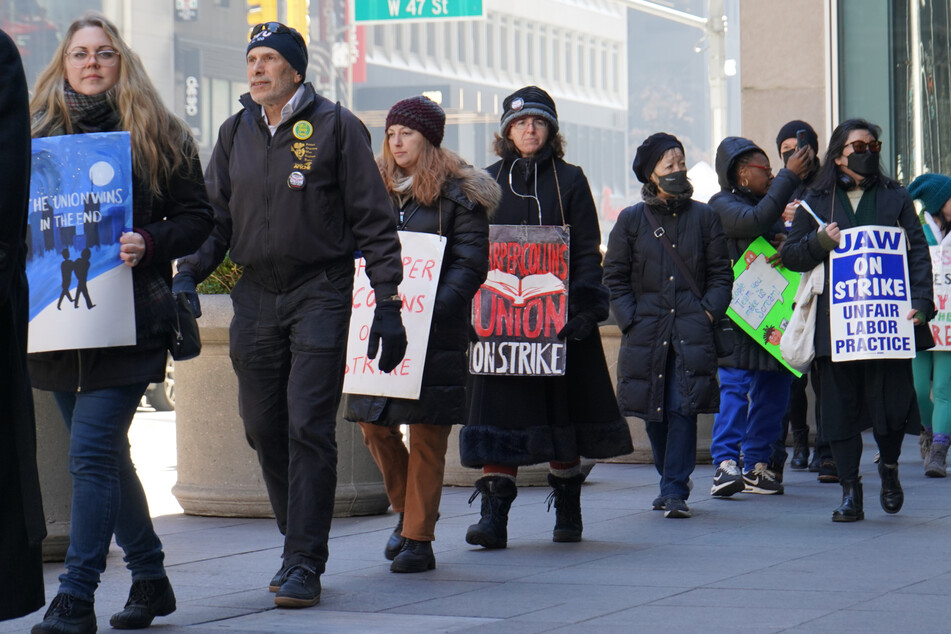 Thursday marked the 61st day members of United Auto Workers (UAW) Local 2110, also known as the HarperCollins Union, have been on strike.

Since December 2021, the union, which represents nearly 250 employees at the company, has been bargaining for a new contract with HarperCollins.
Unfortunately, the company initially refused to meet the union's demands, which included a livable wage starting at $50,000 per yer, union security rights, and a further commitment to diversity, equity, and inclusion initiatives.
Workers began an indefinite strike on November 10, and they continue striking without pay to this day.
The publishing giant recently agreed to enter mediation with the group, but the union is continuing its fight to ensure HarperCollins knows they mean business.
Union members and allies met up in the courtyard of the News Corp building in midtown Manhattan, the site of HarperCollins' parent company.
They were joined by supporters, activists, other union groups, and local officials, demanding that their voices be heard and for their chants of, "What do we want? CONTRACTS! When do we want 'em? NOW!" to finally be taken seriously.
HarperCollins workers demand a seat at the bargaining table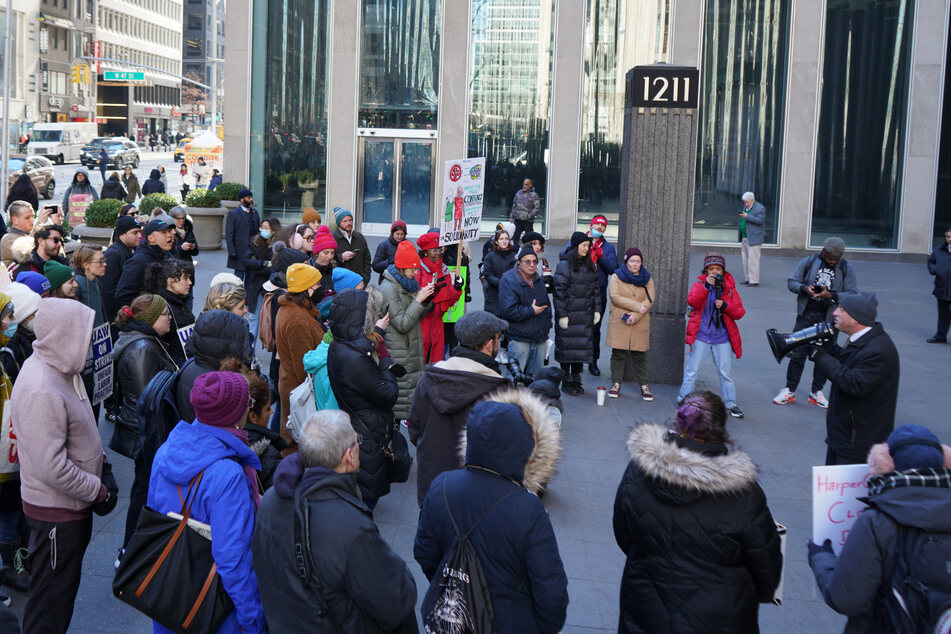 HarperCollins Publishing (HCP) is reportedly the second-biggest trade publisher in the US. News Corp acquired publishing companies Harper & Row and William Collins in the late 1980s and merged the two, forming HarperCollins in 1990.
HCP has spent the past 25 years growing by acquiring companies across the world, which CEO Brian Murray says has "greatly expanded our international footprint."
Despite this growth, workers jobs are still at risk. At the end of January, Murray announced the company would be cutting 5% of its staff across the nation.
The HarperCollins Union is fighting for protections not just for union members, but all employees – even those that don't pay dues.
In order for their demands and concerns to be taken more seriously, the union will need a seat at the bargaining table.
Fortunately, their efforts have not gone unnoticed by local officials.
In December 2022, an open letter from prominent New York State senators was sent to Murray, urging him to "come back to the table and negotiate in good faith" with the union.
Senator Jessica Ramos, who signed the letter, also attended Thursday's rally to show her support and urged the union to continue their fight. Comptroller Brad Lander also shared a few words, describing the union as a role model for future generations of workers.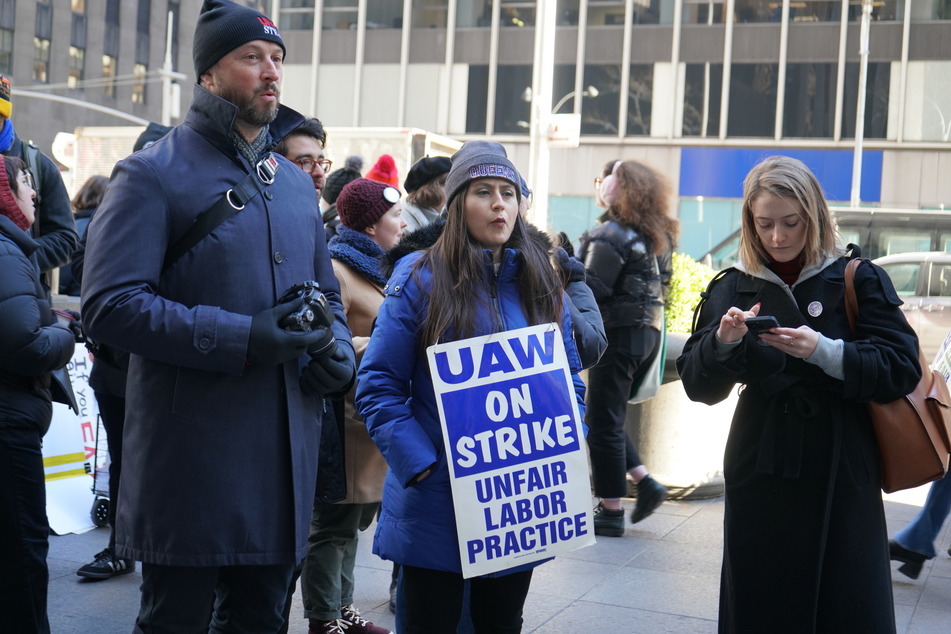 Striking workers want to return to work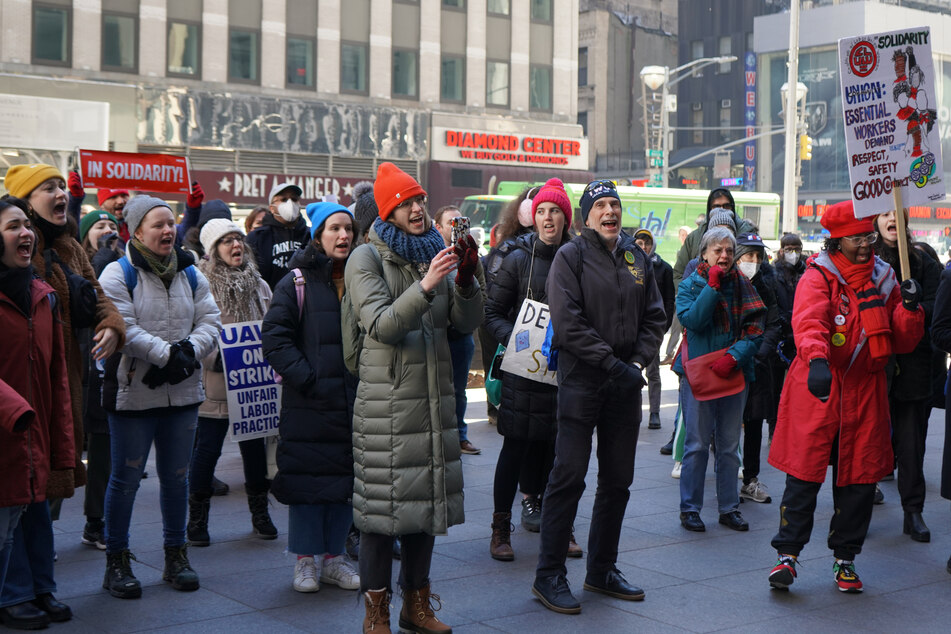 Some may think that members of the HarperCollins Union are simply disgruntled employees that no longer want to work, but that is far from the truth.
Much like the Amazon Labor Union and Starbucks Workers United, there is a grand scale workers' rights movement taking place in the US that's largely being led by young people who are demanding the change they want to see in the world and the workplace.
New York City is one of the most expensive cities in the world to live in, yet many workers are not paid a livable wage.
Organizing workers have brought people together for a common good. But unfortunately, many end up sacrificing a lot and sometimes lose their jobs in the process.
Doris, an employee that spoke at the rally, insisted that she loves and misses her job, but her wages simply weren't sustainable for her to take care of her family.
Another employee shared how she was forced to recently get another job, as striking workers haven't received any pay for the 61 days it has been in effect.
This is why the union continues to fight – to make sure that all workers are taken care of, and that their lives are valued.
As the HarperCollins Union rally neared its end, a union member wielding a bullhorn boldly outside the News Corp building and chanted, "We will be back!"
Cover photo: TAG24/Rey Harris