Little girl writes incredible Christmas wish list for Santa Clause
Essex, UK - Counting down the days until Santa comes, kids are busy writing their wish lists. And one Twitter user found his sister's list so hilarious he shared it on the platform.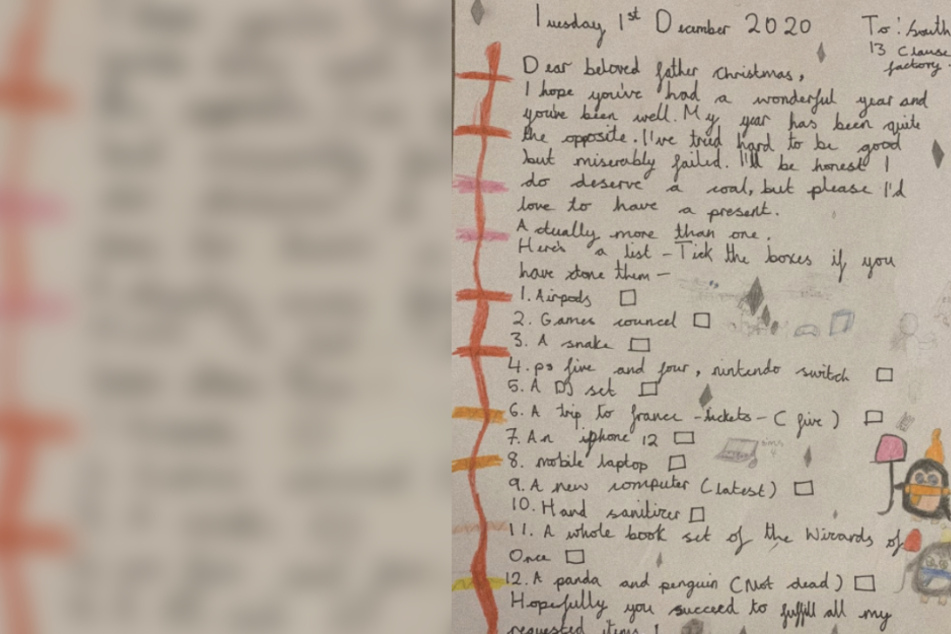 "Y'all, look at this letter my little 9y/r sister wrote to Santa," he wrote.

Before getting to her requests in the letter, the girl thought she should lay her cards on the table: "I have tried hard to be good but miserably failed," the schoolgirl wrote in cursive handwriting.
"I'll be honest, I do deserve a coal, but please I'd love to have a present," she continued.
The girl added shortly after she would like "actually more than one" gift and asked Santa to tick off the products he has in store from a list of whopping 12 items.

The lengthy list included pricey presents such as a Playstation 5. She generously gave Santa some alternatives too, such as a Playstation 4 and a Nintendo Switch.
If everything goes her way, there will also be an iPhone 12, a laptop, and a computer (the "latest"!) under the Christmas tree.
And it's not just gadgets that she's interested in. A penguin and a panda also made the list. To avoid any misunderstanding, the letter also made it emphatically clear that she's not talking about stuffed animals – "not dead" is the specification.
Many Twitter users were impressed with the girl's writing and determination when it comes to presents.
"I don't know what shocks me more; the fact that you have a 9y/o sister, her handwriting or her use of diction and syntax at that age," one wrote.
"Y'all should at least at the bare minimum complete half of her request. She invested a lot in making that list. another joked," insisted another.
How many presents Santa will tick off for the little rascal remains to be seen. But he might need a bigger sleigh!
Cover photo: Screenshot/Twitter/AllyTheJedi