Man challenges gender stereotypes and goes to work in high heels
Germany - Mark Bryan puts a great deal of effort in his a well-groomed appearance when he goes to office every day. But instead of a tie and a suit, the man usually wears skirts and high heels.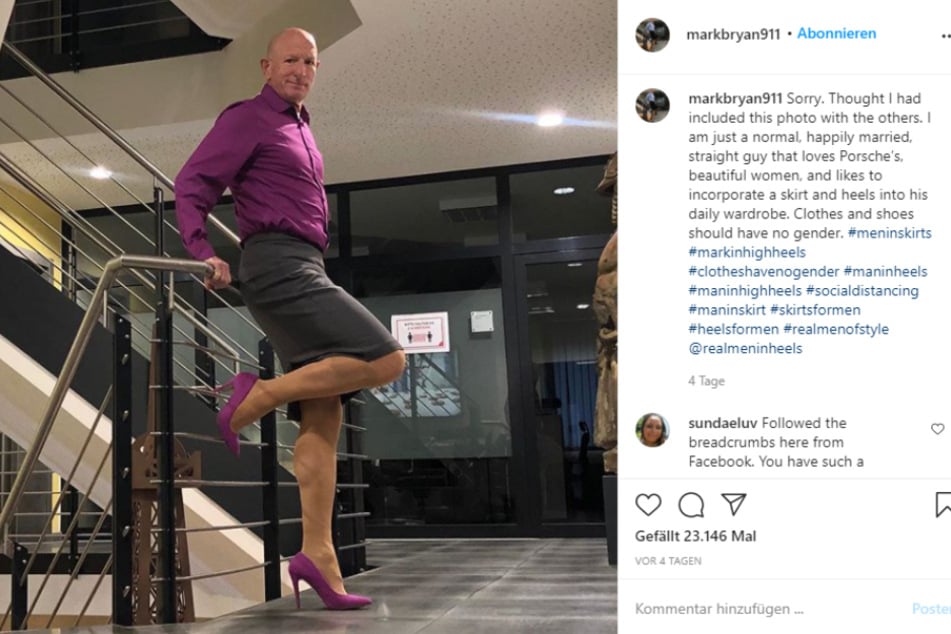 The father of three lives in Germany and describes himself as a "normal, happily married straight guy" who loves "Porsches and beautiful women".
His extraordinary style has already won him an Instagram following of more than 126,000. And while his choices might strike many as strange, that's exactly the kind of attitude that Bryan is aiming to change.
In an interview with the Daily Star, he talked about his daily fight against gender stereotypes.
"I dress like this because I can. Just to be different. I have always admired the women that wore tight skirts and heels," Bryan explained. "Not sexually, but the power they presented."
"To me, clothes have no gender. I prefer skirts to dresses. Dresses don't allow me to mix the genders. I prefer a 'masculine' look above the waist and a non-gendered look below the waist. It's all about clothes having no gender."
He hopes that he will contribute to changing people's perception of clothing.

Clothing should be gender neutral!
"I am old enough to remember that in school, the girls could not wear pants. Pants have now become a non-gendered article of clothing. So why can't skirts and heels be non-gendered?" 
His followers on Instagram fully agree with him. "You're so right. Clothing has no gender," one user commented. "I love how your shoes are always matching your outfits perfectly," another wrote.
A third user, who himself is a man, admires Mark: "Oh man! I am so jealous! I wish I could go to work in skirt/dress and Heels!"

Cover photo: Instagram Screenshot @markbryan911