Next level death metal: Florida man uses uncle's remains to keep him rocking on
Tampa, Florida- A metal musician made a playable guitar out of his late uncles remains. He calls it "The Skelecaster."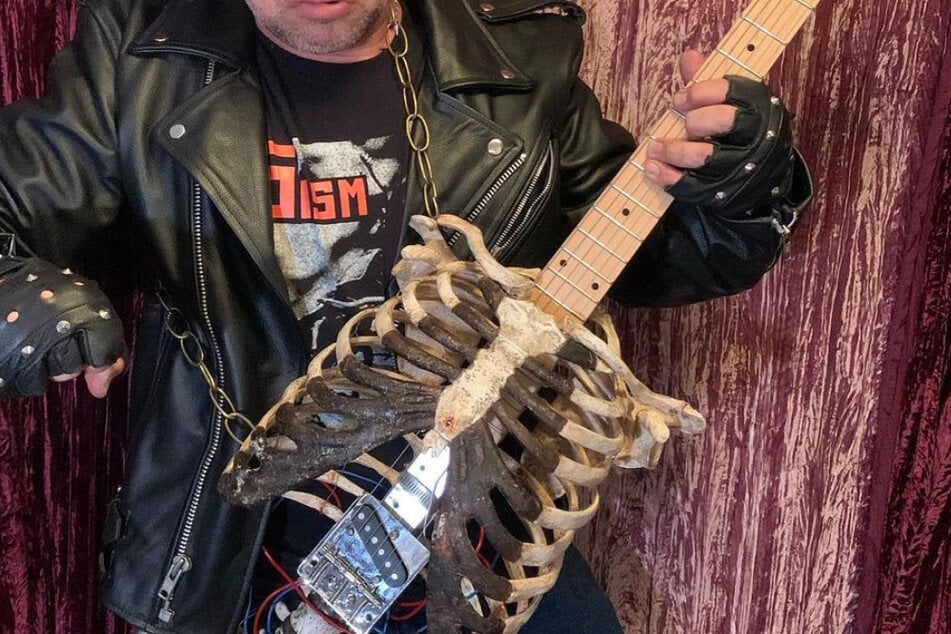 The man, who goes by the name Prince Midnight, told CBC radio, "It's pretty metal to play a guitar made out of skeleton."
The rib cage that now serves as the guitar body, belonged to Prince Midnight's late Uncle Fillip, who introduced him to metal when he was a kid.
Flillip died in the '90s while on a trip to Greece and his remains were donated to science at the time, later ending up at a medical school. When the school stopped using them, they were placed in a local Greek burial plot.
But Prince Midnight's mother no longer wanted to pay rent on the plot and, because the family is Greek Orthodox, cremation was out of the question. So, they decided to "repatriate" the medically prepared remains. After many bureaucratic struggles the bones made their way to Florida and the family.
At first, Midnight wasn't sure what he was going to do with them. "It just popped into my head. I'm going to turn Uncle Fil into a guitar. And I was like, that is the best way to honor him. He would love that idea," he told CBC.
The Florida musician documented the making of on his Instagram account. He said it was difficult, "No one's ever made a guitar out of a skeleton, to my surprise. So there is a little bit of a learning curve."
At first, he tried drilling into the bones, but they broke and cracked. But the musician was determined and ended up welding a metal bar to the spine, which he then attached to the bridge and neck of a Fender Telecaster guitar.
The guitar works and you can see him play it in a video. Although he admits that the strange instrument has some quirks due to its unusual shape, Prince Midnight is pleased with how it turned out and says it makes him feel closer to his uncle.
Cover photo: screenshot/ Instagram princemidnightx