Ukraine war: 21 reportedly dead in attack on Merefa
Kyiv, Ukraine - After a particularly horrific spate of attacks on civilians the day before, Thursday started with Ukrainian emergency services scrambling to assess the true toll of a devastating airstrike on the Mariupol Drama Theater.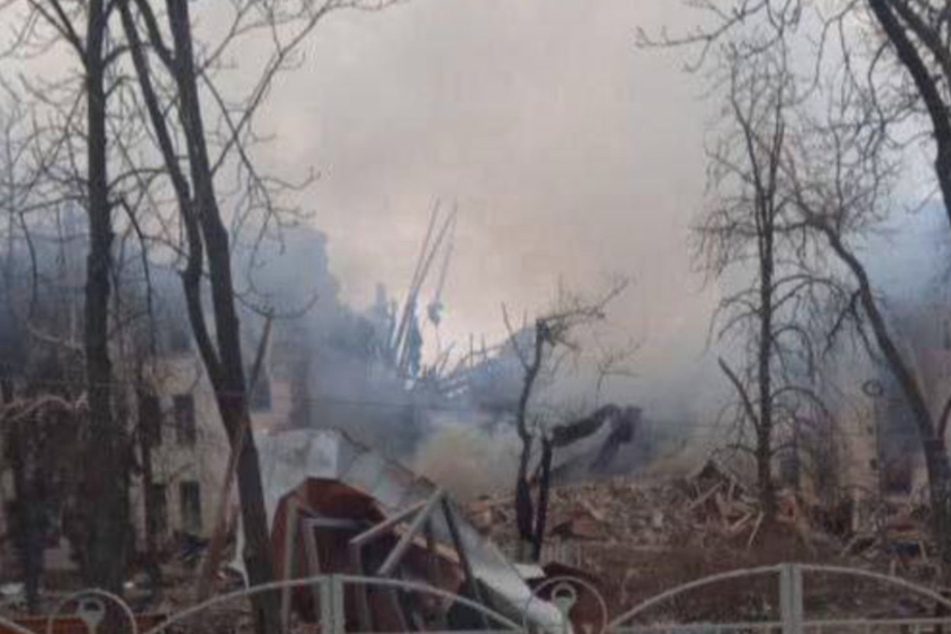 "Another horrendous war crime in Mariupol. Massive Russian attack on the Drama Theatre where hundreds of innocent civilians were hiding. The building is now fully ruined. Russians could not have not known this was a civilian shelter," Ukrainian Foreign Minister Dmytro Kuleba had tweeted on Wednesday.
According to multiple reports, hundreds of civilians had been sheltering inside the theater when it was hit. Images also showed the word "CHILDREN" spelled out in big white Russian letters on the ground in front of the building, presumably to ward off any attacks. It didn't stop the devastating airstrike, the consequences of which aren't yet fully known. Rubble is still blocking the entrance and authorities don't know how many people have been killed.
Russia, meanwhile, flatly denied having carried out any "operations" in the area and blamed the Ukrainian Azov battalion – whose far-right reputation it has used to partly justify the "denazification" campaign – of bombing the theater.
Separately, a group of 10 people was allegedly executed in the northern Ukrainian city of Chernihiv while they were lined up waiting for bread, according to a report by public broadcaster Suspilne.
Despite some encouraging signals sent out by negotiators on Wednesday, a peace agreement is nowhere in sight. Vladimir Putin, meanwhile, has spent the past 24 hours ratcheting up the rhetoric, raging against the West, Ukraine, and Russians who oppose the war.
Overall, though, the military offensive seems to have stalled on all fronts, while Russia's brutal shelling campaign continues.
Here's the latest news as the war in Ukraine reaches its 22nd day.
UPDATE, March 17, 6:20 PM EST: Russia increasingly attacking civilian facilities
The Russian military is increasingly attacking civilian facilities in Ukraine, according to the US Department of Defense.
"We have seen an increase of strikes on civilian infrastructure and civilian targets," a senior US defense official said on Thursday. At the same time, he stated morale among Russian soldiers was allegedly dwindling in places.
"We don't have insight into every unit and every location. But we certainly have picked up anecdotal indications that that that morale is not high in some units," the official said.
It is worth noting that the Russian military is considering bringing supplies to Ukraine. The defense official also said it's not yet clear that this is happening, but the very fact it's an issue is an area of concern for Russia.
"So three weeks in, they're still able to maintain their force in the field, but not without difficulty. Three weeks in, we are seeing them begin to think about resupply from elsewhere, including manning support," the official said, adding, "Two weeks and we saw them put out a call for foreign fighters, which we noted was also an interesting development."
Around the southwestern Ukrainian port city of Odessa, ongoing Russian naval activity is being observed, but the senior official noted there were no "imminent signs" of an attack from sea.
"We're not sure what they're planning to do, what they're preparing to do," the official said.
UPDATE, March 17, 3:55 PM EST: 21 reported dead after attack in eastern Ukraine
An attack in eastern Ukraine has left 21 dead and 25 injured, with 10 in critical condition, according to district prosecutors in the region of Kharkiv.
The injuries came as a result of Russian shelling reported in the city of Merefa, where Ukrainian forces already accused Russian invaders of firing on a school and a community culture center during the night.
The claims could not be independently verified.
UPDATE, March 17, 10:45 AM EST: Survivors rescued from rubble of Mariupol theater
Slowly but surely, reports of civilians being rescued from beneath the Mariupol theaters ruins are emerging.
The Associated Press cited Ludmyla Denisova, Ukraine's Commissioner for Human Rights, who said there were hopes that Wednesday's attack had not damaged the parts of the building where over 1,000 people were reportedly sheltering.
As of now, no deaths have been announced, but many are injured.
UPDATE, March 17, 10:30 AM EST: Biden to hold phone call with China's Xi
US President Joe Biden is to hold a phone call with Chinese leader Xi Jinping on Friday to discuss "Russia's war against Ukraine and other issues of mutual concern."
"This is part of our ongoing efforts to maintain open lines of communication between the United States and the PRC," the White House said in a statement, referring to the People's Republic of China.
The Chinese leadership has failed to explicitly condemn Russia's invasion of Ukraine, and Western leaders have approached Xi to ascertain whether there is scope for Chinese mediation in the conflict.
China and Russia have deepened their relation in recent years.
UPDATE, March 17, 9:30 AM EST: Kidnapped mayor exchanged for nine Russian POWs
Ivan Fedorov, the mayor of the Ukrainian city of Melitopol who was allegedly abducted last week, has been freed, the government in Kiev says.
The 33-year-old was released on Wednesday in exchange for nine captured Russian conscripts, a spokesperson for Ukraine's presidential office said, according to local media.
Fedorov was said to have been kidnapped last Friday.
Melitopol has a population of almost 150,000 and has been occupied by Russian troops since nearly the start of the war three weeks ago.
UPDATE, March 17, 9:00 AM EST: Ukrainian city reports grisly 24-hour death toll
Attacks on the northern city of Chernihiv have killed more than 50 people in one day, local authorities say.
"In the last 24 hours alone, 53 bodies of our citizens murdered by the Russian aggressor have arrived at the city's morgues," the head of the military administration, Vyacheslav Chaus, wrote on Telegram.
Chernihiv, located near the borders with Russia and Belarus, has been the target of a Russian onslaught since the beginning of the war.
Authorities say the humanitarian situation is calamitous and that there has been heavy damage to electricity, water and gas supplies.
Further negotiations are planned for Thursday on a possible escape corridor through which civilians are to leave the city, Chaus said, adding that no Russian forces were currently in the city.
"I don't want to send the children of the city to certain death. The corridor will only take place if we reach an agreement," Chaus said.
The UN High Commissioner for Human Rights, Michelle Bachelet, has documented the deaths of at least 780 civilians in Ukraine since Russian troops invaded three weeks ago, with 58 children and young people among the victims. He has made a point of stressing that the actual numbers are surely much higher.
UPDATE, March 17, 7:00 AM EST: One killed in Kyiv after debris damages residential buildings
At least one person was killed and three injured when debris from an intercepted missile hit a high-rise building in eastern Kiev overnight, local authorities said on Thursday.
Video released by the emergency services on social media showed smoke and flames coming out of the destroyed flat. Other apartments had windows blown out and debris was scattered across the ground.
The rescue crews were able to bring the remaining residents to safety, the service said.
UPDATE, March 17, 6:30 AM EST: More than 1,000 sheltering in bombed Mariupol theater
More than 1,000 people were sheltering in the Mariupol theater believed to have been the target of a Russian bombing, according to mayor Vadim Boichenko.
Boichenko posted the information on his Telegram channel early Thursday, calling the incident "another tragedy."
Ukrainian President Volodymyr Zelensky meanwhile said in a video message that people had sought protection from shelling in the building and it was now destroyed, but said there was no information on fatalities yet.
Member of Ukrainian parliament Sergiy Taruta posted on Facebook that people were emerging "alive" from the wreckage.
Private cars are being allowed out of Mariupol again, according to Boichenko. Some 6,500 cars left Mariupol in the last two days, but there was no ceasefire so civilians had to travel out of the city while it was under fire, he said.
Cover photo: Screenshot/Twitter/Dmytro Kuleba