Ukraine war: Fighting in Donbas escalates with reports of heavy casualties
Kyiv, Ukraine - The Ukrainian army said that Russian troops were trying to gain a foothold in occupied positions, maintaining the pace of their offensive and preparing for fresh attacks, 19 days into Russia's invasion of its neighbor.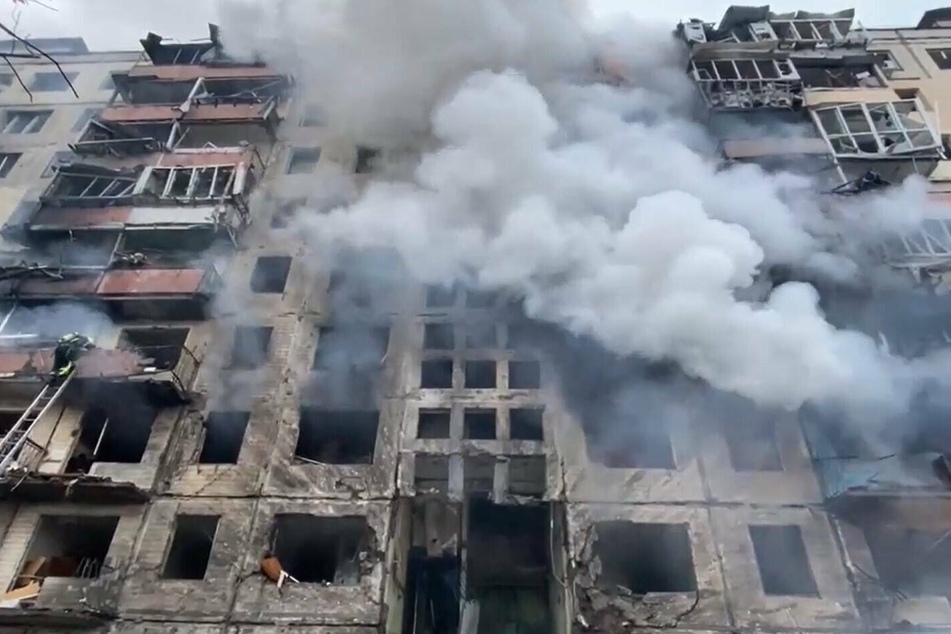 "The enemy is forming and moving strategic reserves to our borders," the Ukrainian general staff said in a daily bulletin, adding that fresh attacks were expected on Kharkiv, Sumy, and the Kyiv suburb of Browari.

The Ukrainian side charged that Russian forces were destroying stationary military and civilian infrastructure in the country, in contravention of international humanitarian law.
In the Luhansk region in Ukraine's east, Russian forces were concentrating primarily on advancing towards Severodonetsk, according to the bulletin. In the towns of Topolske and Shpakivka in the Kharkiv region, the Russians suffered casualties and retreated, according to the generals.
A Russian attack on a military training area in Yavoriv, near the western city of Lviv on Sunday, killed at least 35 people and injured 134. Moscow, for its part, put the death toll at around 180.

Diplomatic efforts meanwhile continued. Both Kyiv and Moscow have expressed cautious optimism about the course of peace talks between the two countries.
Ukrainian President Volodymyr Zelensky said that securing a meeting between him and Russian President Vladimir Putin was a key task in the negotiations.
Speaking on Russian state television on Sunday, Kremlin spokesperson Dmitry Peskov did not rule out a meeting between Putin and Zelensky.

Online talks between Russian and Ukrainian negotiators were planned for Monday. Here are the day's developments as they come.
UPDATE, March 14, 5:10 PM EST: Fighting in Donbas escalates with reports of heavy casualties
Ukraine's President Zelensky will address US Congress on March 16 via a video call at 9 AM EST to further discuss the worsening situation in the country. It is the same day that the International Court of Justice will issue a ruling on the war in Ukraine.
Russian forces have reportedly denied a humanitarian convoy entry to Mariupol loaded with food, water, and clothes. The convoy has been unable to reach the city for three days, according to Deputy Head of the Ukrainian President's Office Kyrylo Tymoshenko.
Heavy fighting in Donbas has continued, with Ukraine's Armed Forces citing Russian casualties. At least 100 Russian soldiers were killed and six Russian vehicles were destroyed.
UPDATE, March 14, 3:30 PM EST: US says Russia's progress has slowed as Moscow promises more attacks
US officials at the Pentagon reiterated that Russian forces are still advancing slowly in their assault on Ukraine's capital. As of Monday, the Russian forces and convoy have not made much progress towards Kyiv, and remain about nine miles away. He added that Western supplies would continue to be delivered to Ukrainian forces and Russia has not established dominance of Ukrainian airspace.

The Russian Defense Ministry announced it will carry out further "targeted attacks" on suspected locations of foreign fighters in Ukraine, similar to the ambush of the Yavoriv military training area, near the Polish border, on Sunday.
A bomb attack on a pumping station in the northern city of Chernihiv left the city of 300,000 people without water, according to the operator. Photos showed damage to an underground reservoir.
The main part of a key international defense exercise, dubbed "Cold Response," has begun in Norway, as it does every two years. According to Norwegian information, around 30,000 soldiers from 27 NATO states and partners are taking part, including thousands of land, sea, and air forces each. Norway had stressed several times that "Cold Response" is not a reaction to Russia's attack on Ukraine, but is a long-planned exercise of common defense. Russia had been invited as an observer, but had declined.
A small group of protesters of the Ukrainian war broke into the homes of Russian oligarchs in both London and France. Police were involved in detaining the activists in the both cases, with "no criminal damage" reported to the properties.
UPDATE, March 14, 12:30 AM EST: Explosion reported at nuclear power plant as negotiations paused
Russian troops have exploded parts of an ammunition depot not far from the occupied Zaporizhzhia nuclear power plant, according to Ukrainian sources.
The blast occurred near the ruins of a military training facility, the Ukrainian nuclear power operator Energoatom said on Telegram. The information could not be independently verified and there was initially no comment from the Russian side.
Energoatom added that the staff at the power plant had temporarily stopped working because of the explosion. It is not yet known whether the radiation levels have changed as a result of the incident.
Energoatom recently reported to the International Atomic Energy Agency (IAEA) that the nuclear power plant was "under the control of the commander of the Russian armed forces." Russian state nuclear corporation Rosatom, on the other hand, denied that it had taken over operational control in an exchange with the IAEA.
Meanwhile, Negotiations between Ukraine and Russia on an end to the fighting have been put on hold until Tuesday, according to Kyiv. Ukrainian presidential advisor Mykhailo Podolyak described the top level delegations as taking a pause to sort out technicalities, but that discussions among working groups were still under way.
UPDATE, March 14, 12:00 AM EST: Humanitarian corridor for Mariupol finally works
A large number of civilians have managed to get out of the besieged Ukrainian city of Mariupol using a humanitarian corridor, the first time in more than a week that such a corridor has been employed successfully and not disrupted by attacks.
More than 160 private vehicles left the city, heading west to the city of Berdiansk, more than 40 miles away, according to Mariupol city officials on Telegram. Additionally, an aid convoy with supplies for those still in the city is on its way in.
The city is still awaiting the arrival of buses, which would be able to take greater numbers out at a time.
UPDATE, March 14, 8:30 AM EST: Power to Chernobyl cut again
The former Chernobyl nuclear power plant is once again without electricity, according to Ukrainian energy operator Ukrenerho.
The line supplying the plant as well as the nearby town of Slavutych, north of Kyiv, had been damaged by Russian forces, Ukrenerho said.
The service had repaired the high-voltage line in the area controlled by Russian troops on Sunday. Now the specialists would have to go there again, the statement continued.
There was initially no comment from the Russian side.
In the initial incident, the Ukrainians reported that the line had been damaged by Russian shelling.
Chernobyl suffered a devastating nuclear accident in 1986. A large dome was built over the destroyed reactor. Radioactive waste is still stored there today.
UPDATE, March 14, 6:30 AM EST: New round of negotiations begins
A fourth round of negotiations between Ukraine and Russia is underway via video link, according to Ukrainian presidential advisor Mykhailo Podolyak.
In-person talks were held previously in Belarus. Working group discussions have also been taking place in recent days. So far there has been no breakthrough.
But both Kyiv and Moscow have expressed cautious optimism in the past day about the course of peace talks, even as Russia's assault on Ukraine intensifies.
"If we compare the two delegations' positions at the talks at the very beginning and today, we will see considerable progress," Leonid Slutsky, a Russian lawmaker specializing in foreign policy, told state television. He is part of Moscow's delegation.
Podolyak on Sunday also predicted "concrete results" in the coming days.
UPDATE, March 14, 6:00 AM EST: Two killed in shelling of Kyiv residential building
Monday began with another tragedy for those residents still in Kyiv, as Ukraine's emergency service announced at least two people had been killed by the devastating shelling of a residential building.
"As of 7:40 AM, the body of one person was found dead in a nine-story apartment building, 3 people were hospitalized, and 9 people were treated on the spot," officials said in a Telegram post that also included photos at the scene.

UPDATE, March 14, 5:00 AM EST: More humanitarian corridors planned on Monday
Ten humanitarian corridors are planned on Monday to evacuate civilians from embattled towns and villages in Ukraine, the government said.
Another attempt will be made to bring a convoy carrying food and medicine to the besieged port city of Mariupol, Ukrainian Deputy Prime Minister Iryna Vereshchuk said.
According to Vereshchuk, six corridors are planned in the region around the capital Kyiv, and three more in the Luhansk region in eastern Ukraine.
Several attempts had failed in the past few days.
Cover photo: IMAGO / Cover-Images