Ukraine war: Fighting wages on in Izyum as war hits one month mark
Kyiv, Ukraine - President Joe Biden is meeting NATO and EU leaders in Brussels on Thursday in a show of trans-Atlantic unity exactly one month after the start of Russia's war in Ukraine.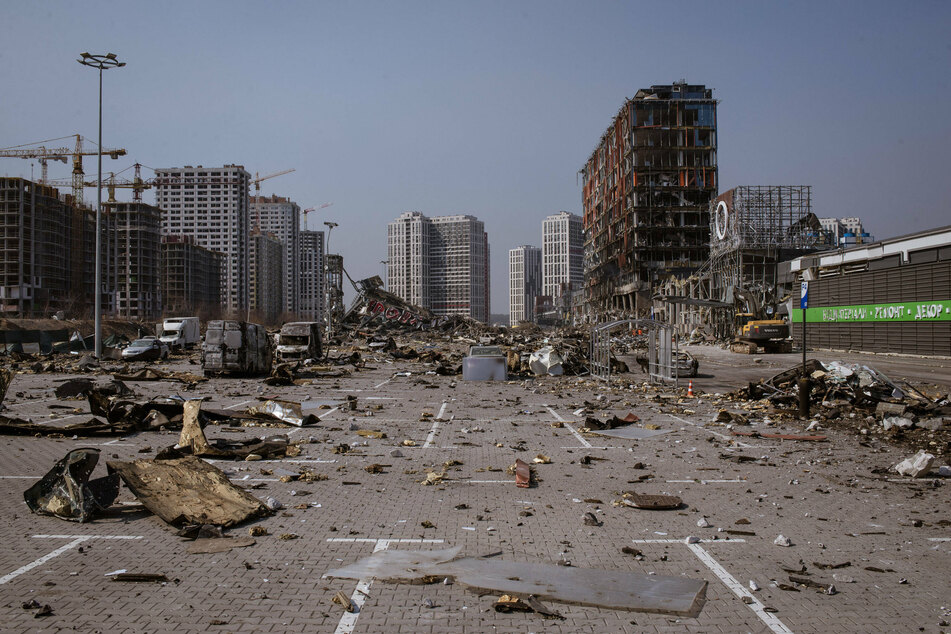 Biden joins Western allies for a special meeting of NATO leaders, a G7 summit and an EU leaders' summit for talks on how to support the Ukrainian people, how to further punish Russia and the long-term changes necessary to ensure Europe's security.

A proposal to strengthen NATO's eastern flank with permanent troop deployments, supported by air and naval power, is still on the table. The move would mark a violation of the NATO-Russia Founding Act, and would likely escalate tensions with Russia.
A day before the meeting, NATO Secretary General Jens Stoltenberg announced the deployment of four new battle groups to Bulgaria, Hungary, Romania and Slovakia in response to Russia's invasion.
Ukrainian President Volodymyr Zelensky will address Biden and the 29 other NATO leaders via video link. The Ukrainian leader continues to push for the establishment of a no-fly zone to protect his country from Russian airstrikes, though NATO has repeatedly dismissed the request.
The White House said further sanctions on Russia are also to be announced in Brussels.
Leaders warned against any escalation of the conflict, for example through the use of chemical weapons, but said NATO would not back down.
Meanwhile, fierce fighting continues in Ukraine, particularly in the south, where the city of Mariupol and the nearby port of Berdyansk. Russia's advance elsewhere has stalled, and recent NATO estimates its casualties between 7,000 and 15,000 soldiers, although the numbers are virtually impossible to verify.
As the brutal invasion moves into its second month, here's the latest on Thursday's developments.
UPDATE, March 24, 5:15 PM EST: Explosions reported as Biden speaks out after NATO summit
Russia's Defense Ministry spokesperson Igor Konashenkov claimed Russian forces had finally taken "complete control" of the eastern Ukrainian town of Izyum on Thursday after besieging it for days. A short time afterwards, however, Ukrainian authorities dismissed the claim as "another provocation from the Russian press," with Oleh Synyehubov, governor of the Kharkiv region, writing on the Telegram messaging service that: "Izyum is a Ukrainian city. It always was and always will be." Synyehubov conceded that there had been heavy fighting in the region, but said that Ukrainian forces were holding their position in Izyum.
Elsewhere in the country, violent explosions were reported in the southern port city of Berdyansk, with the Ukrainian navy saying it had destroyed a Russian landing ship that was reportedly part of the Black Sea Fleet.
Ukrainian daily Ukrayinska Pravda published pictures online showing flames reaching several feet in height and a huge column of smoke. The Russian side provided no information on the apparent attack.
The presidents of the parliaments of Estonia, Latvia, and Lithuania visited Ukraine together on Thursday to show their solidarity with the Ukrainian people and to address the Ukrainian parliament in Kiev.
Russia lashed out on Thursday at NATO plans to establish four additional multinational battle groups on its eastern flank after its summit. "Any argument will serve to justify the dangerous and destabilizing build-up of forces on the eastern flank," Russian Foreign Ministry spokeswoman Maria Zakharova said.
At the summit, Biden said Russia should be removed from the Group of 20 industrialized nations as a result of its war in Ukraine. The president said that Western leaders had discussed the topic on Thursday, but it was unclear whether all 20 countries would agree. He added that Ukraine should be allowed to attend G20 meetings.
Four weeks since Russia launched a full-scale invasion of Ukraine, the front is "practically frozen," according to a senior Ukrainian official. Presidential adviser Oleksiy Arestovych said in Kyiv on Thursday that, according to the general staff of the armed forces, Russian troops on most sections of the front no longer have sufficient resources for further advances, describing enemy forces as being "practically at a standstill."
Almost 16,000 Russian soldiers have been killed since the war began on February 24, according to Ukrainian estimates.
UPDATE, March 24, 11:45 AM EST: Zelensky's speech
Ukrainian President Volodymyr Zelensky made one of his now-trademark impassioned speeches at the beginning of the NATO summit.
He alternated between gratitude for the help his country has received so far and frustration at its limited scope, one month into the war. Specifically, he asked for military assistance "without restrictions" – meaning a no-fly zone, one percent of NATO tanks, as well as fighter jets and more weapons.
Zelensky bemoaned that he doesn't "have a clear answer yet" to all these requests and he urged the alliance to "reconsider" its attitude, as Ukraine was convinced Russia's plans go far beyond this invasion and potentially into the territory of NATO members.
NATO and the US specifically have so far refused to consider implementing a no-fly zone over Ukraine, as it would virtually guarantee a direct confrontation with Russia and spark a global conflict.
UPDATE, March 24, 11:30 AM EST: Six people reportedly killed in Kharkiv while queuing for aid
At least six people were killed and 15 injured by Russian artillery fire in the eastern Ukrainian city of Kharkiv, according to regional governor Oleh Snegubov on social media channels.
The victims died while queuing for humanitarian aid at a post office in a north-eastern district of the city, he said.
"This is another war crime committed by the Russian occupiers," Snegubov wrote.
The country's second-largest city has been under bombardment by airstrikes and artillery shelling since the Russian invasion began a month ago. According to local reports, more than 1,000 homes in Kharkiv have been destroyed so far.
UPDATE, March 24, 11:00 AM EST: US announces new sanctions and extra aid
Meanwhile, the US announced new sanctions on more than 400 people and entities including Russian oligarchs, politicians, and defense companies in connection with the invasion of Ukraine.
A White House official also said 100,000 refugees fleeing the war in Ukraine would be welcomed into the country and more than $1 billion in humanitarian assistance will be provided.
As the talks in Brussels were reaching their close, NATO announced that Jens Stoltenberg would remain its secretary general for an additional year due to the war in Ukraine. His current term at NATO expires on September 30.
UPDATE, March 24, 10:30 AM EST: NATO activates chemical and nuclear defenses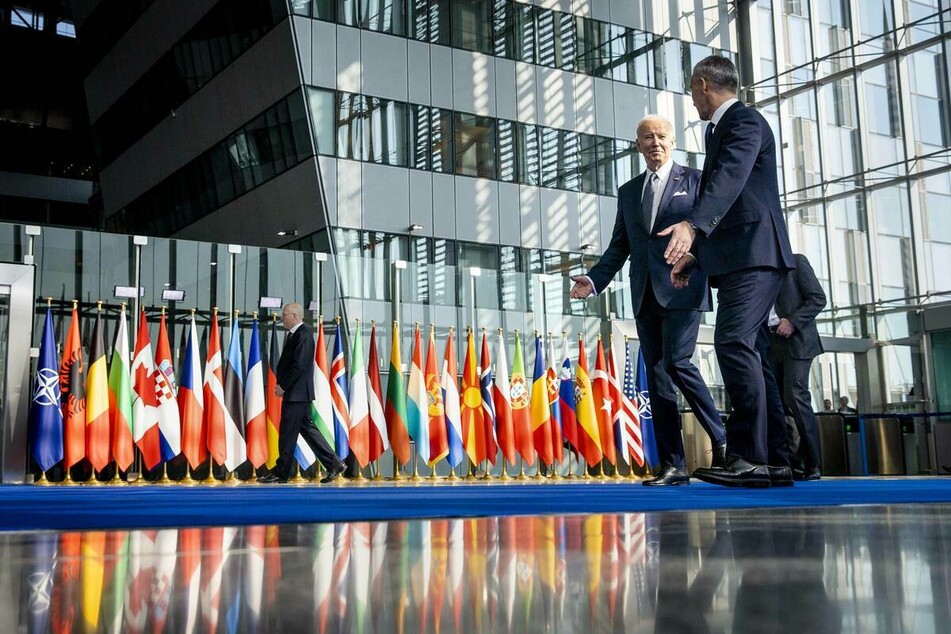 NATO has activated its defenses against chemical and nuclear weapons as concerns mount that Russia might use such weapons in Ukraine, Secretary General Jens Stoltenberg said Thursday as Western leaders met to further punish Russia for the invasion now in its second month.
Speaking after an extraordinary NATO summit in Brussels that coincided with G7 and European Council summits, Stoltenberg said the 30 leaders of the defense alliance had agreed to send Ukraine "detection, protection, and medical supplies, as well as training for decontamination and crisis management."
"So we are taking measures both to support Ukraine and also to defend ourselves," Stoltenberg said.
NATO is concerned that Russia may attempt to create a "pretext" for the tactical use of such weapons in the war, for example by accusing Kyiv or other nations of working on chemical or biological weapons in Ukraine, Stoltenberg said.
Asked to give details about how these "defense elements" would protect NATO members, a military source said a battalion-sized force comprising around 400 soldiers trained to prevent and deal with the use of chemical, biological, radiological and nuclear weapons would be put on high alert
UPDATE, March 24, 6:30 AM EST: Russian vessels reportedly destroyed
Violent explosions were reported in the port of the southern Ukrainian city of Berdyansk early on Thursday.
The Ukrainian navy said a Russian landing ship had been destroyed, according to the Unian agency. It reportedly belonged to the Black Sea Fleet.
Ukrainian daily Ukrajinska Prawda published pictures online showing flames reaching several hundred feet in height and a huge column of smoke.
Russia initially provided no information.
UPDATE, March 24, 6:00 AM EST: Russian airstrikes intensify
Russia is stepping up its airstrikes, with more than 250 flights registered in 24 hours, the Ukrainian military's general staff said on Thursday morning.
This was 60 more flights than the day before, the Ukrainian side said. The main targets remain the areas in and around Kyiv, Chernihiv, and Kharkiv.
The Ukrainian army said 11 "enemy air targets" were hit Wednesday, including seven planes, a helicopter, a drone and two cruise missiles.
Russian troops in occupied areas such as Kherson are using "terror" tactics against locals protesting against the occupation and deploying units from the Russian national guard to prevent protests, according to the Ukrainian military.
The information could not be verified.
UPDATE, March 24, 5:30 AM EST: Hundreds of civilians killed in Kharkiv
Since Russia invaded Ukraine a month ago, 294 civilians, including 15 children, have been killed in the north-eastern city of Kharkiv, local police said on Thursday on Telegram.

People were hardly leaving the bunkers where they sought refuge from attacks, and residential buildings, schools, hospitals, utilities and businesses were on fire, they said.
Before the war, 1.5 million people lived in Kharkiv. The city has repeatedly been targeted by air strikes, the Ukrainian army said.
Cover photo: IMAGO / GlobalImagens