Ukrainian civilians, including children, killed in latest Russian attack on café
Kramatorsk, Ukraine - A Russian missile attack on the eastern Ukrainian city of Kramatorsk on Tuesday evening has killed at least nine people, according to Ukrainian authorities.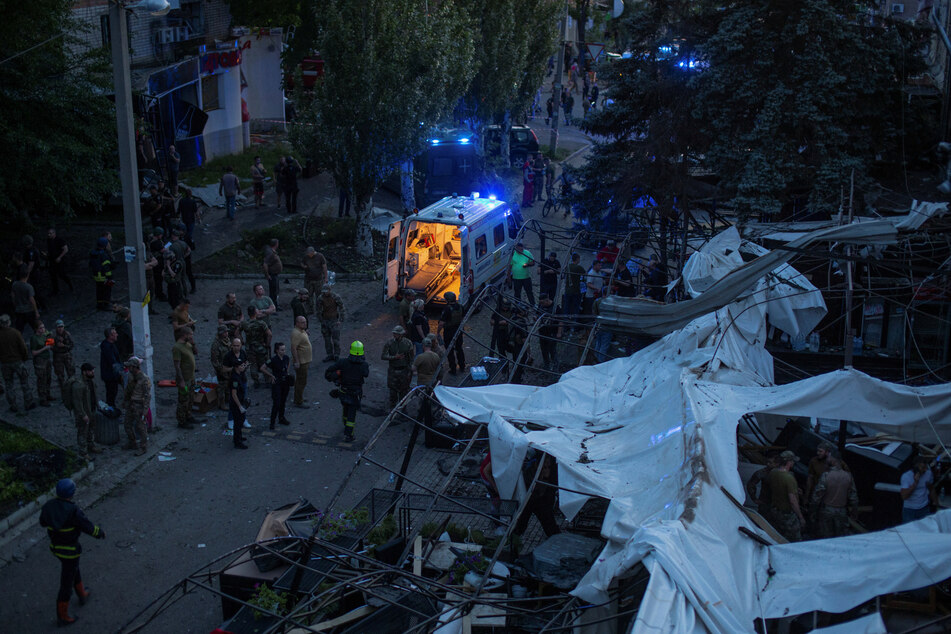 Three children whose bodies have been recovered from under the rubble of a café are among the dead, authorities said on Wednesday morning.

A total of 56 people were injured, it said.
On the evening of the attack, authorities first spoke of at least three dead and more than 40 injured.
Emergency workers continued to clear debris to search for people who might still be trapped under the rubble as the death toll continued to rise.
In his nightly video address on Tuesday Ukrainian President Volodymyr Zelensky condemned the Russian strike on Kramatorsk as yet another war crime.
"Exactly on the anniversary of the [Russian] terrorists' attack on Kremenchuk, on the shopping mall, when 22 people were killed, savages again fired missiles at the Kremenchuk district," he said.
"Each such manifestation of terror proves over and over again to us and to the whole world that Russia deserves only one thing as a result of everything it has done – defeat and a tribunal, fair and legal trials against all Russian murderers and terrorists."
UPDATE, 8:45 AM EDT: Death toll rises to 10
The death toll from the Russian missile attack on the Kramatorsk café has risen to 10.
Among the three children killed, one was born in 2008 and the other in 2011, according to a statement.
A total of 61 people were injured, up from the 56 reported earlier.
Cover photo: REUTERS