US slams Russian talk of World War III as "very dangerous"
Ramstein, Germany - US Defense Secretary Lloyd Austin expressed sharp criticism on Tuesday of a warning from Russian Foreign Minister Sergei Lavrov regarding a pending World War III and the possible use of nuclear weapons.
"You've heard us say a number of times that that kind of rhetoric is very dangerous and unhelpful," Austin said following an international conference on supplying weapons to Ukraine held at the US air base in Ramstein, Germany.
"Nobody wants to see a nuclear war happen. Dangerous rhetoric is clearly unhelpful. And something that we won't engage in," he added.
Speaking on Monday, Lavrov said the danger was real and should not be underestimated. He compared the current situation to the 1962 Cuban Missile Crisis.
After the Ramstein meeting that drew in some 40 countries, Austin said that an international contact group to support Ukraine's military would meet on a monthly basis in the future.
"The contact group will be a vehicle for nations of goodwill to intensify efforts, coordinate assistance and focus on winning today's fight and the struggles to come," he said.
The goal was to provide long-term military support to Ukraine beyond the current crisis.
Austin welcomed Germany's "major decision" to support Ukraine with armored anti-aircraft systems as a "significant" step that brings important additional capabilities to Ukraine, he said.
"We are all determined to help Ukraine win today and build strength tomorrow," he said, describing the meeting as "an important session on long-term support for Ukraine's defenses, including what that will take from our defense industrial bases."
Ukrainian officials believe war with Russia could last a lolng time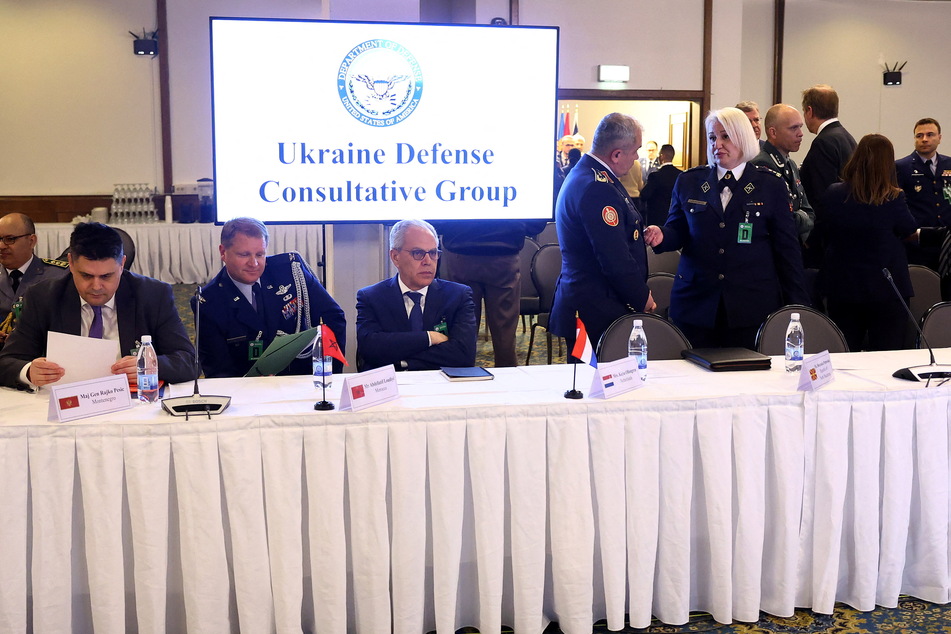 The US Department of Defense made clear that the conference was not under NATO auspices. Non-members were among those attending. Many representatives participated via video.
In Ukraine, presidential adviser Oleksiy Arestovych said the war with Russia could run until the end of this year. "We have to be prepared for a long story," he said in a YouTube interview published on Tuesday evening.
Ukrainian President Volodymyr Zelensky said that Russia's goals go way beyond its current war on Ukraine.
The ultimate goal of Russia's leadership is "to dismember the entire center and east of Europe and deliver a global blow to democracy," Zelensky charged on Tuesday evening.
The situation remained dire in Ukraine on Tuesday, with officials reporting multiple dead and wounded across the country due to continuing Russian attacks.
The Russian military claimed it had captured the entire southern region of Kherson and made territorial gains in eastern areas. It also said it had destroyed four Ukrainian ammunition depots in the Slovyansk area through airstrikes.
According to the Ukrainian account on Tuesday evening, there has been little change in Russian attacks or gains in eastern Ukraine.
After Russian forces largely pulled back from Ukraine's west and north following a stalled invasion and a failed attempt to take the Ukrainian capital Kyiv, its forces are now focusing on the east, trying to establish a land corridor between the Donbass, much of which is held by pro-Russian separatists, and the Crimean Peninsula, which Russia annexed from Ukraine in 2014.
Cover photo: REUTERS/Kai Pfaffenbach