Florida man stopped by Coast Guard while traveling to New York in floating hamster wheel
St. Augustine, Florida - An Iranian-American man wanted to travel by sea from Florida to New York in a homemade vessel to raise money for charity, but ended up in hot water with the Coast Guard instead!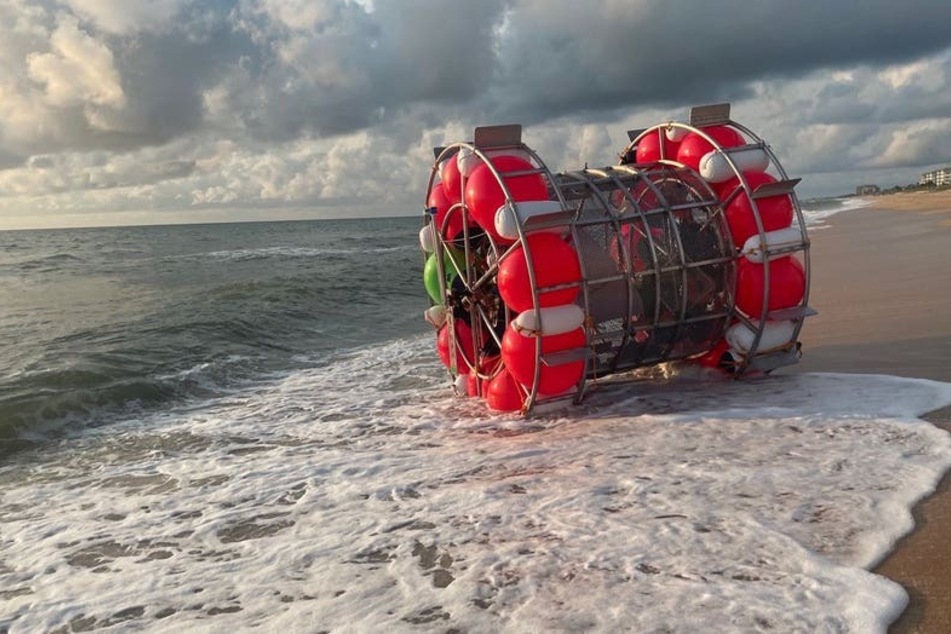 49-year-old Reza Baluchi has run from New York to California twice for charity, but his latest daring excursion came to an abrupt end after only 25 miles on the water.

The Coast Guard was notified once his contraption washed up on a beach in Flagler County, Florida. A local sheriff reported that the hamster-wheel looking "raft" had washed ashore due to "some complications."
Reza said he had noticed that his back-up GPS unit and some charging cables had been stolen out of his "hydro pod" and so he returned to shore.
The Coast Guard said he could face steep fines for the attempt without having filed proper paperwork and not having an escort vessel, according to the New York Times.
Baluchi explained that he couldn't afford an escort vessel, as the feat was a fundraiser for charity.
"Now, I'm dead," he said about the possibility of not going forward with his mission. "I don't have a car. I put everything in my life [into building the pod]."
Fox35 Orlando reported that Baluchi has been pulled in by the Coast Guard twice in the past for attempting the same stunt in his pod.
Baluchi insisted he was well-prepared with ramen noodles, a water purifier, a spear for shark attacks, and a hammock to sleep in. He also had a bicycle helmet and wet suits to protect him from rough waters.
"I'll never give up my dream. They stop me four or five times but I never give up," he said.
His website chronicles his adventures and will document his future attempts.

Cover photo: Screenshot/Facebook/Flagler County Sheriff's Office