Twitter video shows scenes of public humiliation in China
Jingxi, China - Suspected rule-breakers of China's strict anti-coronavirus measures have been publicly displayed in a city in the south of the country.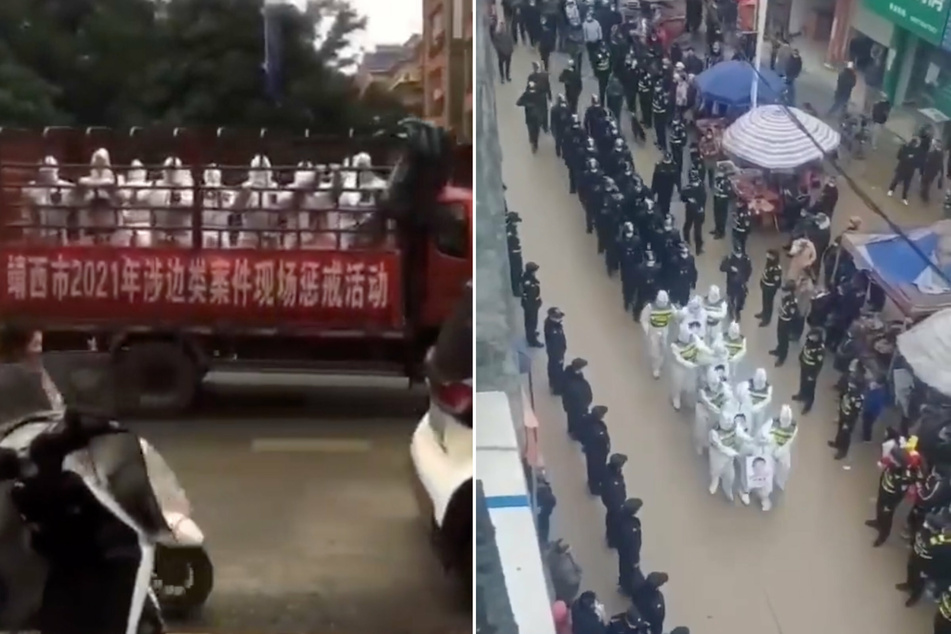 State media reported on Wednesday that the accused were paraded in white hazmat suits before a large crowd in the city of Jingxi in the autonomous region of Guangxi.

The people are accused of helping migrants illegally cross the border from nearby Vietnam. Since the outbreak of the pandemic, China's national borders have been virtually closed due to fears of imported coronavirus cases.
Short videos circulated on social media on Tuesday showing the suspects carrying placards with their photos and names while being led through busy streets by two security guards each. The parade was guarded by dozens of police, some of them armed.
On Chinese social media, the authorities' drastic measures were met with some approval.
"People like that deserve it. What if they brought the virus into the country?" writes one user on the online platform Weibo.
The scenes are strongly reminiscent of the public humiliations that were common during the Cultural Revolution under Mao Zedong, from 1966 to 1976.
The Chinese government had completely banned the display of criminals in 2010, but in recent months the practice has surfaced repeatedly in the wake of the anti-coronavirus crackdown.
Cover photo: Screenshot/Twitter/@naochashu