Japan holds state funeral for Shinzo Abe despite public opposition
Tokyo, Japan - Japan honored its assassinated former prime minister Shinzo Abe with a state funeral and military display in the nation's capital on Tuesday, with the government ignoring critics who said Abe did not deserve the rare ceremony.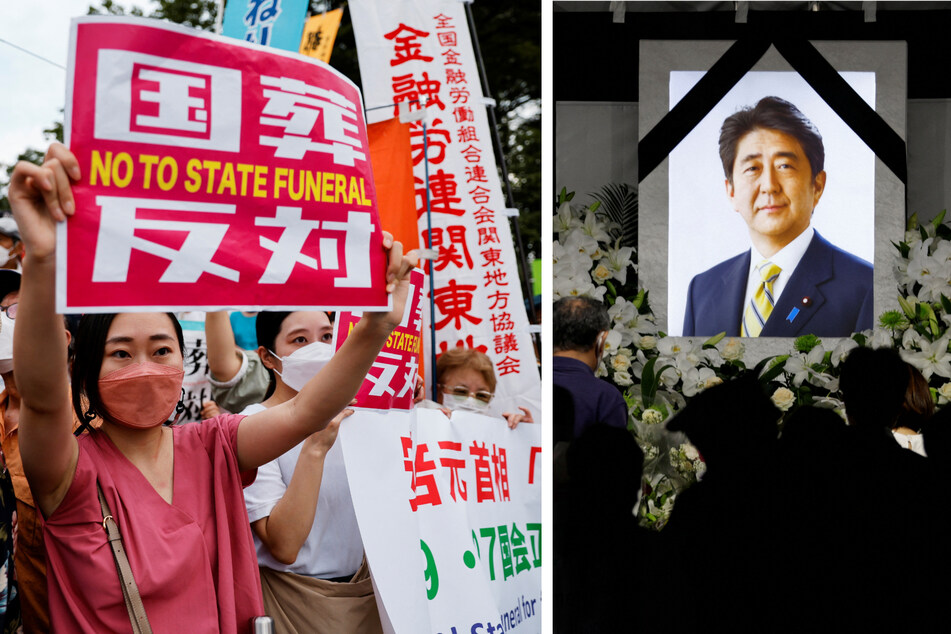 Under heavy security precautions and surrounded by angry protesters, some 4,300 mourners from Japan and abroad took part in the ceremony at the Nippon Budokan hall in Tokyo on Tuesday.

US Vice President Kamala Harris was among the world leaders present at the ceremony.
Abe's widow, Akie, dressed in a black formal kimono, carried the urn containing the ashes into the hall amid the thunder of cannon blasts.
Soldiers in white received the urn at hall and placed it on a pedestal while the military band played the national anthem.
Mourners sat in front of a huge portrait of the former prime minister.
In a nearby park, people laid flowers and prayed at two tables laid out for the occasion since the morning.
In his speech, current head of government Fumio Kishida praised his mentor Abe as a politician with a clear vision for the development of Japan and the world, saying he should have lived much longer.
Abe was Japan's longest serving head of government in the post-war period.
Shinzo Abe's funeral marked by protests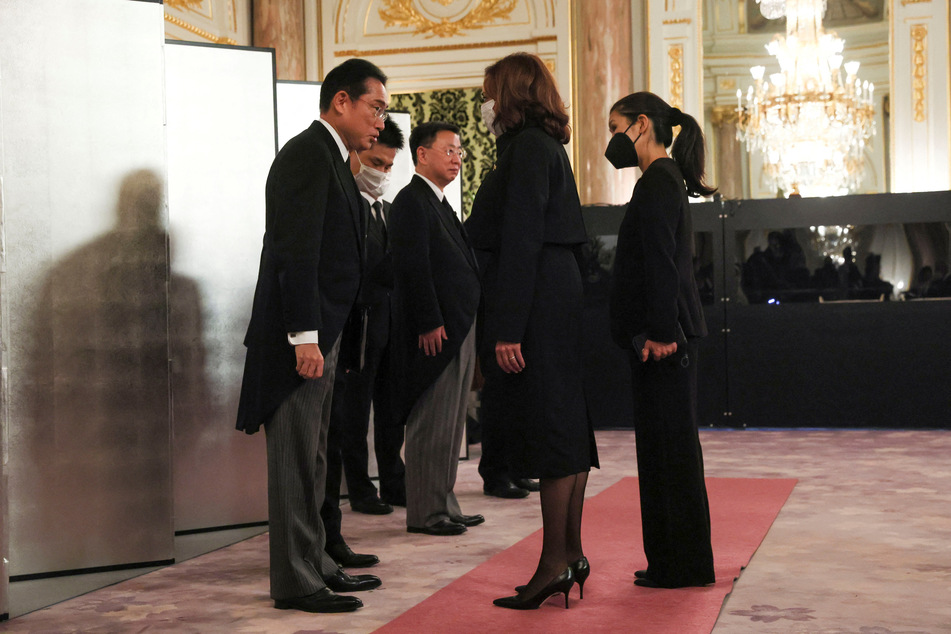 At home, however, Abe is controversial for his nationalist agenda and his involvement in nepotism scandals.
In polls, a majority said they rejected the state ceremony for Abe, which reportedly cost around $12 million in public funds. Many said that current Prime Minister Fumio Kishida, who also belongs to Abe's conservative party, had no right to give Abe such a state honor.
Some opposition parties boycotted the state funeral. Opponents referenced Japan's pre-war imperialist era, when state mourning served to fuel nationalism.
Abe's opponents also recalled the former prime minister's attempts to whitewash Japan's wartime atrocities and change the pacifist post-war constitution.
Since the end of the war, there has only been one state funeral for a prime minister – in 1967 for Shigeru Yoshida. There ceremony was also criticized at the time.
The government stressed that the state funeral was not intended to force anybody to mourn.
Some 20,000 police officers were deployed for the event in case of any unrest.
The conservative leader was shot by a former military officer with a home-made gun during a campaign speech in the city of Nara on July 8.
His assassin has said since his arrest that he did not kill Abe on account of his political convictions, but rather out of hatred for the controversial Unification Church of Korean religious leader Sun Myung Moon, to which he linked Abe.
He told investigators that his mother had donated money to the church and in so doing ruined the family financially.
Four days after his assassination, Abe was cremated in a temple in the capital following a private funeral.
Cover photo: Collage: REUTERS