Golden retriever wants to share everything with his new baby "brother"
Boston, Massachusetts - Golden retriever Hinckley and Theodor prove there is no more adorable duo than a baby with a canine companion!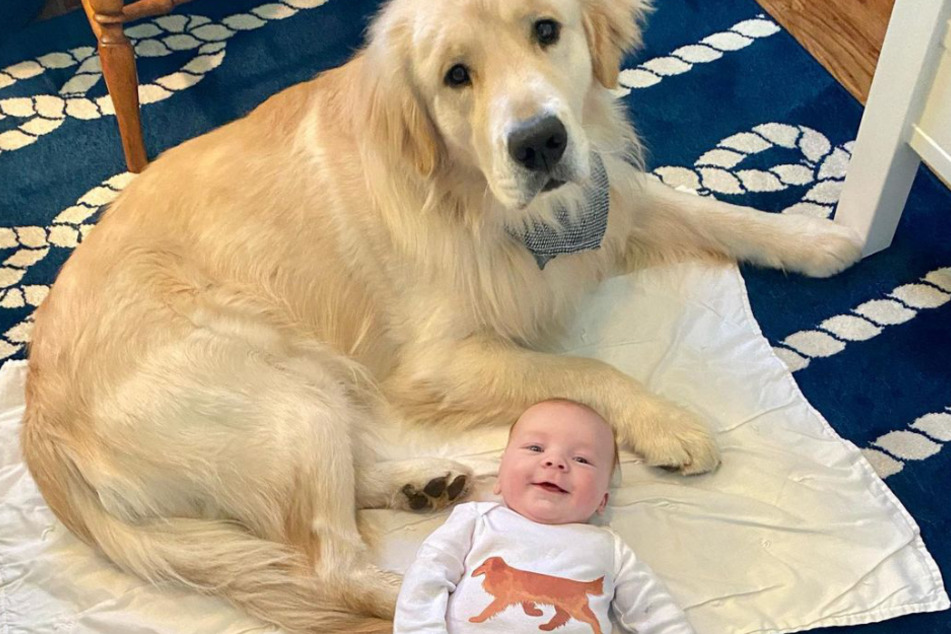 On Instagram, Hinckley's owners frequently show their four-legged friend in action. But recently, a new arrival has made the dog's life even better.
Since Little Theodor, also known as Teddy, was born last October, the family's dog and the baby boy have formed an inseparable bond.
And Hinckley is apparently not only smitten with the adorable infant, but also with the toys he brought into the house.
A recently shared clip shows the pesky pooch grabbing Teddy's blue pacifier after the baby had dropped it on the floor.
Hinckley first thought Theodore was a new toy to play with
Then the golden retriever happily sucks on the pacifier himself, with a look of absolute innocence on his face.
Hinckley's 38,000 followers were delighted by the hilarious scene.
"Teddy gave it to me," one Instagram user wrote, trying to channel Hinckley's inner thoughts.
"Teddy should really take better care of his things. Fair game is right!", another one joked.
When the owners first brought their newborn home, their dog apparently thought that the little bundle of joy was a new toy to play with.
"He had been the center of our world for a year so I can understand why he thought that," the mother said, according to the Daily Mail.
But after he realized, Theodore was here to stay, Hinckley and the baby quickly became inseparable, snoozing, cuddling and eating together every single day.
Cover photo: Collage/instagram.com/hinckleyparks/