Polly want a pupper: TikTokers are flocking to this sweet, squawking parrot
Boise, Idaho - "The Parrot Lady" has a full house with nine unlikely animal siblings, two of whom inaugurated their new friendship in a heartwarming viral video.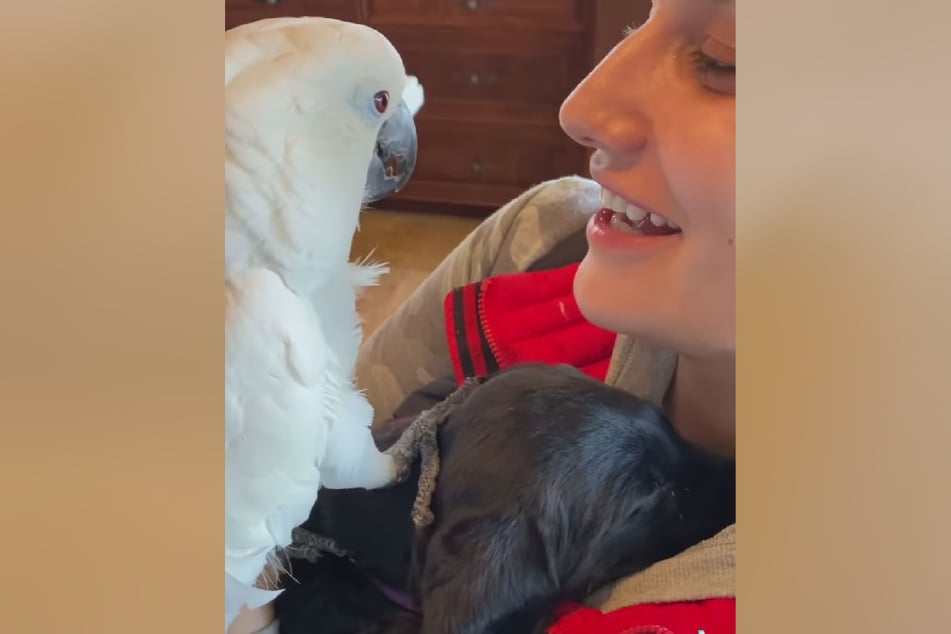 Wendy Albright, whose online alias is The Parrot Lady, lives with her furry and feathered brood in Boise, Idaho.
She's adopted three birds, a horse, three fish, and two dogs into her self-proclaimed "funny family" and often shares snippets of their life together online.
When she posted a new video of Sweet Pea the parrot meeting the most recent member of the family, it got an incredible 19 million views on TikTok and over 300,000 more on Instagram.
The bird gently strokes the black Labrador puppy with his foot and tells the dog, "I love you" in an affectionate moment.
"This is one of the most beautiful scenes I have ever seen. I've watched it over and over again. Thank you for bringing us tears of joy," wrote one commenter.
The pet owner is shocked by the response.
"I'm still totally overcome with all the positive attention to my sweet animal family," Wendy said.
The new puppy doesn't have a name yet, so Wendy is enlisting the help of her followers for suggestions, according to the Daily Mail.
Perhaps she can ask some new celebrity fans for help.
"Demi Lovato shared my post and I'm shook!!!!" Wendy wrote in a follow-up post after her unlikely pet pair went viral.
Wendy said her three birds – Brody, Sweet Pea, and Thyme – are rescue parrots. She often has them work with educational projects for children to teach responsible pet ownership and proper care.

She is an avid supporter of animal rights and the "adopt don't shop" mantra when it comes to pets.
Cover photo: Instagram/Screenshot/the_parrot_lady (2)