Most heartwarming animal clips on TikTok this week
TikTok has no shortage of cute critters. From a helpful beluga whale to a cuddly cat, we rounded up this week's most adorable animal clips on the social media platform.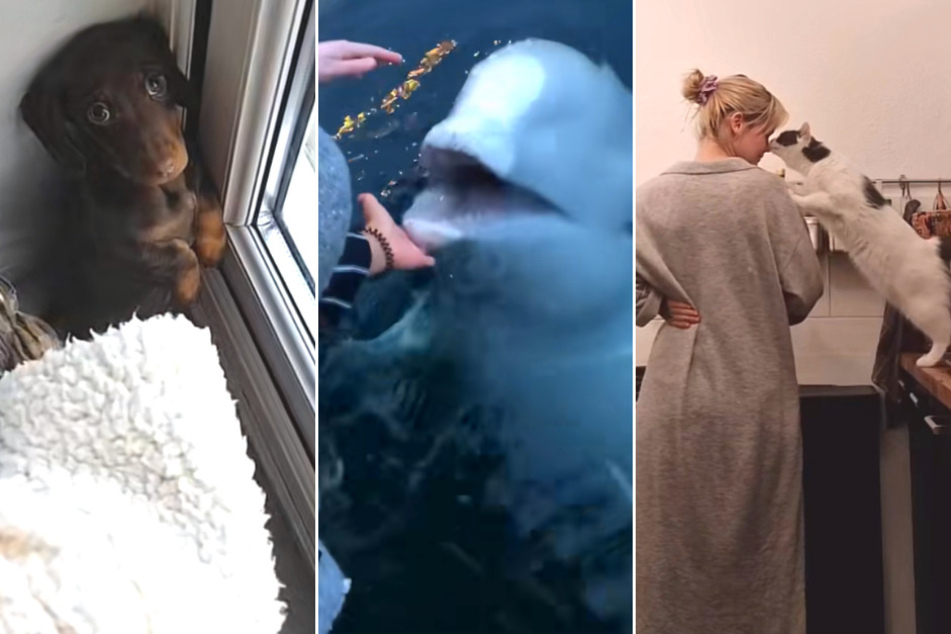 Get ready for cuteness overload!
Some videos are just better to share than enjoy solo – especially if sweet creatures are involved, like the ones in our lineup this week.
With the help of a graceful beluga whale and a very adoring kitty, we are sure that these videos will help round your week off on a high note!
Sit back, relax, and get your paws ready to scroll through three of this week's most captivating animal clips.
TikTok shows a helpful, phone-first beluga whale
Beluga whales are some of the most intelligent animals on the planet, and it looks like they can be pretty helpful, too!
A clip posted by @pubity shows a few people leaning over the side of a boat and peering into the ocean. All of a sudden, a beluga whale slowly ascends up to the surface with one of their presumably dropped phones.
Everyone immediately starts shrieking with laughter while in complete shock! The clip has garnered over 32 million views and over five million likes so far.
The video itself is captioned, "I can't get over this whale picking up a phone from the bottom of the ocean", and TikTok users flocked to the comments section to sound off, with one writing, "WHY AM I CRYING?!?"
Clearly, people can't get enough of this friendly sea puppy!
Lonely dachshund pup gets TikTok timid
Just like their human counterparts, even puppies need their personal space and alone time!
This clip posted by @saleemjabbar7 reveals a dachshund puppy hiding behind a basket of blankets while leaning against the wall on his hind legs and gazing out into the yard as Celine Dion's song All by Myself is indubitably playing in the background.
Commenters couldn't help but advise the lonely pup's owner.
"Pick him up and give him a big hug plz," one user wrote, while another added a layer of relatability: "Exactly how I feel sometimes."
This cute pup proves that at times, the outside world is a scary place!
Comforting kitty gets real close in adorable TikTok!
This definitely has to be the most loving cat on the planet!
In this video posted by @inaforsman, a girl appears to be cooking in her kitchen while her cat is standing beside her on the counter. At one point, the cat sticks its paw out to touch the girl's arm and gets close enough to give her a lick on the nose.
Throughout the video – which could easily be mistaken for a short film – the cat keeps softly meowing and bunting while trying to pull attention away from the food its owner is cooking.
The caption perfectly describes the video: "Little moments in life." With 5.8 million views and counting, it appears other TikTok users can relate!
Tune in weekly for the best animal videos on TikTok!
Cover photo: Collage: Screenshot/TikTok/saleemjabbar7, Screenshot/TikTok/pubity, Screenshot/TikTok/inaforsman