Quinn Ewers reveals the quarterback competition Arch Manning didn't see coming
Austin, Texas - It looks like the starting quarterback position isn't the only competition Arch Manning has to vie for!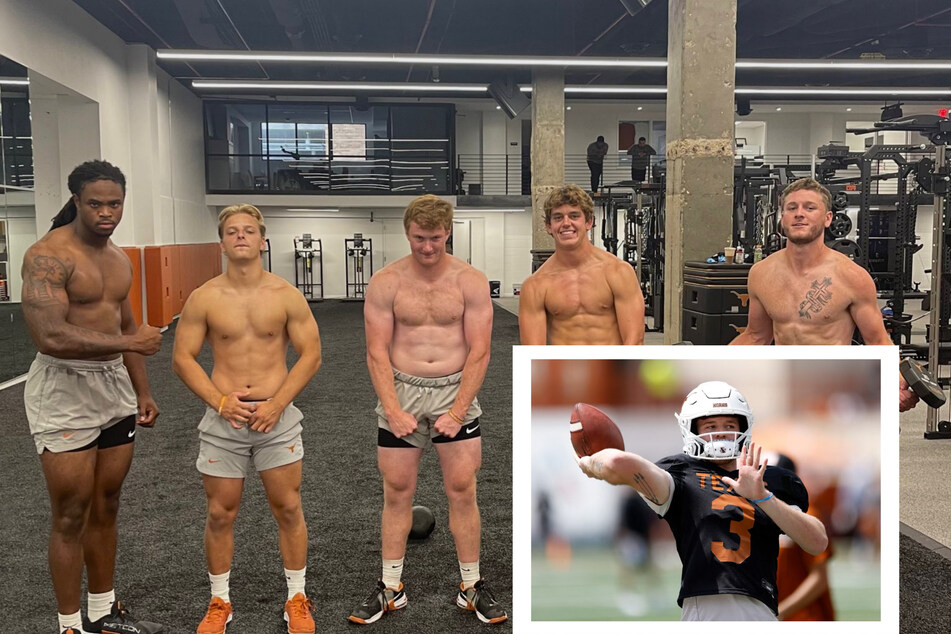 Last week, Texas quarterbacks Quinn Ewers, Maalik Murphy, and Arch Manning went viral after a photo of the Longhorn passers flexing during a sweaty workout plastered all over the internet.
In a recent interview, Texas' current starting quarterback aka Ewers was asked about the jaw-dropping hunky photo that stunned college football fans.
As it turns out, the photo somewhat relates to the ongoing quarterback competition, as the players were trying to see who could build the most muscle in the offseason.
"We kind of got addicted to doing abs, hitting biceps and triceps and all that stuff," Ewers told ESPN's Pete Thamel. "The more we did it, we saw more position groups stay in the locker room after, which it's cool to see that."
The picture was first shared by Murphy, notably the biggest quarterback of the group, and perhaps the passer who may have won the Longhorns' in-house competition.
Ewers flexed lean muscle while Manning showed off his rip vascular abs that fans hilariously made into several viral memes.
With so much competition among Texas' quarterbacks on and off the field, the Longhorns passing room will be an exciting one to watch this fall!
Cover photo: Collage: Screenshot / Twitter / SmvOperator / Tim Warner / GETTY IMAGES NORTH AMERICA / Getty Images via AFP