Cardi B's boys spin some spidey style at Spider-Man: Across the Spider-Verse Premiere
Los Angeles, California - Cardi B's husband Offset took their three boys to the Spider-Man: Across the Spider-Verse premiere, and the boys rocked coordinated rad leather looks of black and red in spidey style.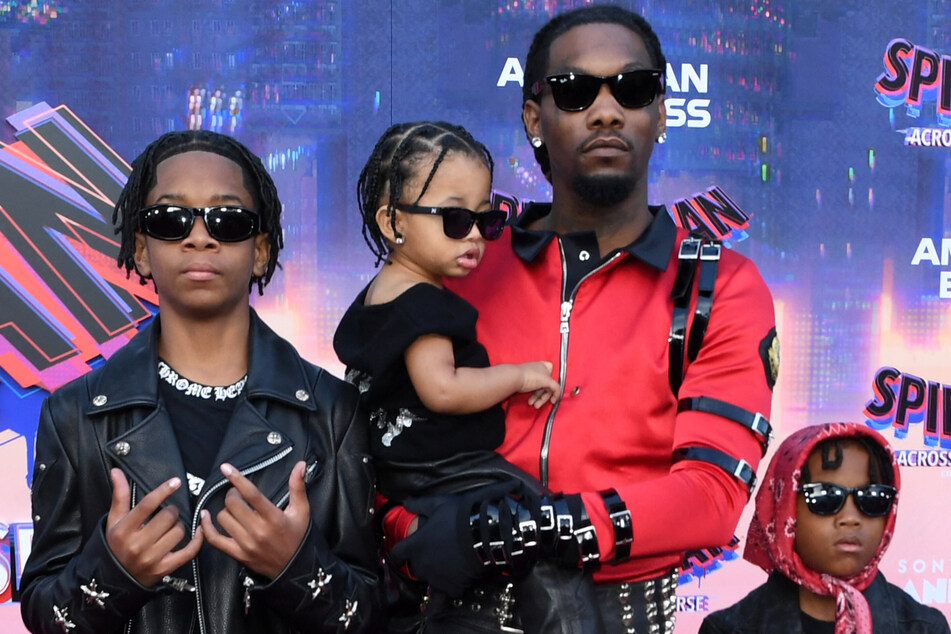 Offset has hit the red carpet with the kiddos once again!
Just three weeks after taking his and Cardi B's daughters to The Little Mermaid premiere in regal fashion, Offset attended the movie premiere of Spider-Man: Across the Spider-Verse at the Regency Village Theatre on Tuesday with their boys.
Offset and his kids were once again coordinated and dressed to the nines. All four rocked sleek black shades, and their looks boasted the black and red colors of Spider-Man.
The boy crew, including Offset, wore leather pants, while 13-year-old Jorden Cephus and eight-year-old Kody Cephus rocked black leather motorcycle jackets. Though 20-month-old Wave Cephus didn't have a jacket, he did don leather pants and adorable shades.
Like at his last film premiere event, proud papa Offset sported a Micheal Jackson-inspired look. The bright red zip-up jacket, decorated with harnesses and a black collar, was actually worn by the King of Pop himself back in 1989, according to multiple news outlets.
Offset wasn't only at the premiere for fun. The rapper is featured in the movie's official soundtrack.
Offset wows at Spider-Man: Across the Spider-Verse premiere and on the soundtrack
Hours before the Across the Spider-Verse premiere, Metro Boomin took to Instagram to reveal the rest of the star-studded lineup from the movie's soundtrack, which includes rapper Offset.
Having executive produced the sountrack, Metro Boomin began revealing the lineup last week by posting illustrations of each featured artist in Spider-Man costumes. The soundtrack also includes Nas, Lil Wayne, and A$AP Rocky among others, and drops June 2 along with the movie.
Cardi B posted screenshots of Offset's cartoon and a pic of her boys at the premiere in her Instagram story. Instead of attending the premiere, the WAP rapper was filming cute videos with her daughter Kulture, which she also shared.
Cover photo: VALERIE MACON / AFP