Kourtney Kardashian smooches Travis Barker and slams pregnancy rumors
Calabasas, California - Kourtney Kardashian has posted another sensual pic with fiancé Travis Barker and – yet again – corrected a fan who alluded to her being pregnant.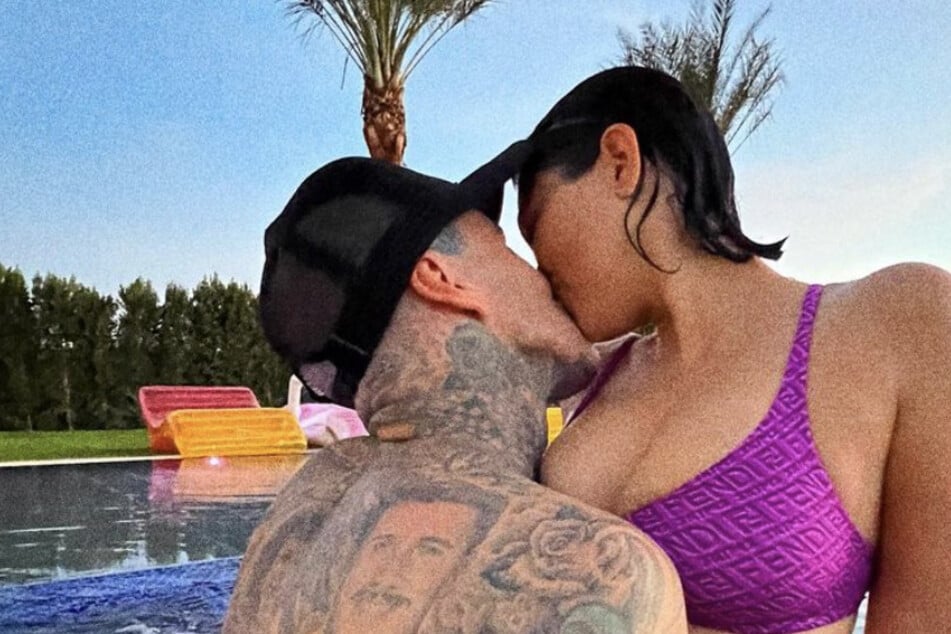 The newly engaged couple continue to make the world blush with their over-the-top PDA.
On Tuesday, Kourtney shared a pic on Instagram of the two smooching while enjoying a dip in the pool.
The Poosh owner sported a purple SKIMS x Fendi bikini in the sexy pic and captioned the moment, "Life with you."
The Blink-182 member shared the sentiments and commented under the post, "I couldn't love you more." The two were joined by Kourtney's daughter Penelope, whom she shares with ex Scott Disick.
Speaking of kids, the reality star once again addressed pregnancy rumors after a fan asked if she was expecting.
In a separate post, where the petite Kardashian shared more pics of herself enjoying her pool time, one user commented, "Not to be that girl but… is that a preg belly."
The queen of clap backs gave the perfect response to the remark.
"Are we really gonna do this every time I post a photo?" the 42-year-old wrote.
Kourtney's frustration seems justified, as this wasn't the first pregnancy remark she's had to shoot down recently.
Last month, during an Instagram Live with her friend and Poosh COO Sarah Howard, she addressed the constant gossip.
"So many of the comments were like, 'Are you pregnant? Baby No. 4?' … I could've taken that offensively … but I know that I didn't look pregnant," Kourtney said regarding a photo she had shared.
"I know what my body looks like when I'm pregnant. I've been pregnant three times," she added.
However, the mom of three didn't rule out having more kids someday, while many think Kaitlyn Jenner may have dropped some hints that someone in the clan could already be expecting.
Cover photo: Screenshot/Instagram/kourtneykardash