TAG24's Take: Cat Cafe Manager charms you with cuteness and quirky characters
Utrecht, Netherlands - April gaming is in full swing, and another new indie game is here to give you a delightful break from the norm. If you ever dreamed of running your own cat-filled business, then TAG24 has a hearty recommendation for you.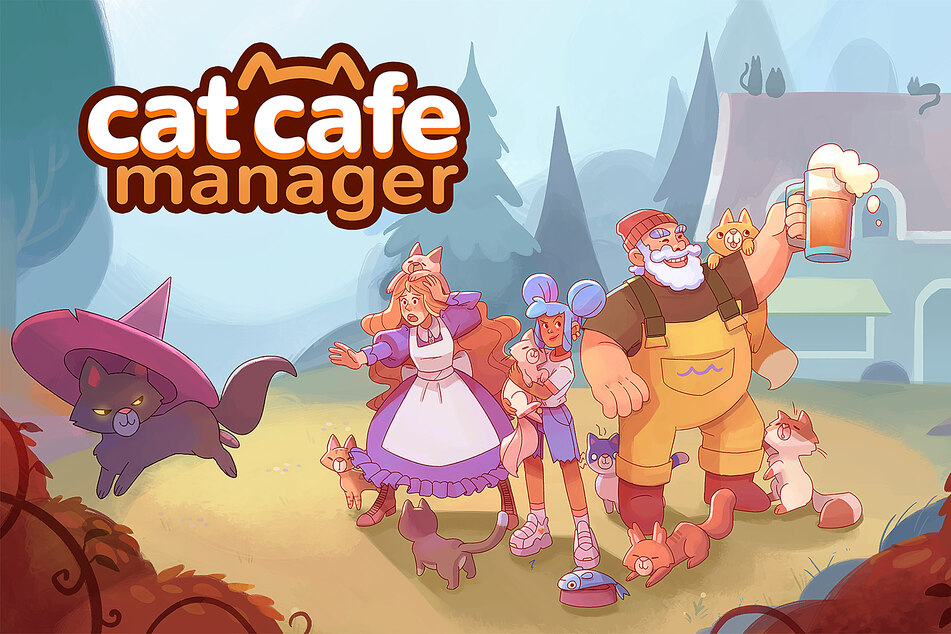 Indie developer Roost Games and Publisher Freedom Games released Cat Cafe Manager for PC and the Nintendo Switch on April 14. This charming sim game lets you run a cat café in a magical little town.
It's an isometric business simulator, where you need to earn your keep, befriend cats, and use your cashflow to upgrade your establishment, hire staff, and keep everything tidy and welcoming.
The game starts with your arrival in Caterwaul Way. You've just inherited a run-down café from your grandma, who's last wish was for you to spruce the place up and take care of the town's cats, and get to know its diverse cast of characters.
You'll also need to figure out what in the world is up with a meadow full of ancient cat-shaped shrines, and even fight back against gentrification and corporate greed.
So it's up to you to give back to the community with a cozy place for people and cats to relax.
Throngs of kooky characters – including witches, gay fishermen, weirdly helpful punks, and all sorts of stray felines – will come by your cat café.
This deserves a shout-out, because Roost Games nabs a solid representation win early on for including an openly gay fisherman couple.
Anyhow, once business is booming it's time to give the cats toys, belly rubs, and scratching posts, and watch your customers enjoy steaming mugs of java, or chow down on a platter of tasty grub.
And all the while you'll gather resources to redecorate, expand, and furnish the café of your dreams.
Quirky and cute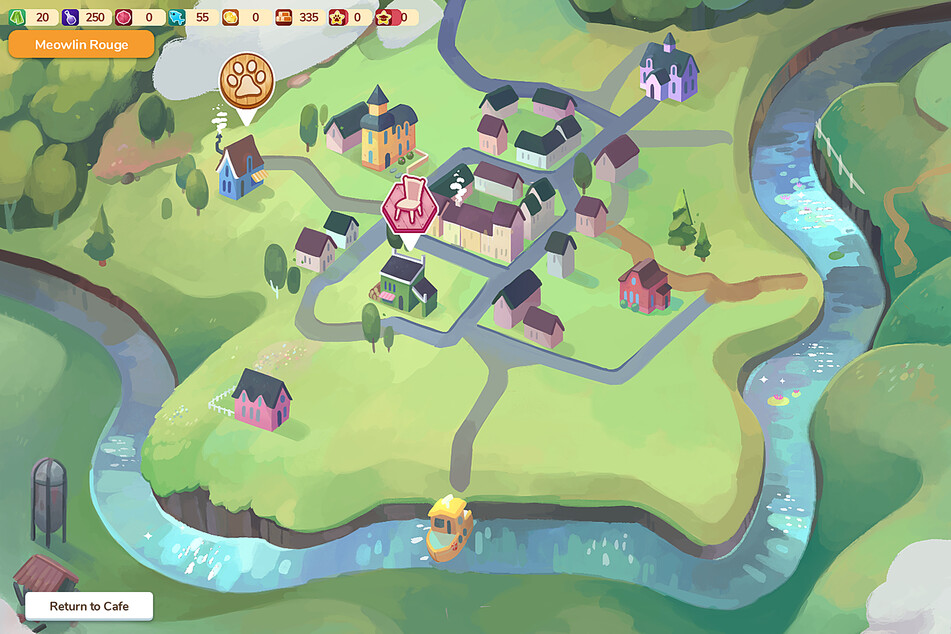 Cuteness is the name of the game here, as you befriend cats, build rapport with regulars, and even relax to some chilled out music while you run your café.
The good vibes can get harshed by stress if you expand your business without hiring some extra pairs of hands, but if you are in the sweet spot of managing, you can just sit back and enjoy this game's charming aesthetic.
This is made easier by the soundtrack, which is lovely to begin with and changes depending on which characters you interact with. If you visit the main musician character, Finley, you get a synthesized twinkly track with heavier bass lines. Go talk to Carla-Lalla the witch and you're treated to plucky strings, while talking to Bonner, who is all "chafed knuckles and smiling eyes," gets you a slower, rolling vibe that matches his grizzled fisherman look perfectly.
My personal favorite: go to the furniture store and talk with Arwel, the punk with a green mohawk, and treat yourself to punk rock guitar and amp sounds.
It's little things like cat puns for days, character-specific music, and the satisfaction of having the ingredients and staff on deck to keep customers happy that really make Cat Cafe Manager a hit.
What to know before you buy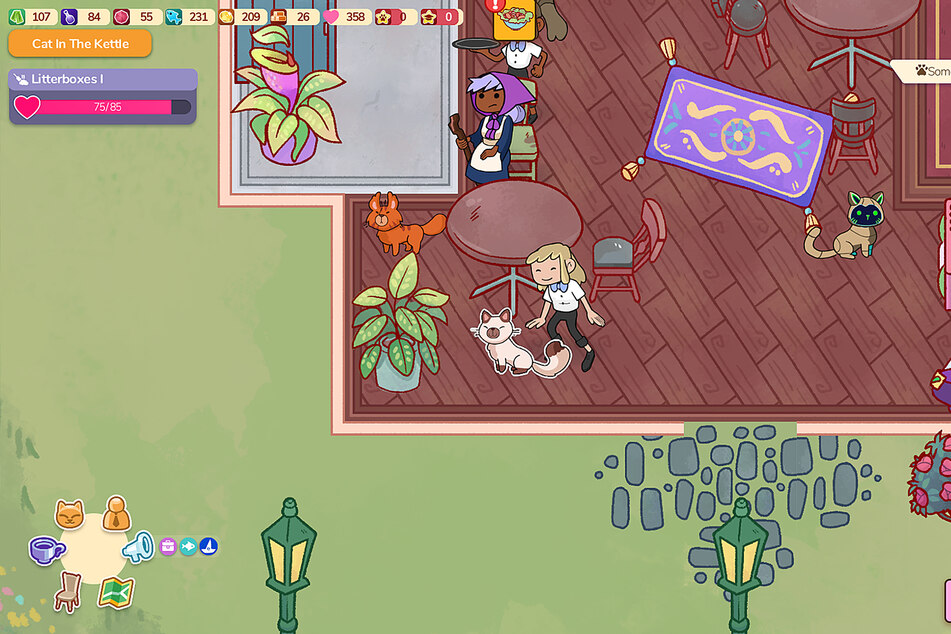 It's worth repeating that this is still a manager simulation game, even if it's packed in super cute cat shenanigans and wholesome interactions with the locals.
That means at the start of the game you're taking orders, delivering pretzels and coffee, and chatting up the locals.
And that's not the only system to manage. You've got stray cats to adopt, and once you gain their trust, they'll come in off the street and hang out in your café.
You'll need to make sure you have enough cat food, food bowls, scratching poles, and cat litter boxes to give your newfound cat friends a real home.
And you have to manage your café visitors, too. Different customers want different orders, get along with different cats, and pay with different currencies.
For example, the chilled-out tabby cat you just made pals with might not eat a lot and only likes to hang out with fishermen, who like herbal tea, pretzels, and just plop down a fish as payment.
There isn't a lot of hand-holding either, so figuring out how to spend your different currencies takes some quick thinking. Once you've got all that figured out, there are still a few minor issues to keep in mind.
The gameplay doesn't get much deeper than managing your menu, cat and customer preferences, and the café layout. And the upgrade tree can easily overwhelm you if you don't have access to the right items.
But at the end of the day, Cat Cafe Manager, which only costs $16 at the time of writing, is definitely worth your hard-earned cash if you want a laid-back management game that relies on its delightful art and its cats and characters to win your heart.
Roost Games clearly put a lot of hard work into polishing up their indie title. If you like a chilled out gaming time with a little brainpower on the side, then order's up!
Cover photo: Freedom Games/Roost Games