TAG24's Take: Machine Gun Kelly's Mainstream Sellout is a pop-punk-tastic time
Los Angeles, California – Machine Gun Kelly leans into his button-pushing, pop-punk image on his sixth studio album, Mainstream Sellout.
Pop-punk looks good on MGK, but we didn't need Mainstream Sellout to be convinced of this fact.
Boasting with features by Lil Wayne, Iann Dior, Blackbear, WILLOW, Gunna, Oliver Sykes of Bring Me The Horizon, Young Thug, his bestie Pete Davidson, and even Travis Barker's son Landon Barker, the album is exactly as it implies: one that'll be hard for even the most mainstream of music fans to hate.

After making a very public shift from hip-hop to pop-rock sounds on his 2020 chart-topping record, Tickets to My Downfall, Mainstream Sellout is fully engaged in early 2000s pop-punk glory.
Clearly, the Cleveland native took note of his crossover success and the numerous music festival doors a number one album can open, so it's no surprise to see that Mainstream Sellout follows in its nostalgic, guitar-heavy footsteps.

That's not to say that the rapper turned rock star has fully abandoned his rhyming ways, he's just given them the remix treatment.
Rather than trying to be the next Eminem, who many compared MGK to in the early days of his music career, MGK is dipping his toes into the world of pop-rap with an electronic twist.
No song shows this off more than Die in California. With the help of Gunna, Young Thug, and Landon Barker, the track is chocked full of angst, quick jabs, fresh verses, and a backbeat that leaves you no choice but to bob your head in agreement.
Dropping names and stealing hearts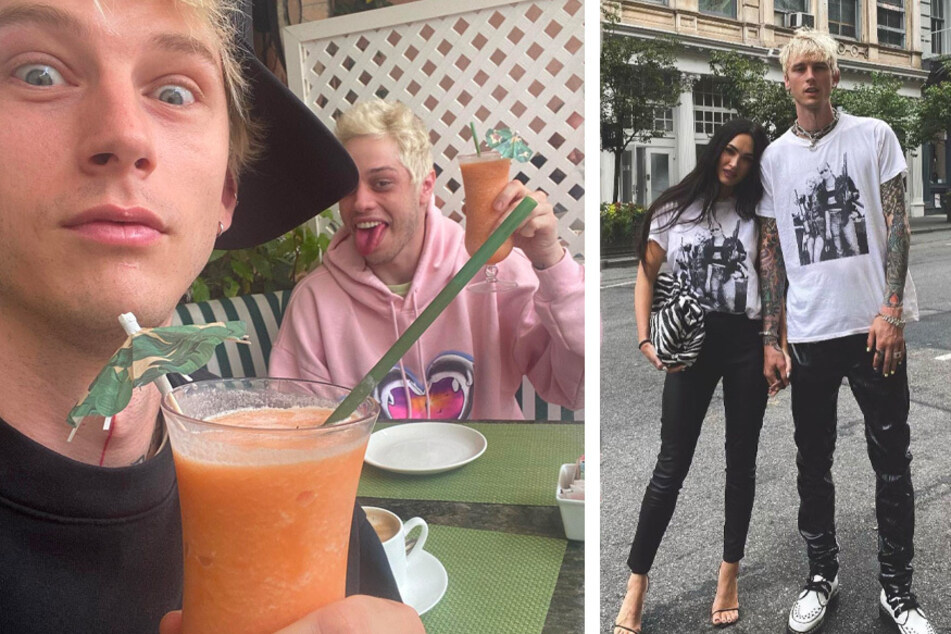 It wouldn't be an MGK album in 2022 without the 31-year-old showing up and showing out for his headline-grabbing love affair with fiancé Megan Fox, which he does eloquently on the closing track, Twin Flame.
On the track, he confesses that Fox is "too pure" for the chaotic life he leads, while also dishing on intimate moments the world doesn't see between the pair. MGK even details their first date, where Fox apparently referred to MGK as her "twin flame from a past life," which couldn't be more on-brand for the eye-catching couple.
Hearing MGK admit his shortcomings while singing about the "magic" that is Fox over the gentle strum of a guitar has the ability to make you swoon at their once-in-a-lifetime romance.
At the same time, it also instills a desire to scheme up a plan to get your significant other to sing your praises in such a raw and captivating way.
While MGK released the track Papercuts seven months prior to Mainstream Sellout's release, the album features a different version that will likely stir the pot with the Instagram-ranting rapper that is Kanye "Ye" West.
In the "album cut" version, MGK takes a swipe at both Ye and his critics in one fell swoop, saying, "Y'all say that I switched genres. I saw the limit, and took it farther/I'm a genius, could've made Donda," alluding to Ye's 2021 album.
Then there was Pete Davidson's contribution to what's sure to be another Billboard chart topping album. No, the comedian and lover boy to Kim Kardashian doesn't bust out a few bars or debut a secret musical talent we didn't know about.
Instead, he provides spoken word comedic relief on the record's interlude, Wall of Fame, where he talks the right amount of smack about some wall of fame he's not included on.
"I think the wall is lame, but I wanna be on it. Does that make sense?" Davidson is heard saying on the track while MGK laughs in the background.
Is Mainstream Sellout a Grammy caliber album? Probably not, but it doesn't make it any less soul quenching to jam out with for those missing the pop-punk glory days of the early 2000s. And for that, we tip our hats to the finger nail painting, hair-dyeing gem that is Machine Gun Kelly.
Cover photo: Screenshot/Instagram/machinegunkelly