Bachelor Nation is in the midst of break-up season
Los Angeles, California – It's been a sad few days for Bachelor Nation as two former Bachelorettes confirmed their respective relationships have hit the fan.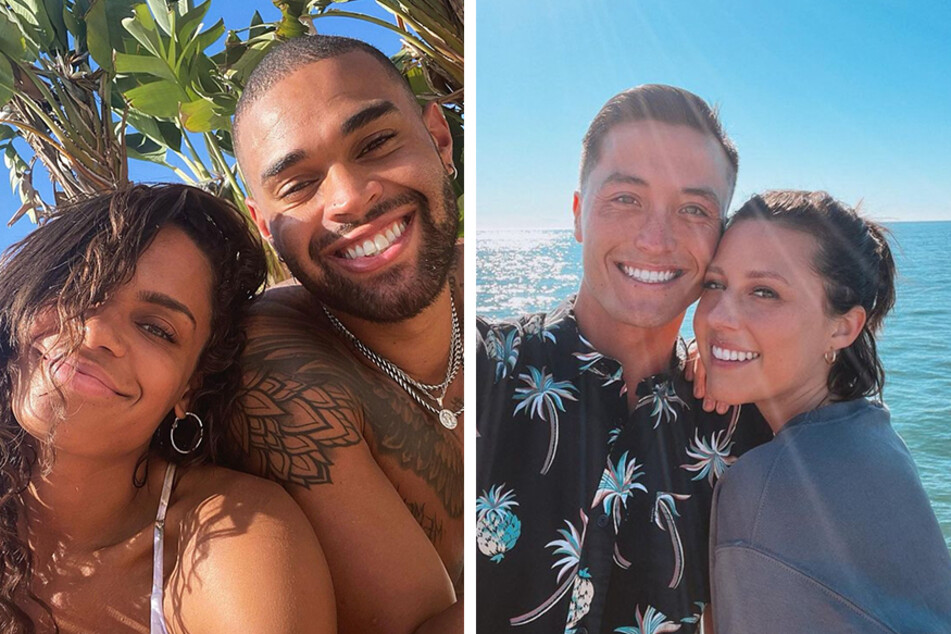 First it was Michelle Young (29) and Nate Olukoya (27) who shattered our hopes and dreams that maybe, just maybe, true love could be found on a reality TV show.
Then, former lead Katie Thurston re-entered the group chat to share her relationship with John Hersey (27) was also dead and gone.
With so much disappointment to wade through, we'll start with Michelle and Nayte's tragic – but not surprising – end.
The formerly engaged couple announced their split in two separate Insta stories where they both respectively thanked Bachelor Nation for their unwavering support before hitting them where it counts.
"I'm struggling to say that Nayte and I will be going our separate ways but I stand with him in knowing the heaviness that is present in both our hearts as this relationship has been very real for us," Michelle wrote. "Nayte, you quickly became my best friend and the love I have for you is incredibly strong. I will never stop wanting to see you succeed."
Nayte posted a similar message on his respective account: "Michelle and I are going to move forward separately. Hearts are heavy, emotions are high and we are dealing with this the best way we can."
While Michelle and Nayte's messages were rather in-depth and extremely heartfelt, the same can't be said about Katie's official break-up remarks.
Katie Thurston confirms her split from John Hersey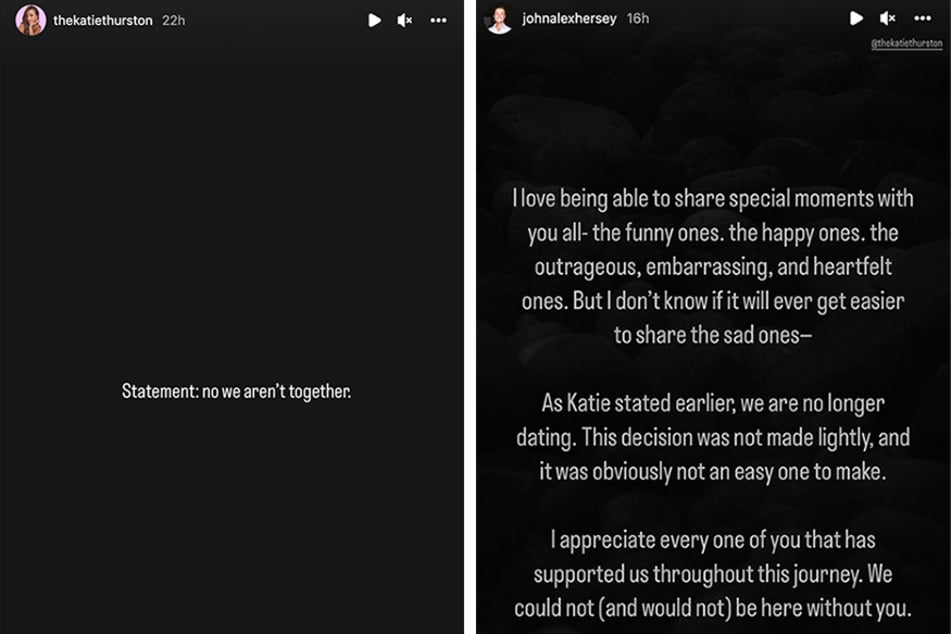 It seems Katie has some savage bones in her body, and her official statement addressing the split from John is all the proof we need.
Instead of penning an elaborate message of feels to her former flame, she posted a five-word IG story that read: "Statement: no we aren't together."
Though the 31-year-old has yet to dish on what happened, John took it upon himself to give Bachelor Nation the words they wanted.
"As Katie stated earlier, we are no longer dating," he wrote on his story. "The decision was not made lightly and it was obviously not an easy one to make."
"I appreciate every one of you that has supported us throughout this journey. We could not (and would not) be here without you," john said.
Katie didn't walk away from her season with John on her arm. But the two rekindled their brief love affair after she split from Blake Moynes – the winner of season 17.
With two Bachelorette break-ups in a week's time, we hope the upcoming joint season ends with Gabby Windey and Rachel Rechhia finding their forever loves.
Cover photo: Collage: Screenshot/instagram/michelleyoung & thekatiethurston