Bernie Sanders and Reverend William Barber kick off Raise the Wage rallies
Durham, North Carolina - Senator Bernie Sanders joined forces with the Reverend William Barber II to lead a rally in Durham, North Carolina, calling for a federal minimum wage increase.
Most workers in North Carolina and across the country are guaranteed to make at least $7.25 an hour, but for many, these stagnant wages just don't cut it anymore.
"We are tired of living off of $0.50 an hour," Venice Sanders, a home care worker, said during the Durham Raise the Wage rally. "We are working two or three jobs just to put extra food on the table. We have to decide if we are going to pay the cable bill this month, the rent, the water, the car payment, put new shoes on our kids' feet because they have gotten too small."
She added: "I am sick and tired at the age of 55 of having to work two jobs. I should be able to work a full-time job, have full-time benefits, have a job that is willing to invest in my retirement plans. If I work an extra job at retirement age, it should be because I want to, not because I have to."
A hotel worker named Christopher Daugherty said, "It's not a livable wage. It's hard for me to be independent. It's hard for me to get my own place. I still live at home with my mother. And I don't have any kids right now or a wife, but I'm still struggling on $13 an hour, trying to make it."
"A lot of people are trying to raise their families off a minimum wage. They can't provide for their families. And when they can't provide, you know, children suffer, families suffer," Daugherty continued.
"Why is Congress allowing these corporations to pay us unlivable wages?"
Bernie Sanders and Reverend Dr. Barber demand increase in minimum wage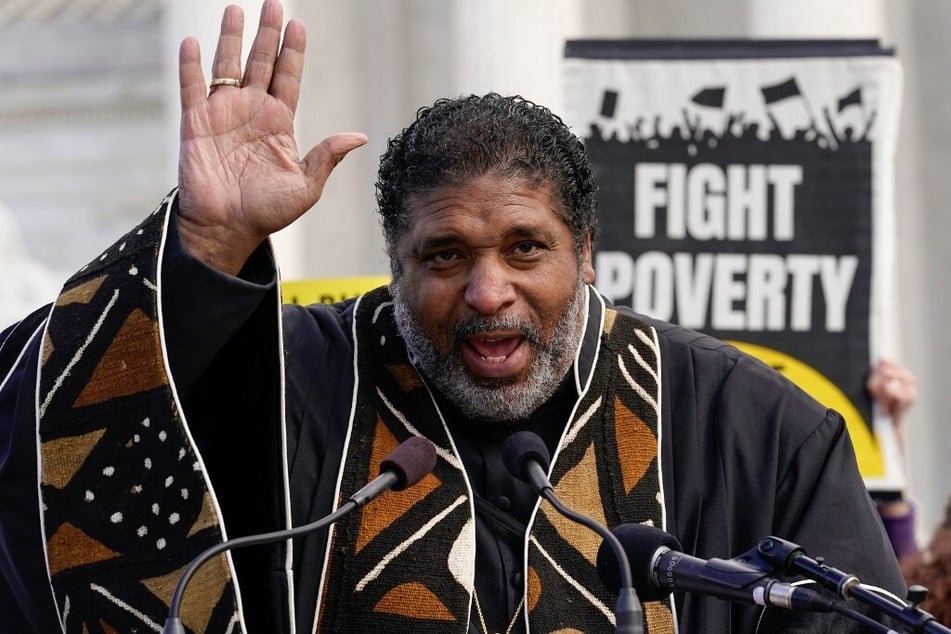 "Let's be clear: $7.25 an hour in North Carolina and in other states is nothing less than a starvation wage, and that has got to change," Sanders told the crowd via video stream.
The senator, who was unable to attend the rally in person due to the debt ceiling vote in Congress, introduced legislation earlier this month to raise the federal minimum wage to $17 an hour.
"We can no longer tolerate a rigged and corrupt economy where the very richest people in this country get richer while tens and tens of millions of workers are falling further and further behind," the Vermont Independent insisted. "There is no excuse – there really is none – why every man, woman, and child in this country should not receive and have a decent standard of living."
"Living wages aren't a far-left idea. They are a fundamental moral issue," agreed Reverend Dr. Barber. "Some things aren't about left versus right and conservative versus liberal, but they are simply about right versus wrong."
Senator Sanders and Reverend Dr. Barber are set to lead two more Raise the Wage rallies this week, one in Nashville, Tennessee, on Friday and another in Charleston, South Carolina, on Saturday.
Cover photo: Anna Moneymaker / GETTY IMAGES NORTH AMERICA / Getty Images via AFP