AOC calls on Senate to include pathway to citizenship in social spending bill
Washington DC – New York Rep. Alexandria Ocasio-Cortez rallied with immigrants rights activists on Tuesday outside the Capitol as progressives call on the Senate to include a pathway to citizenship in the Build Back Better Act.
Democrats are looking for a way to include a pathway to citizenship in their Build Back Better (BBB) social spending bill, despite the Senate parliamentarian, Elizabeth MacDonough, shooting down two previous proposals.
The parliamentarian is an unelected advisor, and her decisions are non-binding.
Nevertheless, many senators have seemed wary of violating precedent by going against MacDonough's ruling, instead choosing to submit a third proposal for consideration.
The most recent iteration calls for work permits and deportation protections for undocumented immigrants. MacDonough is expected to provide her assessment soon.
Meanwhile, progressives have a different solution to the parliamentarian's nay-saying: ignore it.
AOC once again urged Senate Democrats to disregard MacDonough's recommendation and act to secure immigrants' rights.
On Tuesday, she spoke at a rally outside the Capitol demanding the Senate take action to provide a pathway to citizenship.
"Don't let anyone tell you that the moment is gone, that the possibility has gone away, that the opportunity is not here, because that is not true" she said to the cheering crowd.
"We have that opportunity right now," she continued. "And that opportunity is standing right there on the Senate side."
AOC links immigration with care economy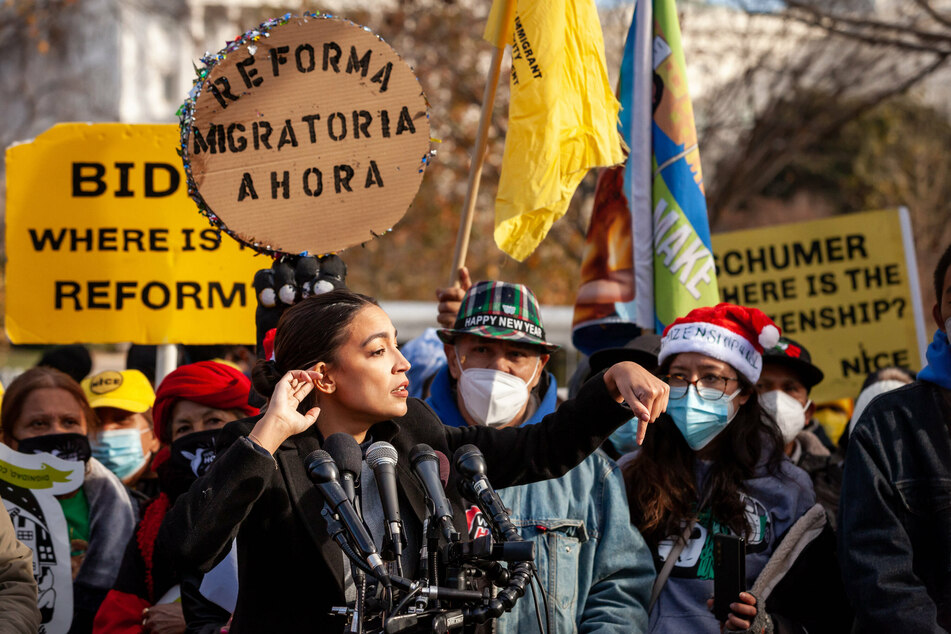 The following day, AOC continued to drive the point home during a House committee hearing on the impact of federal investments in family care.
During her remarks, AOC asked National Domestic Workers Alliance Ai-Jen Poo to speak on the impact a pathway to citizenship would have on the care economy if the Senate does override the parliamentarian's recommendation.
In response, Ai-Jen Poo pointed out that immigrants play a huge role in childcare, elder care, and domestic work: "There's actually no way that we can take care of American families in this country without immigrant women, and without immigrant women having secure jobs."
"Those secure jobs will enable us to secure all care jobs, which will enable us to secure the entire workforce," she continued.
The New York congresswoman responded with a pointed hint at her colleagues: "Thank you and with that I hope the committee perhaps has a sliver of a better understanding of what it's like to be a woman in the United States of America."
Still, Senate Democrats appear largely hesitant to follow through on her demand. Striking down the parliamentarian's recommendation could get dicey, as Republicans would only need to win over a single member of the opposing party in order to dash Democrats' hopes of passing the bill.
As Democrats are already struggling to achieve unity among their members, many may feel that risking further disagreement could damage the ability to pass the BBB altogether.
Cover photo: IMAGO / NurPhoto