Kevin Durant puts up big prediction on Bronny James' college basketball pick!
Phoenix, Arizona - LeBron James is going to love what former teammate Kevin Durant has to say about his son Bronny James' basketball future!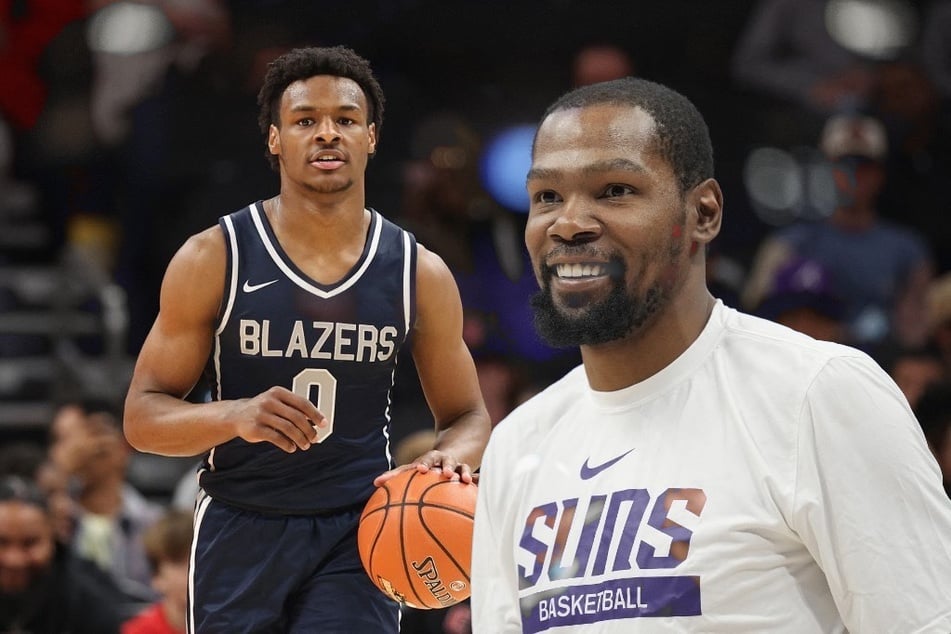 Over the past couple of months, there has been tons of buzz surrounding the son of the Los Angeles Lakers All-Star over his future in the sport.
After all, King James has already confessed his intention to sign to whichever team drafts his son in the 2024 NBA Draft.
Still, the big league is more than a year away for Bronny, who will soon have to decide what he will do during his gap year.
Will he play college hoops? Or will he enter the NBA G league?
The Phoenix Suns' newest superstar Kevin Durant recently weighed in with his thoughts on the younger James, saying he hopes the rising athlete takes the college route as opposed to playing in the G league – or even abroad.
"I would love to see Bronny in college instead of going the other route," KD said on his media platform Boardroom. "I wanna see Bronny hoop. I wanna be in real time, see what he's doing and follow his journey."
Durant, who was a Texas Longhorn before starting his NBA career, believes the college experience is a crucial rite of passage to the NBA for young players.
Then, he went one step futher, predicting just where he thinks Bronny will land!
Where will Bronny James play college basketball? Kevin Durant calls the USC Trojans
When discussing Bronny's possible college choices, Durant didn't shy away from saying he believes Bronny will choose the USC Trojans.
"That's what my guess was, too," Durant said when discussing the youngster's future. "Was it USC, Oregon, and Duke? … It's going to obviously be easy for Bron [LeBron] to catch the games if he at USC."
While Duke isn't actually in the running, Bronny's top college choices – Ohio State, USC, and Oregon – are all still competing to have the son of the all-time NBA scorer on their roster this fall!
Cover photo: Collage: Christian Petersen & Patrick McDermott / GETTY IMAGES NORTH AMERICA / Getty Images via AFP