College football: Grading the top hires in the coaching carousel
The eve of National Signing Day only means one thing: the college football coaching carousel has reached its natural conclusion!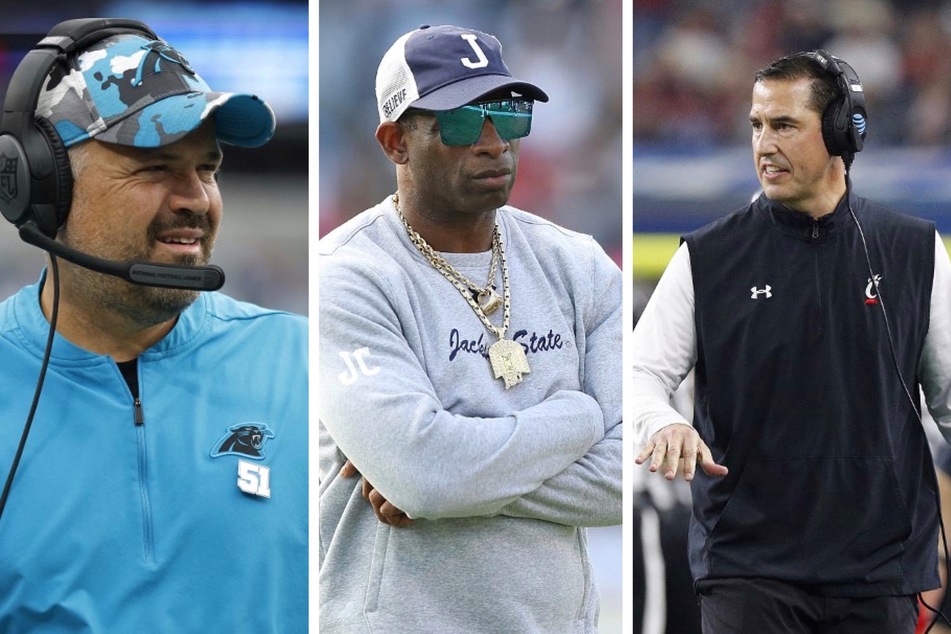 This season, Nebraska, Auburn, and Wisconsin were the big early movers as the bulk of the big coaching changes in the Power 5.
The Cornhuskers shocked college football fans with the impressive hire of former NFL coach Matt Rhule, as Colorado impressed with the hire of celebrity football coach Deion Sanders.
Starting the 2023 season, there will be 11 new Power 5 coaches who are set to shake the coaching table and give their game day opponents a run for their money.
Grading the coaching hires from this past season, here are the top new coaches that have headlined the college football coaching carousel.
Arizona State: Kenny Dillingham, former Oregon offensive coordinator
Grade: B
The Arizona Sun Devils are rolling the dice with 32-year-old Dillingham, whose major coaching experience only comes in play calling as an offensive coordinator.
Dillingham, a first time head coach and alum of Arizona State, is one of the best young offensive strategists who understands modern college football.
Dillingham is the youngest active head coach in the FBS, meaning the Sun Devils can use his longevity to lead the football program amid a successful turnaround in Arizona.
Auburn: Hugh Freeze, former Liberty head coach
Grade: B+
Hugh Freeze's hire didn't come without baggage, to say the least. Nonetheless, the coach does have something on his resume that only a few can match.
In five years at Ole Miss, Freeze outplayed Nick Saban's Alabama team twice and made four bowl game appearances, winning two.
After being fired from Ole Miss amid a huge escorting scandal and NCAA violations with the team, Freeze was giving a second chance at Liberty football, where the 53-year-old showed he's still an elite offensive coach. The Liberty Flames were 34-15 in four years.
Colorado: Deion Sanders, former Jackson State head coach
Grade: A
One of the best coaching hires this season comes in Deion "Coach Prime" Sanders. With the hire of the NFL Hall of Famer, Colorado has been buzzing with headlines more in the past two weeks than it has nationally in close to a decade.
The Buffaloes' football has already soared with hundreds of players showing interest in Sanders' Colorado team, and his son Shedeur has already been named starting quarterback.
After a 27-5 coaching record at Jackson State, including an undefeated 2022 mark this season, it will be interesting to see how Sanders' coaching will translate against a challenging schedule next year in the Pac-12.
Nebraska: Matt Rhule, former Carolina Panthers head coach
Grade: A-
Matt Rhule was a big flop as an NFL coach, but has always been widely regarded as a strong college coach given his track record at Baylor and Temple.
As the Baylor Bears' head coach, Rhule only took three seasons to go from one win to 11 wins, and it took him the same amount of seasons at Temple to go from two wins to 10 wins.
The Cornhuskers have the second all-time consecutive seasons with a bowl game appearance (35) and now the longest bowl-less streak of any Power 5 program (6). Rhule will have plenty of work to rebuild Nebraska in the Big Ten West, and knowing his resume, the work will be done!
Wisconsin: Luke Fickell, former Cincinnati head coach
Grade: A-
Luke Fickell was an absolute prize in this hiring cycle, and his hiring appeared to come out of nowhere. After Paul Chryst was let go early October, interim coach Jim Leonard, who finished out Wisconsin's season to a 4-3 record, appeared as a front-runner for the head coaching job.
However, Wisconsin's athletic director Chris McIntosh hired the only coach in college football history to earn a Group of 5 team to the College Football Playoff in Fickell, who posted a 57-18 record at Cincinnati.
Fickell is a former nose guard for Ohio State and a coaching assistant for the Buckeyes for 15 seasons. His knowledge of Big Ten football extends beyond most, and he understands the Midwest footprint.
Cover photo: Collage: Jared C. / Justin Ford / Richard Rodriguez / GETTY IMAGES NORTH AMERICA / Getty Images via AFP