Ukraine war hits 100-day mark as Russia's devastation continues
Kyiv, Ukraine - Ukraine called for more help but said it was still holding its own in the besieged eastern city of Severodonetsk as the war reached the 100-day mark on Friday.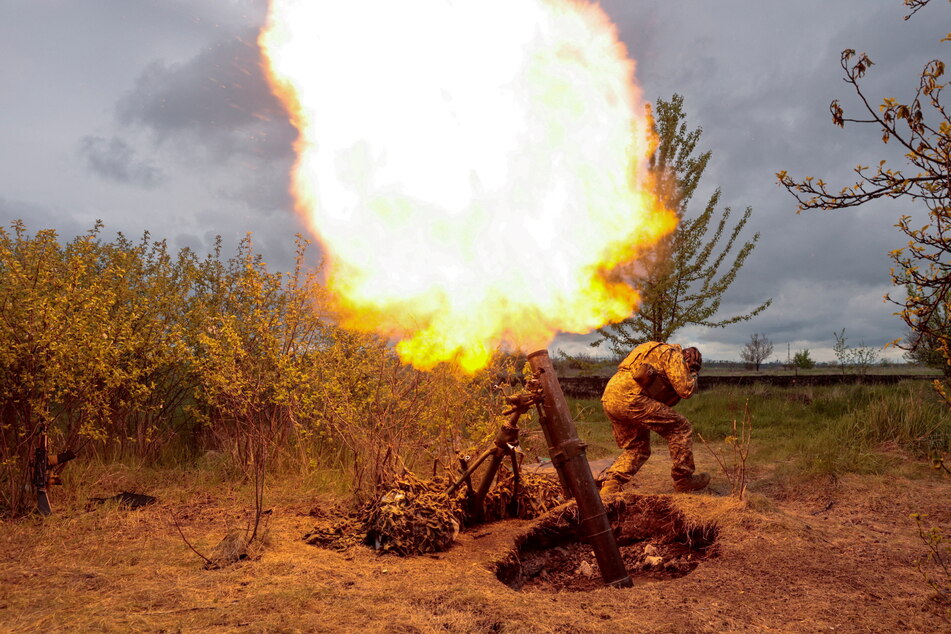 The global impact of Russia's invasion was also laid bare with the Kremlin signalling it would be willing to discuss future Ukrainian grain deliveries amid soaring prices.
In contrast, deliveries of Russian oil via sea to the European Union are now officially impossible as the latest round of EU sanctions against Moscow came into force.
The stalemate on the ground was summed up by both sides claiming small victories, with Ukraine's parliamentary speaker Ruslan Stefanchuk saying his country needed more and better military equipment from the West.
"Waiting and hesitation costs lives. One day costs around 100 soldiers' lives and 500 or more wounded," Stefanchuk told dpa.
The sentiment comes as President Joe Biden confirmed on Tuesday that the US will send advanced rocket systems to Ukraine to continue fights off Russia's invasion.
"We want to see a democratic, independent, sovereign and prosperous Ukraine with the means to deter and defend itself against further aggression," Biden said.
Ukraine war: Zelensky says he believes Ukraine will come out on top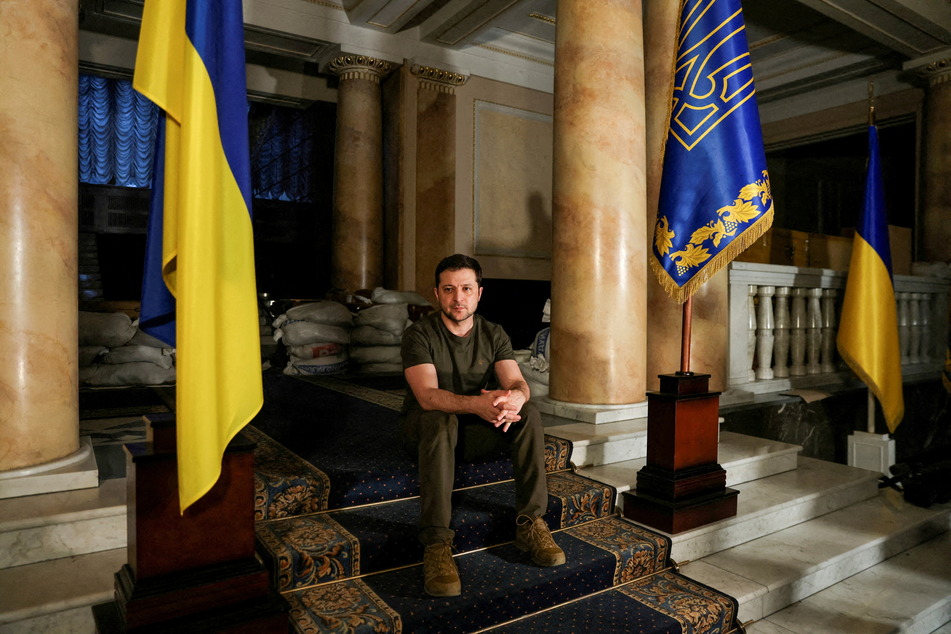 Ukrainian President Volodymyr Zelensky said he has faith in victory.
"Exactly 100 days ago, we woke up to a new reality," Zelensky said in a video address recorded in front of his official residence in Kyiv.
He described the experience of war in terms of new words that Ukrainians had to learn. These included terrible ones like "missile," "ruins," and "deportation."
Zelensky stressed his country was fighting for peace and victory.
Kyivv mayor Vitali Klitschko echoed Zelensky's comments, and said he was certain Ukraine will win the war with Russia.
It was 100 days of war full of bloody battles, casualties and deaths, the former world boxing champion said in a video posted on his Telegram channel, "but it is also a time of courage and perseverance."
He added: "We are all standing and fighting together. Everyone in his place. We admire our armed forces." Ukraine will free itself from the "Russian barbarians," he continued.
The Russian military meanwhile said it had launched further missile and artillery strikes in Ukraine as well as airstrikes. The Defense Ministry in Moscow said more than 360 "nationalists" had been eliminated, while 49 weapon systems and military vehicles had been destroyed.
The reports could not be independently verified.
Ukraine war: On the ground update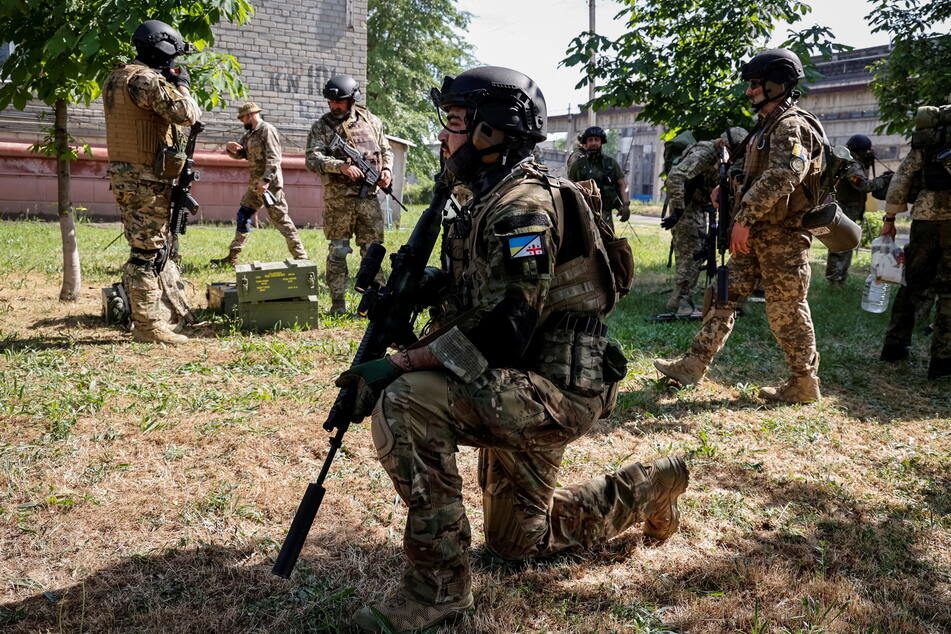 The Ukrainian military reported that it has managed to hold its positions in the strategically-important city of Severodonetsk.
"Fighting continues in the center of Severodonetsk," the Ukrainian general staff said in its recent situation report, adding that Russian forces were continually shelling Ukrainian positions in the city, as well as in the suburbs.
In addition, the general staff reported Russian airstrikes on the village of Myrna Dolyna and unsuccessful attempts to storm the nearby settlements of Metyolkin and Bilohorivka.
Russian attempts to cut Severodonetsk off from supply lines further west were also unsuccessful, the Ukrainian report said.
However, the Russian army is amassing forces for an attack on the city of Slovyansk in eastern Ukraine, according to the Ukrainian General Staff. The Ukrainian military said on Facebook that there were up to 20 Russian combat units with armored infantry, artillery, and air defense, numbering 600 to 800 soldiers.
Ukraine war: Mariupol "being held hostage," Oil ban put in place as food prices soar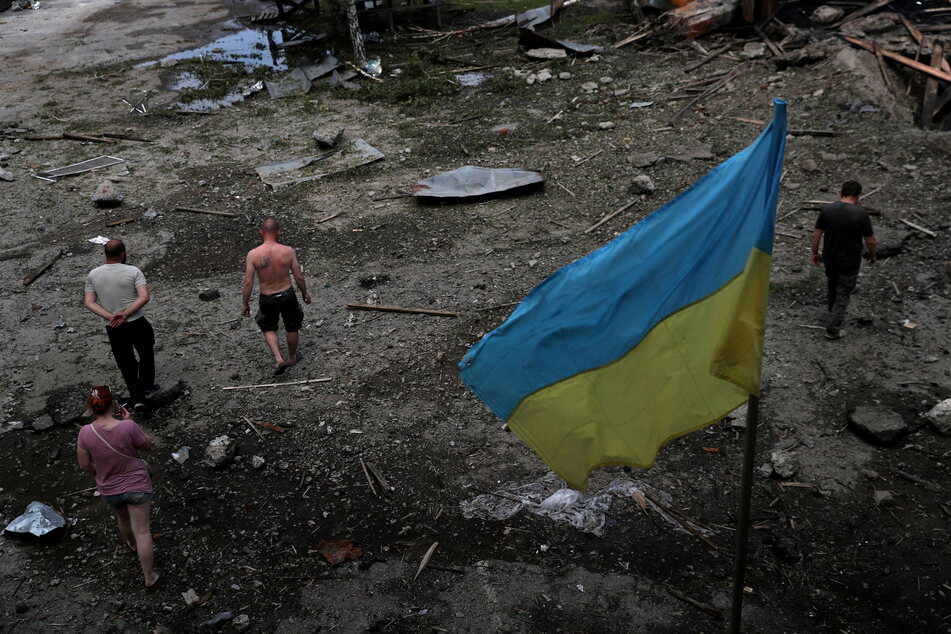 Meanwhile, the displaced mayor of the captured Ukrainian city of Mariupol accused Russia of holding the remaining citizens hostage.
Vadym Boichenko said there are still about 100,000 residents in the city who are unable to flee to safe Ukrainian territory. He believes Russia is keeping them there to make it more difficult for Ukraine to mount a counter-offensive.
"They are being held there by Russian troops and practically used as human shields," he said in Kyiv.
His comments came as a sixth round of EU sanctions targeting Russian oil, Russian banks and Russian military officials entered into legal force after publication in the EU Official Journal.
EU foreign policy chief Josep Borrell said on Twitter the package was "a big blow to Putin's war chest," referring to Russian President Vladimir Putin.
The punitive measures on the Kremlin for invading Ukraine come into legal effect after long, drawn-out negotiations to convince Hungary and other landlocked EU countries to agree to a partial ban on Russian oil.
The package targets Russian oil delivered by sea but exempts oil that moves via pipeline such as the Soviet-era Druzhba pipeline, which connects Russia with several Eastern and Central European countries.
Russian oil exports will clearly be hit, but the future of Ukrainian grain exports remains a huge issue of concern for the wider world.
International wheat prices have risen for a fourth consecutive month, up 5.6% in May alone, the UN's Food and Agriculture Organization (FAO) reported, with the war having a big impact on what is a major global region for grain production.
Grain deliveries from Ukraine are to top Moscow's diplomatic agenda over the days ahead, Kremlin spokesman Dmitri Peskov said. He confirmed the issue would be discussed between President Putin and Senegalese President Macky Sall in Sochi and during a trip to Turkey next week by Russian Foreign Minister Sergei Lavrov.
Many countries are facing soaring food prices and a humanitarian crisis could result in places such as Africa, experts predict.
Cover photo: REUTERS