Ukraine war: US says Russia has committed war crimes as another journalist dies
Kyiv, Ukraine - Ukrainian forces say they are holding their ground in battles against Russian troops, a month after the start of the invasion of Ukraine.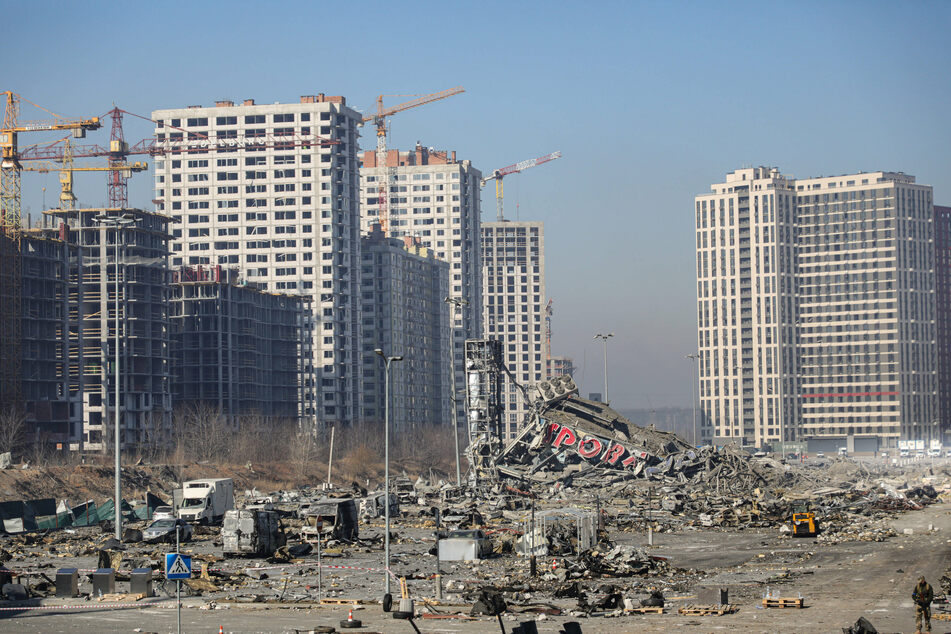 The general staff of Ukraine's armed forces said on Wednesday that the Russian advance had been halted on several fronts, for example near Sloviansk in the Donetsk region in the south-east.

Mykolaiv in the south is also being defended successfully, as is Chernihiv in the north-east, the Ukrainian side said.
In Mariupol, where there has been particularly fierce fighting for weeks now, the military command said that the Ukrainian forces were defending themselves against attacks from all directions. The government said some 6,000 people had managed to leave the city in private cars on Tuesday, but that pro-Russian separatists had stopped a humanitarian convoy not far from the city.
Fighters from the self-proclaimed Donetsk People's Republic took several Ukrainian civil defense workers "hostage" in Manhush, six miles west of Mariupol, Deputy Prime Minister Iryna Vereshchuk said on Ukrainian TV.
The detained people had been driving buses in which civilians were supposed to be evacuated from Mariupol, Vereshchuk said.
Ukrainian President Volodymyr Zelensky described ongoing peace negotiations with Russia as "very difficult" in a video message released early Wednesday.
"They are very difficult, sometimes scandalous, but we are moving forward step by step," Zelensky said, adding that Ukrainian representatives were negotiating every day.
He said he hoped three summits planned for this week by the G7, NATO and the European Union would lead to additional support, adding that he expects new sanctions against Russia and new aid for Ukraine.
Meanwhile, Russia's advance into Ukrainian territory is still being frustrated by supply issues, according to the Pentagon. Food is running low and "some troops have actually suffered and were taken out of the fight because of frostbite," an official said, on condition of anonymity.
A full 28 days into Russia's war on Ukraine, here are the latest developments as they happen on Wednesday.
UPDATE, March 23, 4:30 PM EST: Russia draws list of US diplomats to be expelled
Russia has given the US embassy in Moscow a list of diplomats to be declared persona non grata, the Foreign Ministry in Moscow said, without detailing the names or number of people to be expelled.
The ministry said it was a response to the United States ordering the expulsion of 12 Russian diplomats from Moscow's UN mission in New York in February.
The White House has said that the 12 were found to be "engaging in espionage activities that are adverse to our national security."
Moscow accused the United States of "grossly violating its obligations under the host country agreement."
Some diplomats working at the United Nations in New York have special protection because the UN is an international organization to which all member countries must have access.
But the host country agreement between the US and the UN states that US laws and regulations can be applied "in the event of abuse of such residency privileges."
UPDATE, March 23, 3:00 PM EST:
Another journalist has been killed in Ukraine, this time Russian national Oksana Baulina, who was working for The Insider, one of the many independent Russian news websites pushed out of the country in recent years.
Baulina was killed alongside a civilian in Kyiv. She was filing a story on the shopping district that was bombed by Russia on Monday when another round of shelling hit the area, according to the publication.
"Before joining our media project, Oksana worked as a producer for the Anti-Corruption Foundation. After the organization was listed as an extremist organization, she had to leave Russia in order to continue reporting on Russian government corruption for The Insider," her obituary said.
Baulina is the fifth journalist to have died during the course of the war.
UPDATE, March 23, 2:30 PM EST: US says Russia has committed war crimes
The United States has determined that Russian forces have committed war crimes in Ukraine, Secretary of State Antony Blinken said on Wednesday.
"Our assessment is based on a careful review of available information from public and intelligence sources," he said in a statement. "As with any alleged crime, a court of law with jurisdiction over the crime is ultimately responsible for determining criminal guilt in specific cases."
Blinken said Russia was deliberately targeting civilians and using war tactics seen in Chechnya and Syria.
President Joe Biden called Russian President Vladimir Putin a "war criminal" and "murderous dictator" last week.
UPDATE, March 23, 9:45 AM EST: More NATO troops heading to Eastern Europe
NATO will deploy four new battle groups across Bulgaria, Hungary, Romania and Slovakia, NATO Secretary General Jens Stoltenberg announced on Wednesday, as part of the Western alliance's response to the Russian invasion of Ukraine.
NATO already has battle groups in Estonia, Latvia, Lithuania, and Poland. That makes it eight battle groups, "from the Baltic to the Black Sea."
"This means that we will have eight multinational NATO battle groups all along the Eastern flank from the Baltic to the Black Sea," Stoltenberg said ahead of an extraordinary NATO summit scheduled for Thursday.
"We face a new reality for our security, so we must reset our deterrence and defence for the longer term," he said.
Stoltenberg said there were now 100,000 US troops in Europe and 40,000 NATO forces, "mostly in the eastern part of the alliance."
UPDATE, March 23, 7:00 AM EST: The latest on humanitarian corridors
Nine humanitarian corridors are planned for Wednesday to evacuate civilians from embattled Ukrainian cities and villages, according to Kiev.
This means the evacuation of Mariupol in the south, which has been under siege for weeks, will continue, Deputy Prime Minister Iryna Vereshchuk said in a video message.
Around two dozen buses are ready to take people from the port city to Zaporizhzhia further south-west.
According to Russian estimates, between 100,000 and 150,000 people are still in Mariupol, where conditions are catastrophic. There is hardly any food, water or electricity.
The evacuation corridors allow observers some indication as to the course of fighting at the front. Ukraine has accused Russian forces of shelling the corridors at every turn and preventing civilians from fleeing. Russia, meanwhile, has blamed breakdowns on the Ukrainian army.
As yet, there are no updates on the hostages allegedly taken on Tuesday.
UPDATE, March 23, 6:30 AM EST: Russia warns NATO against peacekeeping mission
Reuters is reporting on some pretty ominous warnings issued by Kremlin spokesperson Dmitry Peskov, who said any potential NATO peacekeeping mission in Ukraine would be "reckless" and "dangerous."
He was backed up by Russian Foreign Minister Sergei Lavrov. "This will be the direct clash between the Russian and NATO armed forces that everyone has not only tried to avoid but said should not take place in principle," he insisted on Wednesday, referring to the presence of peacekeeping forces in Ukraine.
Poland reportedly intends to propose a peacekeeping mission at the emergency NATO summit taking place on Thursday in Brussels, Belgium, President Joe Biden will be there in for the talks, after which he is scheduled to visit Poland.
UPDATE, March 23, 6:00 AM EST: Overnight fighting in Kharkiv
Ukrainian units say they have fended off an attack by Russian troops in Kharkiv in the east of the country.
The Russian side deployed Ka-52 combat helicopters on Tuesday evening, the Ukrayinska Pravda newspaper quoted regional commander Oleg Sinegubov as saying. "Our troops are holding their positions."
He said the situation in besieged Izyum, some 60 miles away, was difficult. There was currently no connection to the city.
All efforts to create a humanitarian corridor had been rejected by the Russian side, the commander added.
Cover photo: IMAGO / Ukrinform