Fiesty cat goes viral for Barbie costume - and serious attitude!
New York, New York - Like many moviegoers this week, one cat dressed up in pink to celebrate the Barbie movie, but he wasn't too happy about it, to say the least!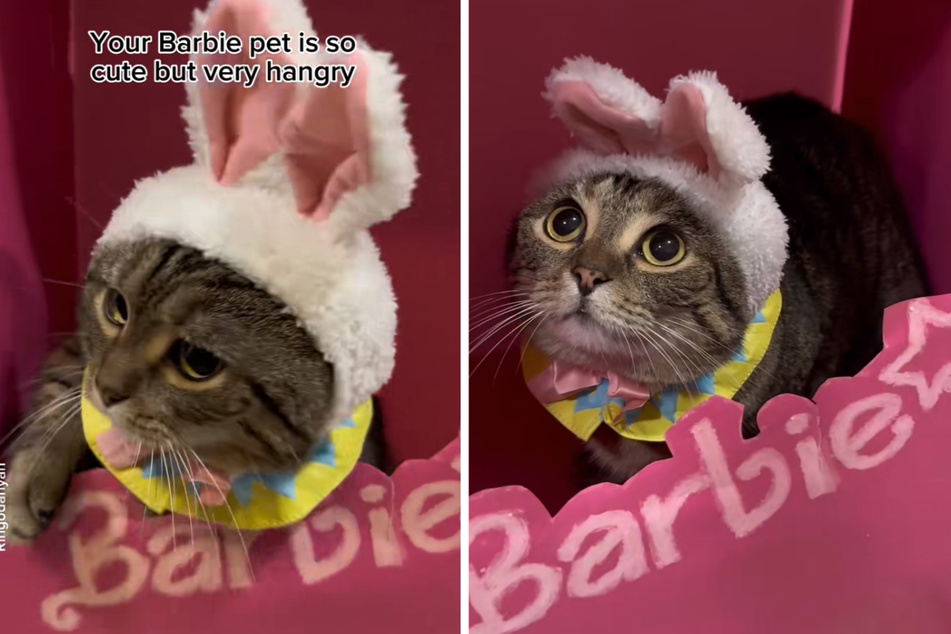 This Barbie is...hungry!
One feisty feline named Ringo got in on the fun with a pink costume featuring bunny ears, which he rocked from inside a makeshift doll box.
In the clip, the cat shows off his angry reaction to the owner's hands — until she greets him with some food, of course!
When he's not swatting his paws, the adorable pet is precious with his doe eyes as he awaits the treat.
The hilarious video, which is set to a much-deeper riff on Aqua's iconic song Barbie Girl, has earned over 400,000 views across TikTok and Instagram.
In the comments, users couldn't help but joke about Ringo's wild behavior.
"I'll pet that Barbie!! I'll risk losing my fingers to this fierce predator!'" one user said on Instagram.
Another likened the cat's attitude to Barbie's far darker box office counterpart, Oppenheimer.
"Now I am become death, the destroyer of worlds," he wrote.
With all of the passionate humans who dressed up for the record-breaking Barbenheimer weekend, Ringo the cat would fit in perfectly at any movie theater!
Cover photo: Collage: Screenshot/TikTok/ringodanyan