Best therapy dogs: Soothe your anxiety and depression with these breeds
Dogs can improve any environment they walk into, but some offer more than just a smile. Therapy dogs are crucial for the treatment of many people and a few breeds are particularly well-suited to the tasks. So which breeds make the best therapy dogs and why?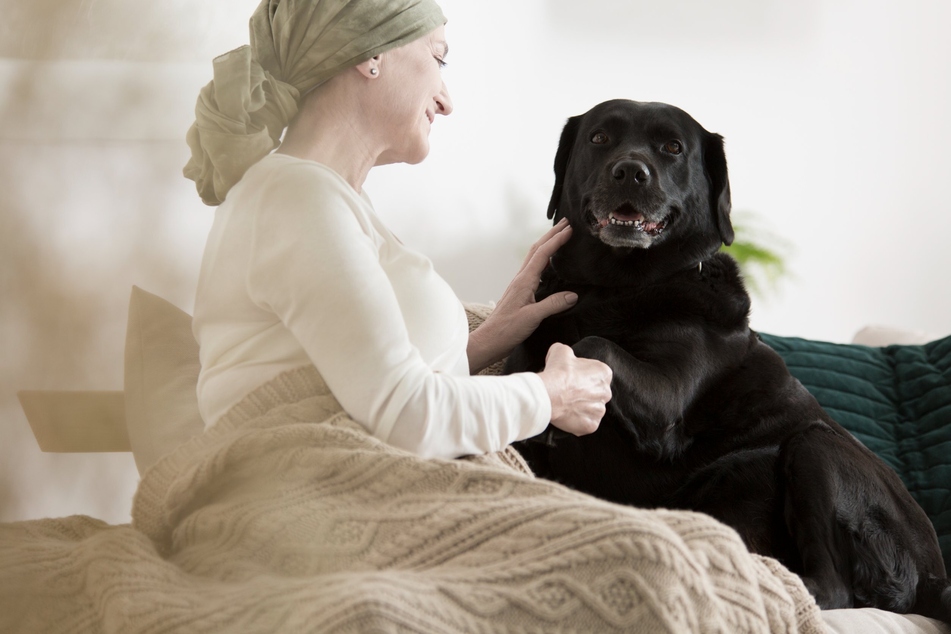 Therapy dogs are incredibly helpful for many people across the world who have been afflicted with both mental and physical illnesses.
Whether you are suffering from severe depression, or some kind of disability, dogs can provide long-term therapeutic care that has proven effectiveness.
But some breeds are just better than others at providing this crucial relief.
In this dog guide, TAG24 takes a look at the best therapy dog breeds in the world.
Here's which dog is best for which type of patient and what you need to know about these helping hounds.
A bit busy? Here's a quick TL;DR:
Certain dog breeds are excellent as therapy dogs, and others are pretty hopeless in the role. In the end, though, the most important aspect of a therapy dog is its training.
Therapy dogs can provide benefits for both mental and physical illnesses or disabilities.
Depending on the clinical picture and the therapy goal, the work of the therapy dog takes place in an active or reactive form.
A therapy dog will only be administered after recommendation from medical professionals and approval from the state.
The dog's health is still important and must always be taken into account.
What is a therapy dog?
A therapy is a dog specially trained to provide assistance and treatment for physical or mental illnesses. They can be used in a variety of different medical and educational settings to assist in the healing process associated with a variety of medical conditions and fields. These include:
Psychotherapy
Occupational therapy
Speech therapy
Learning therapy
Nursing
Curative education
Physiotherapy
Assistance
Through their participation in therapeutic work, therapy dogs can provide significant improvements in the condition and behaviors of the people treated. This applies to people afflicted by both physical, neurological, and mental illnesses or disabilities.
Therapy dogs can help in the treatment of depression, perceptual disorders, speech problems, learning disabilities, anxiety, and other developmental disorders and limitations.
Why should you get a therapy dog?
It's pretty clear that dogs make most people pretty darn happy. They not only help to promote and improve our social lives, but also provide a great deal of stress relief and even lower our blood pressure.

As a result, once a dog has also been trained to provide therapy, it can do a lot of good. Animal-assisted therapies are an alternative medical treatment, and their application can help in the healing process and improve symptoms.
Fun fact: Horses, llamas, sheep, cats, dolphins, and other animals can also be used as pretty effective therapy animals.
What are the best therapy dog breeds?
Ultimately, the breed of the therapy dog is less important than its character and training. A well-trained dog with the right temperament can make a great therapy dog, no matter the breed.
That being said, some breeds have a tendency towards particular personalities and are also rather easy to train, making them perfectly suited for therapeutic needs.
Some of the best therapy dog breeds include:
Australian shepherd
Beagle
Bernese mountain dog
Saint Bernard
Border Collie
German shepherd
Golden retriever
Labrador retriever
Maltese
Pug
Newfoundland dog
Poodle
Particular breeds are particularly good for particular afflictions, though, so let's break it down.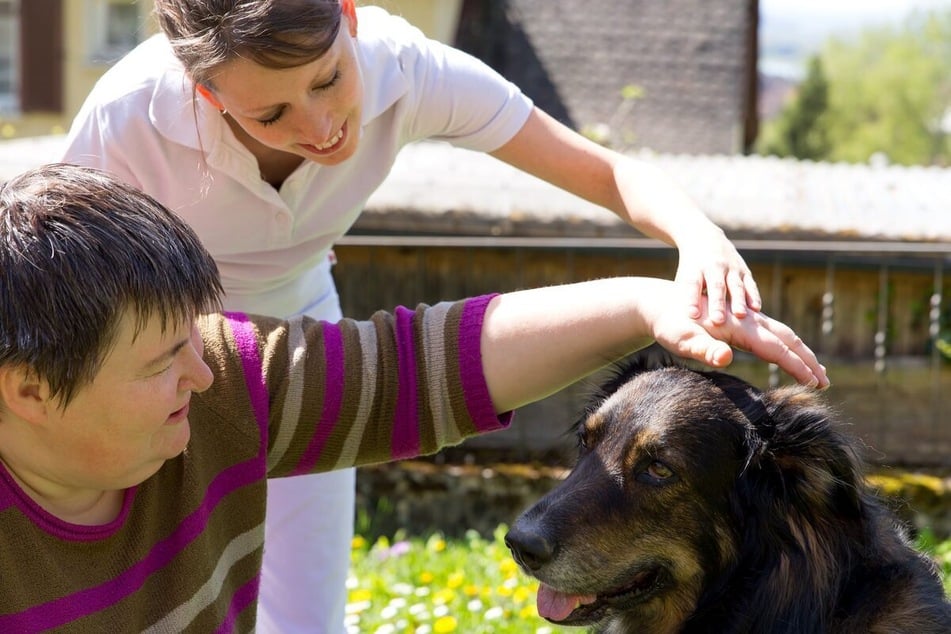 Best therapy dogs for anxiety
Anxiety can be a real challenge for many people, and is a mental health condition that can become so extreme that therapy dogs become necessary. When treating anxiety, therapy dogs need to be friendly, calm, affectionate, and highly intelligent.
Much the same as with depression, therapy dogs need to be trained to deal with anxiety attacks when they come around. This is where the intelligence comes in, and also the dog breed. The canine companion involved needs to be able to recognize the symptoms of an anxiety attack and provide appropriate comfort and safety for the patient.
Some of the best therapy dog breeds for anxiety include:
Standard poodles
Golden retrievers
Greyhounds
Yorkshire terriers
As far as a dog's ideal size goes, this is a matter of personal preference. Some people are scared of larger dogs, and others find a great deal of comfort in a plus-sized pooch.
Best therapy dogs for depression
In a 2019 interview with Bustle, Dr. Danielle Forshee confirmed that dogs can provide powerful therapy to patients struggling with depression, regardless of their breed. Forshee is a psychologist and social worker, and a strong advocate of therapy dogs for depression.
Certain dogs do, however, lower the risk of cardiovascular health problems. As a result, they can be excellent when fighting depression.
Good therapy dog breeds for depression include:
Cavalier King Charles spaniel
Labrador
Golden retriever
Poodle
According to Forshee, one of the most important aspects in a dog's ability to improve people's depression is the fact that they force their owners to take extensive walks outside.
Best therapy dogs for autism
Dogs can often help with the anxiety that is associated with autism, and can be particularly helpful for families with autistic children. The trick, though, is to find a therapy dog breed and personality that fits the particular sensitivities of the relevant individual.
If someone has allergies, then the dog should have short hair and must not shed too extensively. In the case of an autistic person with hearing sensitivity, a loud and persistent bark is a no-no. When choosing a dog breed, it's best to get expert advice and consult your physician.
Some great therapy dog breeds for autism include:
Saint Bernard
German shepherd
Labradors
Golden retriever
There is a near-endless list of factors involved in choosing the right therapy dog for someone with autism, especially a child, so it is best to get the opinion of your doctor.
What makes a good therapy dog?
There are many factors that need to be considered when getting a therapy dog, no matter the affliction. As a therapy dog, the pooch will encounter people with many diverse characters, diseases, and disabilities. Considering the difficult job ahead of them, they need to possess certain features if they're going to be a good therapy dog.
The characteristics that make a good therapy dog include:
A high level of obedience
Excellent social behavior towards both people and other dogs
The ability to remain calm in difficult or unforeseen situations
Low aggression
An open and kind nature
Ease on the leash
Friendliness towards strangers
It is important that a therapy dog is not territorial or overly protective. They may come into contact with medical personnel and equipment from time to time, and may find themselves in dangerous or difficult situations, so these kinds of instinctive behaviors must be ruled out.
Worst therapy dog breeds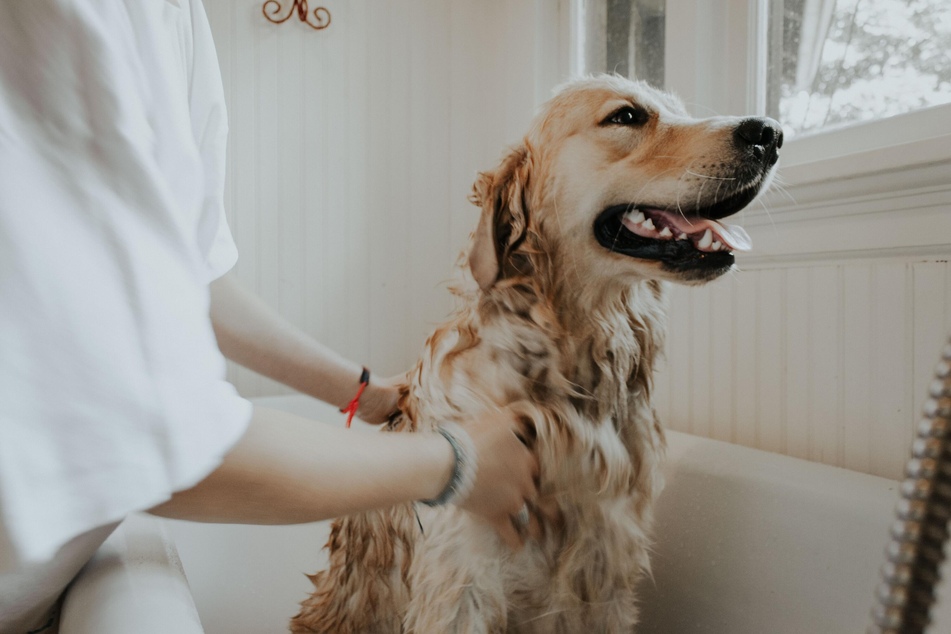 One thing is absolutely clear when talking about therapy dogs: some dogs have the right personality and characteristics, and others do not. Seeing as a therapy dog is there to help, making the right choice is crucial for not only the health, but the safety of the patient.
Lifestyle also needs to be taken into account. One example is a therapy patient who needs to travel a lot. In such a situation, the dog shouldn't be too big, as this will make it very awkward and could even result in your faithful pooch being stored in the hold of the aircraft with your luggage.
Some of the worst dog breeds for therapy include:
Husky
Australian Cattle dog / Blue Heeler
Rottweiler
Sheepdogs
Deerhounds
Neapolitan mastiff
Another factor is that a therapy dog should not have an issue with dog anxiety, as this kind-of goes against the entire point of having the animal. They should also not be too independent or hard to train.
Where can you take your therapy dog?
Therapy dogs should be trained to be no threat or concern to other people. You should be able to take them to places that aren't necessarily designed to be dog-friendly.
These include:
Hospitals
Doctor's clinics
Facilities for the disabled
Aged care homes
Kindergartens, schools, and universities
Remember that not every dog is going to be suitable for every location. You need to check with the people who provided you with the therapy dog first, and also with the veterinarian and doctor.
How does a therapy dog breed help with mental health?
Due to their high empathy and intelligence, therapy dogs can help with everything from severe PTSD to bipolar disorder. They can also help with rehabilitation for physical health issues, but we will focus on mental health in this section.
Mental health factors helped by therapy dogs include:
Improved communication skills
Strengthened self-esteem
Increased sense of responsibility
Increased concentration and performance
Reduced stress
Reduced anxiety
Reduced blood pressure
Relaxed muscles, less tension
More social integration
Due to people's natural connection with animals, humans often build a much stronger bond with a therapy dog than they do with a human therapist. This connection also develops much quicker.
Different kinds of therapy dog work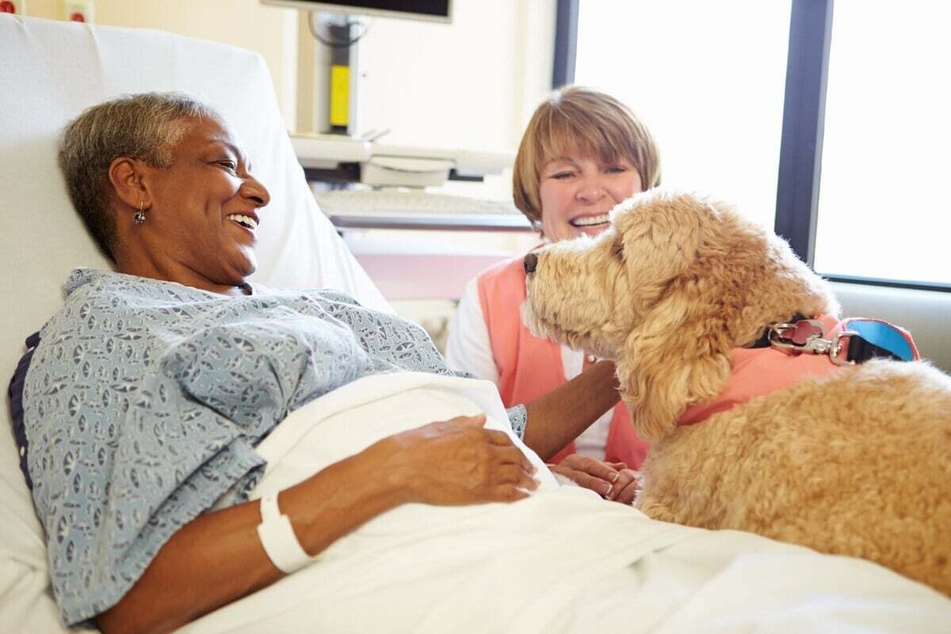 There are two main ways that a dog can contribute to an individual's therapy: in an active or reactive way.
Depending on what is best for you, these two therapy dog types can cause noticeable improvement in the patient. Let's take a look at both forms, and what this all means.

Active therapy dogs
When provided with an "active" dog therapy, the patient is encouraged by the dog to be active and perform certain activities. This means that the canine companion will be fed, stroked, brushed, played with, or taken for a walk by the patient.
Active therapy dogs help to strengthen the person's self-esteem and instill a sense of responsibility. They can also help to pull people out of depressive and lethargic periods.
Reactive therapy dogs
In contrast to active therapy dogs, reactive therapy dogs are trained to look after patients when they are going through something tough. These dogs are trained to use their empathetic abilities to recognize and react to different sensations and emotions displayed by their human.
The idea is that when a patient has, for example, a severe anxiety attack, a reactive therapy dog will respond in a way designed to calm and relax the person. They are not miracle healers, but can provide a great deal of relief during difficult moments.
Just so you know: Therapy dogs are different to assistance dogs. The latter are specifically trained for people with very particular needs and afflictions, such as blindness.
Getting the right therapy dog breed is critical
Dogs are naturally empathetic animals, allowing them to perceive sensations, mood swings, and emotions in humans. Once trained, a therapy dog can be an unbelievably powerful tool for recovery and treatment, making it all the more important to choose the right breed.
As more and more therapy dogs are put into use across the world, people should always remember that their first step should be to seek help from a medical professional. Before getting a therapy dog, speak to a doctor or a psychologist, they can always offer you the best medical advice.
Cover photo: 123RF / bialasiewicz