Harry Styles gives hilarious dating advice in viral Love on Tour clip: "Dump him!"
Munich, Germany - Harry Styles gave his brutally honest take after a fan asked for advice about her cheating boyfriend.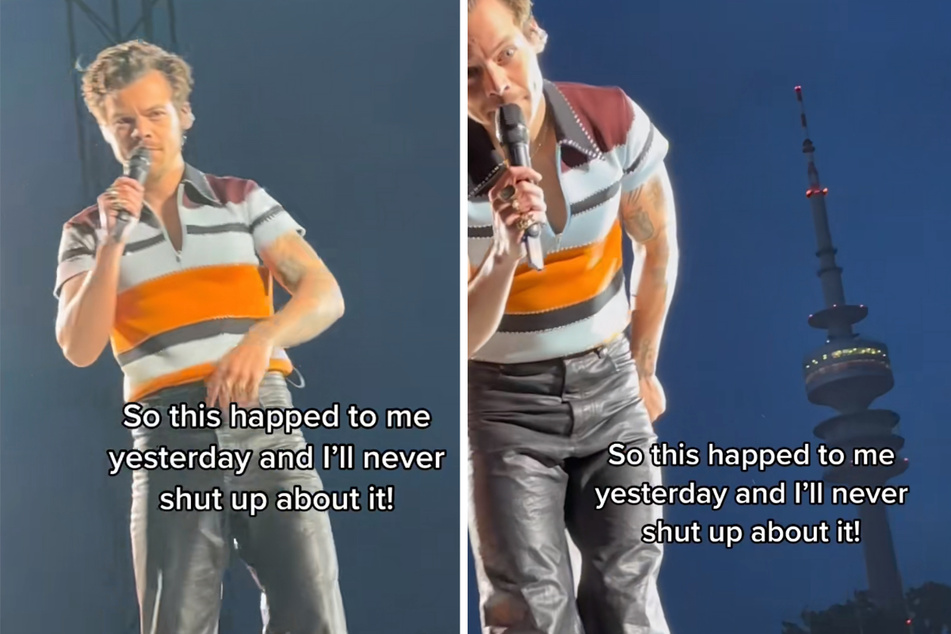 21-year-old Cecilia Cavalcanti was in the audience at Love on Tour in Munich, Germany, on May 17 and took the opportunity to get some love-life wisdom from the 29-year-old singer.
Cavalcanti held a sign that read, "He cheated. Should I forgive him?
In a TikTok video shared by the fan, Styles took notice of the sign as the audience of 70,000 began to boo, encouraging her not to forgive her unfaithful partner.
Cavalcanti told the One Direction alum that her boyfriend, whose name is Flo, had said he was sorry, to which Styles made quite a face to show his skepticism.
She then revealed that she's been with Flo for over five years. Styles remarks that it's "unfortunate" Flo isn't in attendance, as he'd "have some questions" for him.
He went on to assure the concertgoers that while she should do "whatever makes you happy," she deserves someone "better" who treats her with respect.
Though Styles kept it cordial with his cautious advice, the fans behind him began a chorus of, "Dump him! Dump him!" He then told Cavalcanti, "The people have spoken!"
Harry Styles fan takes his dating advice after concert
After the TikTok went viral in the past few days, Cavalcanti updated fans about her relationship, revealing in a later video that she did indeed takes Styles' advice and broke up with Flo.
"Healing from such a situation is hard, but it's so much easier now when I know I have the best fandom on earth having my back!" she said.
Her original video has now amassed over a million views as fans continue to gush over the interaction.
"if harry styles told me to leave my bf for breathing i would," one fan joked in the comments.
Cover photo: Collage: Screenshot/TikTok/cecilii1