Lizzo captures emotional moment of Harry Styles' Grammy win!
Los Angeles, California - The internet is all about Lizzo's TikTok stunning clip of the moment Harry Styles won the Grammy Award for album of the year.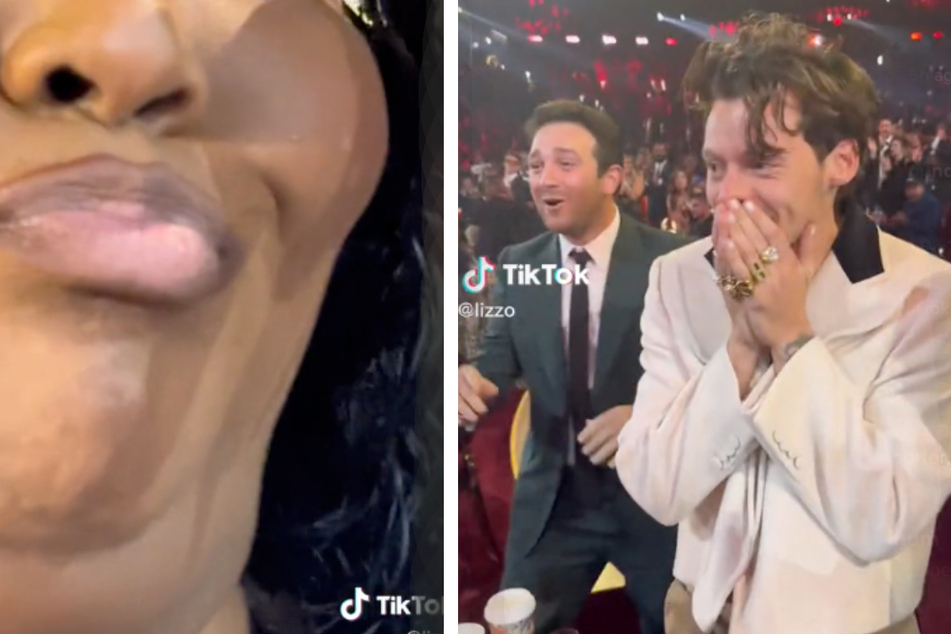 With impeccable timing, the Queen of positivity and winner of record of the year at the 65th Annual Grammy Awards had her camera trained on Harry Styles just as his big win was announced.
Her candid and chaotic clip, shows a super surprised Styles covering his face with his hands in shock, as someone in the background hails him as "bad a**."
The As it Was artist looks stunned, even after his producer, Kid Harpoon, jumps up and gives him a high five and kiss on the cheek.
Lizzo's phone then pans to the ceiling of the Crypto.com Arena in Los Angeles as she gives Harry a big hug, clearly thrilled to celebrate with her fellow star.
The vid also features Adele, whose album 30 was also nominated for album of the year, saying "I'm screaming."
Lizzo's TikTok of Harry Styles' win has TikTokers gushing
After five hours online, Lizzo's clip of Harry's super sweet reaction to his crowning Grammy moment – one of many emotional episodes on a historic night – has close to four million views.
TikTok users gushed over how the celebs' support of each other in the comments. One wrote, "EVERYONE DESERVES A FRIEND LIKE LIZZO." Another said, "insiders view, i love how they're all friends."
Others thanked Lizzo for the candid footage and fawned over Adele: "Adele saying 'I'm screaming' with a straight face. SO REAL."
Another person also noted the fact that everyone one was singing Harry's music as he headed to the stage. "Y'all singing sushi as soon as he walked away."
Cover photo: collage: screenshot/ TikTok/ Lizzo