Is Megan Fox pregnant? Machine Gun Kelly drops mysterious hints at BBMAs
Las Vegas, Nevada - Is Megan Fox pregnant? Machine Gun Kelly mysteriously dedicated his new song to his "wife" and "our unborn child" at the Billboard Music Awards (BBMA) on Sunday.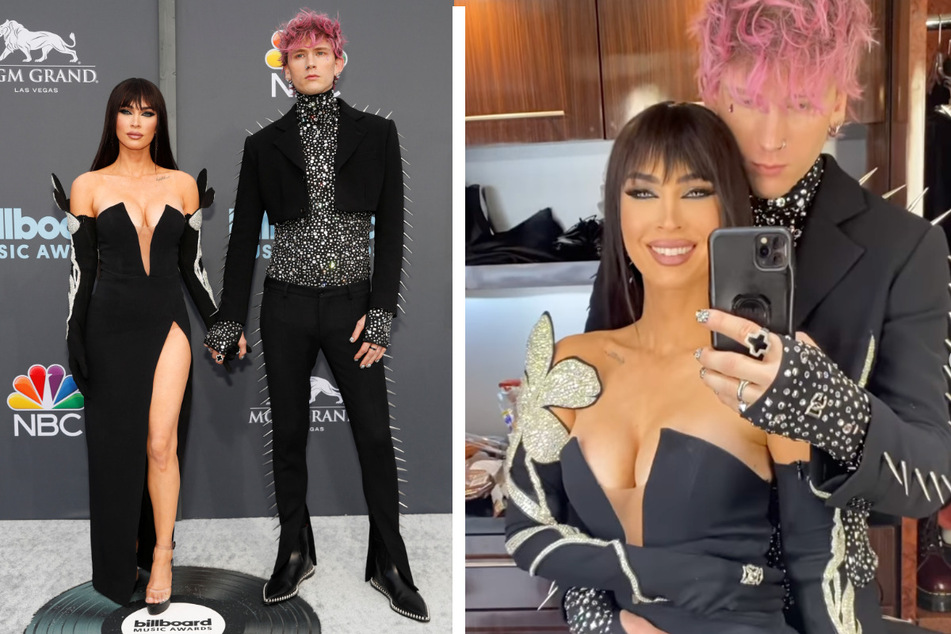 The announcement has caused quite a stir and kicked up marriage and pregnancy rumors for the celeb couple at the 2022 BBMAs in Las Vegas.
After walking the red carpet together, the 32-year-old rocker – who wore a crystal-encrusted suit studded with spikes he called "emo cactus" – started the buzz himself when he took the stage at the MGM Grand Garden Arena.
"I wrote this song for my wife," MGK he said before launching into his hit single Twin Flame, adding just minutes later, "And this is for our unborn child."
While the two announced their engagement with an elaborate proposal video and drinking each other's blood in January, they have not confirmed a marriage nor having a baby on board.
MGK also wished Megan happy birthday during the performance, who turns 36 on Monday.
On the red carpet before Sunday's show, Machine Gun Kelly, whose real name is Colson Baker, spoke to Entertainment Tonight about the special meaning behind his song, and the significance of performing it on Sunday.
"I wrote this song two years ago exactly today, and I played it for her. It's all a trip. It's all meant to be," he said, adding that this weekend's timing made it even more fitting: "It's really cool because it's a lunar eclipse tonight, it's a full moon, it's her birthday tomorrow."
"There's like some really special secret meanings to the song as well," Fox shared. "So I'm sure I will be [emotional], but I can't cry and f**k up this eyeliner."
At the end of MGK's performance, she was seen with tears in her eyes on the show's live TV broadcast.
Megan Fox and Machine Gun Kelly have taken their love to extremes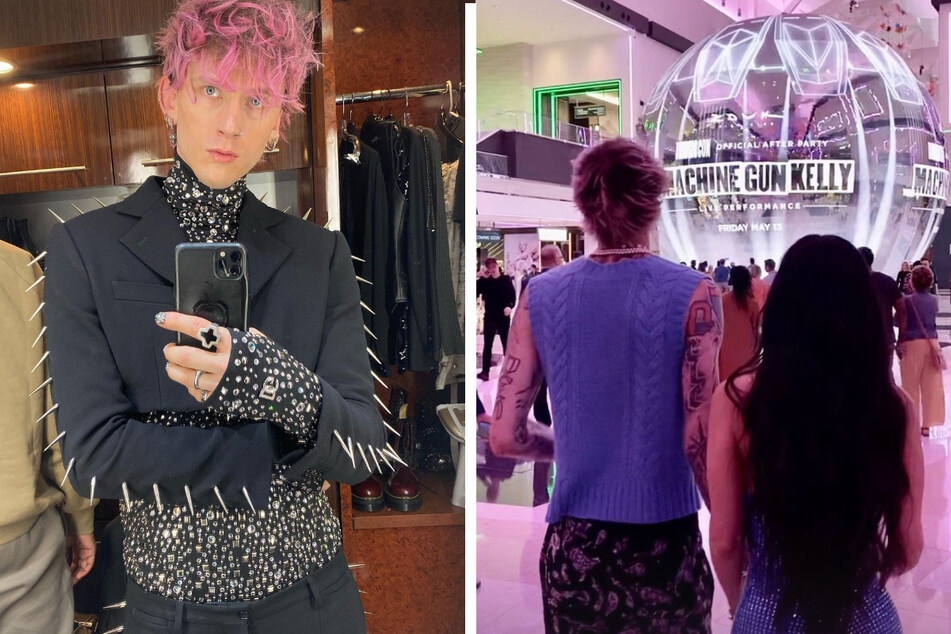 The two have been extreme about their love in the past, having worn drops of their blood as jewelry, talked about their joint drug trips, spiced it up with plenty of PDA on the red carpet, and created an engagement ring with a band of thorns.
The musician has referred to Megan as his spouse before, but this is the first time they've mentioned potentially expecting.
Megan Fox is already a mom to three sons Journey River (5), Bodhi Ransom (8), and Noah Shannon (9) with her ex, actor Brian Austin Green. MGK shares a 12-year-old daughter, Casie, with ex Emma Cannon.
The dynamic duo has not yet confirmed if they are currently expecting a child of their own, but when they do, they'll surely do it in epic style.
Cover photo: Collage: REUTERS & Screenshot/Instgram/machinegunkelly