National video games day 2023: Celebrating a special year's best releases
There's plenty to be grateful for on this year's National Video Games Day! Packed full of fantastic releases, 2023 is quite possibly the best year in gaming since 2013 brought us GTA V and The Last of Us.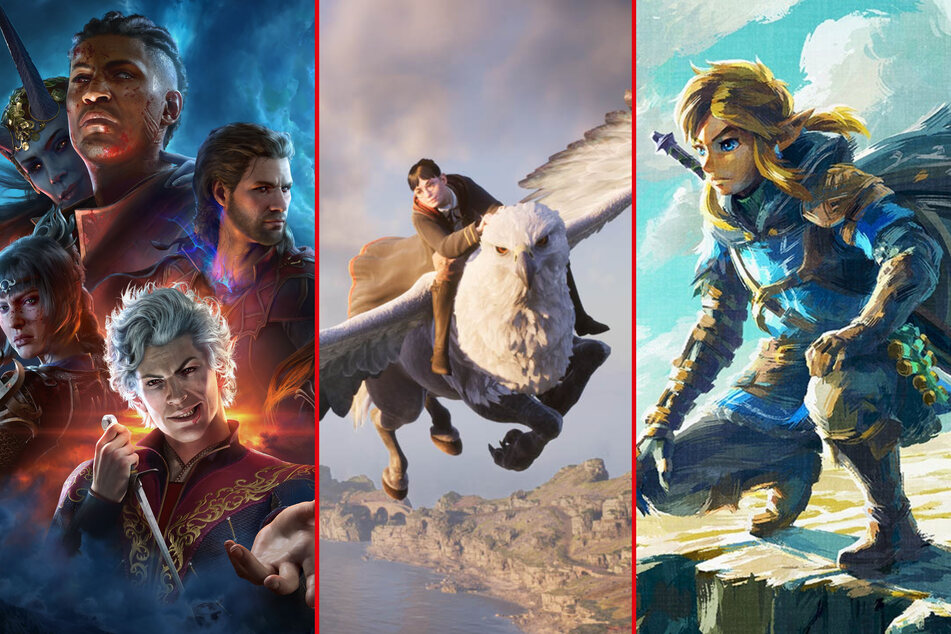 Back in 2013, the PS3 / Xbox 360 generation ended with a bang. In a string of high-profile releases and reboots, developers delivered a banging year that paid tribute to the old consoles, brought in the PS4 and Xbox One generation, and set up the next decade of video gaming.
All you need to do is list the games that released in 2013 to understand why it was so extraordinary: GTA V, Bioshock Infinite, The Last of Us, The Legend of Zelda: A Link Between Worlds and The Wind Waker, Far Cry 3: Blood Dragon... the list goes on.
Now, a decade later, we can celebrate a year that rivals 2023 in quality and quantity.
While we can't make any GOTY predictions yet, this national video games day gives us the perfect opportunity to pay our respects to some real contenders!
The Legend of Zelda: Tears of the Kingdom
Arguably the biggest release of the year, second to maybe only Hogwarts Legacy, Tears of the Kingdom ended up being a triumph of open world design, storytelling, and gameplay. Soar above the clouds, dive into the depths, build crazy contraptions, abuse Koroks, and discover the mysteries of Hyrule's past - the latest Zelda is the ultimate entry in the series, and a perfect sequel.
Baldur's Gate 3
Baldur's Gate 3 is one of those games that only come around once or twice in a generation. It is a game so near-to-perfect that it had other developers crying bloody murder, begging fans not to expect such high quality from every future RPG release. With seemingly endless possibilities, fantastic and complex combat, and so much content that you'll never finish it, Baldur's Gate 3 is a strong contender for game of the year.
Pikmin 4
Pikmin 4 is the Pikmin 2 sequel we have waited for since 2004. Endlessly adorable, the game is basically an ant-simulator, allowing you to control hundreds of tiny "Pikmin" who have to complete various tasks for you. It's super cute, the perfect length at around 30–40 hours, full of heart, and ridiculously fun.
Hogwarts Legacy
Considering its remarkable appeal to both gamers and non-gamers, Hogwarts Legacy is quite possibly the biggest game of the year. What was extraordinary, though, is that they absolutely nailed it. Hogwarts Legacy was everything we had ever wanted in a Harry Potter game, a Hogwarts simulator where you could attend class, get placed in a house, and live out your wizarding dreams.
Starfield
This is a tricky one. Starfield is a good game, it's a fun game, it's a Bethesda game – it's just not what we were promised. As of writing, the game has only been out of early access for a little less than a week, and it's a blast to play. The problem, though, is that a game that was meant to be genre and generation-defining ended up being just... fine. It's worth playing, and one of the year's biggest games, but not what we had been led to believe.
On national video games day 2023, there's plenty to play
We have narrowed down our selection here to only five of the many games that have, or are going to release this year. You should also try out Jedi: Survivor, Dead Space Remake, Octopath Traveler 2, Dead Island 2, Diablo 4, Exoprimal, Immortals of Aveum and Armored Core 6: Fires of Rubicon.
Yet, there's still some (hopefully) great games to come - don't forget to keep an eye out for Assassin's Creed Mirage, Lies of P, Mortal Kombat 1, Detective Pikachu Returns, Alan Wake 2, Call of Duty: Modern Warfare 3, Super Mario RPG: Legend of the Seven Stars, Super Mario Wonder, and more.
Honestly, you could talk about the games of 2023 for hours upon hours on end. This is what make them the perfect topic for a day of celebration like this. Sit down, grab some snacks and a nice cold drink, and have a great National Video Games Day!
Cover photo: Collage: Larian Studios/Avalanche Software/Nintendo