"They are a daily fail": Meghan Markle wins years-long court battle
London, UK - Meghan Markle's longstanding court battle against the British tabloid press has finally come to a close as she issued a stark warning to others: "Tomorrow it could be you."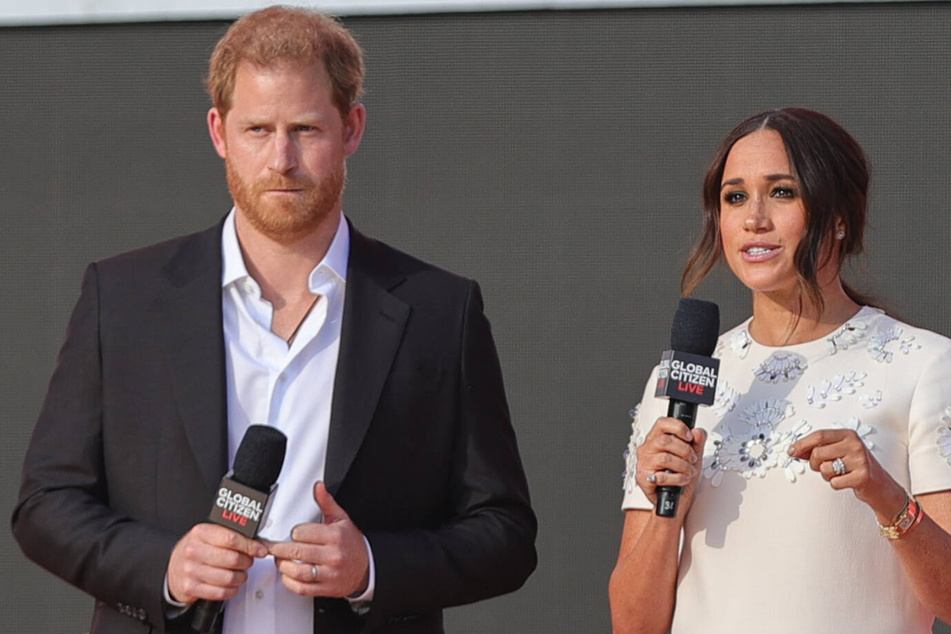 The Court of Appeal in London ruled in favor of the Duchess of Sussex on Thursday morning, ending a case that has been ongoing for nearly three years.
Associated Newspapers had appealed a February ruling that found its paper breached Meghan's copyright and privacy rights by publishing excerpts of a private handwritten letter that she wrote to her father Thomas Markle in 2018.
The court's decision to uphold the previous ruling means the case will not proceed back to the lower courts for a full trial. It also confirms the publisher must pay damages to Meghan and print a public apology on the front page of the Mail on Sunday, as previously ordered.
"Today, the courts ruled in my favor – again – cementing that The Mail on Sunday ... has broken the law," Meghan said in a statement on Thursday morning. "We all deserve better."
She slammed the tabloid press for its "calculated attacks" and perpetuating "a model that rewards chaos above truth."
"This is a victory not just for me, but for anyone who has ever felt scared to stand up for what's right," she added. "From day one, I have treated this lawsuit as an important measure of right versus wrong."
Throwing some shade at the paper's namesake, she called the publisher's "harmful" practices "a daily fail."
Did Meghan's apology in court save her?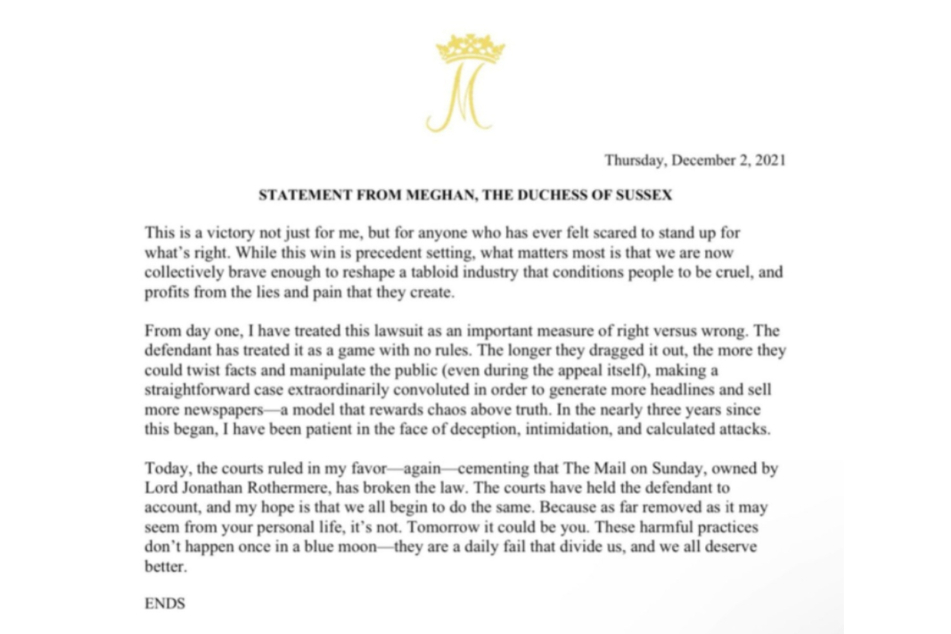 Thomas Markle leaked the duchess's "heartfelt plea" to the paper, which she said she wrote to "protect" her husband Prince Harry from the royal family's "constant berating" over – ironically – her father speaking to the press.
In its appeal, the publisher brought forth evidence with claims that Meghan believed the letter would be leaked, and that perhaps she even wanted it to be.
In a newly presented text message from a witness, Meghan wrote she had "been meticulous in my word choice" when writing the letter, "in the unfortunate event it leaked it would pull at the heart strings."
Meghan apologized in the November hearing for what the court called "an unfortunate lapse of memory," saying she had no intention to "mislead."
The Court of Appeal ultimately sided with Meghan, upholding the earlier decision that the tabloid "interfered with the Duchess's reasonable expectation of privacy."
The case will go to the High Court next to determine the amount of damages to be paid.
Cover photo: IMAGO/ZUMA Wire