The Bachelorette finale: Gabby and Rachel face the music as the next Bachelor is revealed
Los Angeles, California - The Bachelorette's season 19 finale and After the Final Rose special saw Rachel Recchia and Gabby Windey get their happy endings in very different ways as the next Bachelor lead was revealed.
It turns out host Jesse Palmer wasn't lying when he said the season 19 finale was the most dramatic one in franchise history. Given the fact it aired alongside the live After the Final Rose special, Bachelor Nation got to watch Rachel cringe in real-time while watching Tino Franco's proposal back.
Shocking to no one, things didn't work out with Rachel and the walking red flag that is Tino after they left what's been dubbed the "Bachelorette bubble." Apparently, the gaslighting duo faced many issues in post-production, even engaging in their very own reenactment of Friends' Rachel Green and Ross Geller's "we were on a break!" fight of 1997.
Listen, we can all agree that Tino is probably one of the worst male contestants since the infamous Juan Pablo. But in his defense, Rachel was being 50 kinds of impossible during both their botched "happy couple" update, and their cringeworthy on-stage convo in front of a live studio audience.
With that being said, Tino's argument that Rachel "made" him cheat on her because she hurt his feelings with some snide remarks is complete trash. Having your feelings hurt doesn't grant you permission to cheat on your fiancé – even if it was a reality TV engagement.
Clearly not making amends with Tino, Jesse decided to give Rachel the happy ending she initially said no to in savage style by inviting Aven Jones – who she dumped on part one of the finale – to the stage, who then whisked the Bachelorette away from the total train wreck that was the After the Final Rose special.
With Rachel's season 19 journey wrapped, it was time to check in with Rachel's co-lead Gabby and her last man standing Erich Schwer.
Gabby finds her forever love and calls her fiancé an "a**hole"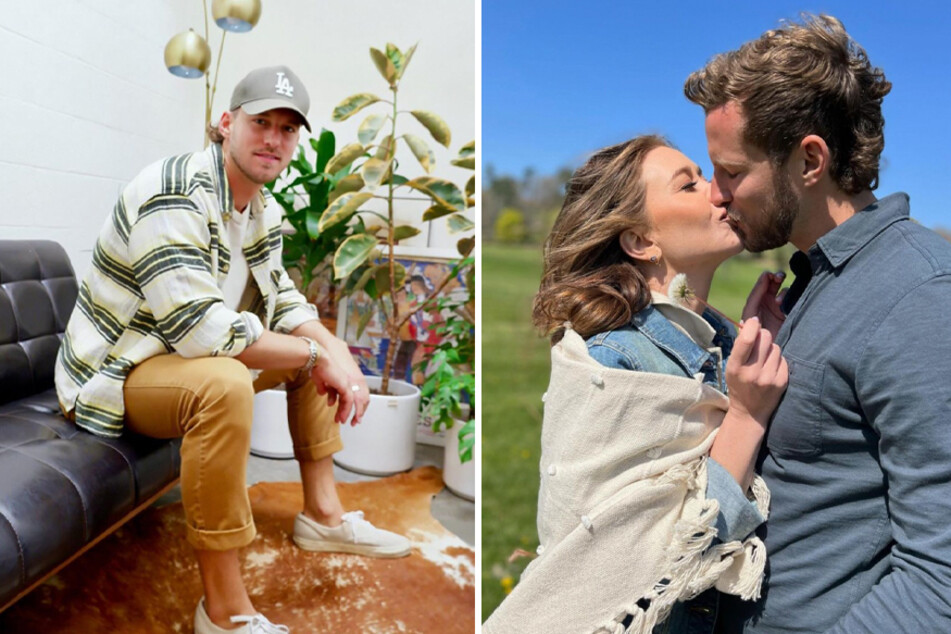 To much surprise, Erich actually ended up getting down on one knee and popping the question to Gabby, who obviously said "yes" to a forever with her mullet-rocking man.
Gabby was noticeably cheesing along while watching his proposal back, and was 10 times as giddy when her fiancé joined her on stage, though she knew the questions Jesse had in store for him were likely anxiety-inducing.
Thankfully, Bachelor producers were tuned into the social media chatter about a girl that was hanging out with Erich before the show, who decided to share some text message receipts last week that painted Gabby's future hubby in a less-than-commendable light.
When asked about the "relationship," Erich owned up to his shortcomings, saying he led her on and used being cast for The Bachelorette as an easy way out of a fling he ultimately saw going nowhere. Usually, we'd be quick to question any Bachelorette contestant – especially the "winner" – who came fully equipped with this response.
However, Gabby calling him an "a**hole" on live television admittedly made us feel a little better about the whole thing. After all, it's her relationship – not ours.
With The Bachelorette's season 19 wrapped, it was time to announce the next Bachelor.
The next Bachelor lead is revealed
As it turned out, our suspicions were right on the money and Zach Shallcross was officially named The Bachelor's lead for season 27.
Though Zach's "journey" won't air until January 23, 2023, Bachelor Nation just met a handful of contestants that will be competing for his love, and even chose one of them – Brianna – as the recipient of the first-ever "America's first impression rose" in a strange on-the-spot start to his Bachelor journey. With that, she'll essentially have immunity during Zach's first rose ceremony.
Though fans will have to wait four months until the the forthcoming season of the Bachelor premieres, they'll have the dumpster fire that is Bachelor in Paradise to live-tweet when the new season kicks off on September 27.
Cover photo: Collage: Screenshot/Instagram/erich_schwer & pilot.rachel