Will the show go on? Broadway closes on Christmas week due to Covid surge
New York, New York – New York City is feeling the effects of the coronavirus' Omicron variant as many city theaters have shuttered just days before Christmas.
Some Broadway theaters are going dark on Christmas week for the second year in a row, as their company members have recently tested positive for breakthrough cases of Covid-19.
Over the last week, 11 Broadway shows have cancelled performances in the days leading up to Christmas, including heavy-hitters like The Lion King, Aladdin, and Hamilton.
Some cancellations have been announced only hours or even minutes before showtime.
On Tuesday night, Come From Away cancelled its show after the audience was already in their seats, according to a disappointed ticket holder.
Many shows have announced their rapidly changing suspensions will be in place at least through Christmas, but are still hoping to operate normally the following week leading up to New Years.
The Broadway League is holding out, saying it is not planning to impose an industry-wide pandemic shutdown again.
"Our protocols are working," said Charlotte St. Martin, head of the Broadway League. "The shows have their tests. If they have any positive test cases, they do not go on that night. And they're very cautious, which is what allowed us to run for four months and serve 2.3 million theatergoers."
"We have absolutely no plans to shut down," she doubled down in a new interview on Monday, pointing out that 21 shows are still running regularly. "All cast and crew are vaccinated, and almost all of them have been boosted."
NYC audience members aged 5 and up are now required to be both vaccinated and masked when inside Broadway houses.
To help patrons access the most up-to-date closing information, the league has created the website BwayToday.com with updates on which shows are playing and when.
Theaters have spread the word about show cancellations through social media
Several shows have closed permanently before Christmas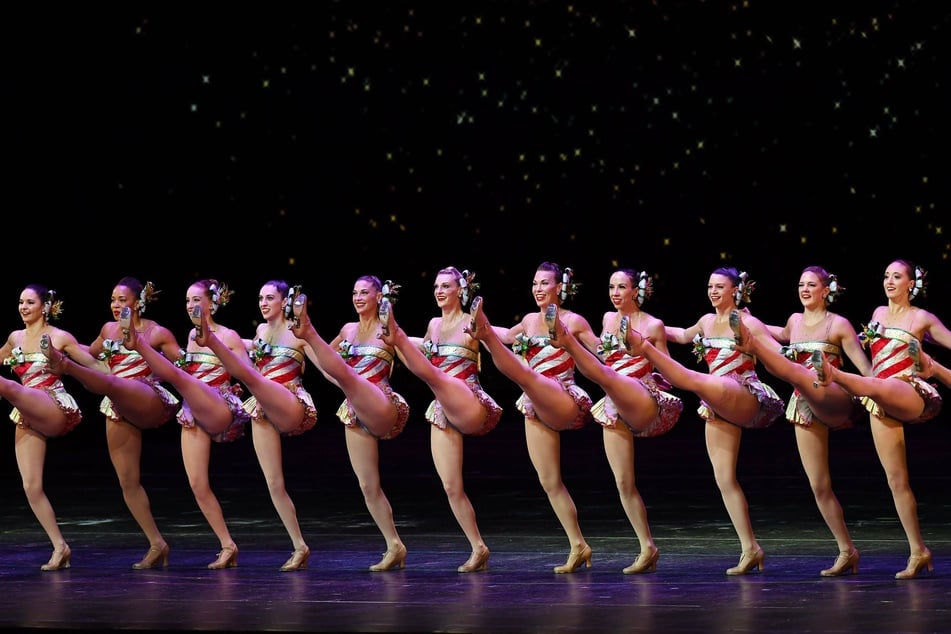 Broadway officially reopened in September but since then, multiple shows – including Chicago, Wicked, and Aladdin – have cancelled sporadic performances due to Covid cases within the company.
Despite many precautions, the health risks and challenges have caused several shows to close their doors for good.
Jagged Little Pill, the Alanis Morissette jukebox musical, announced that Friday would unexpectedly be its last performance. The show won Best Book of a Musical just months ago at this year's Tony Awards.
"The drastic turn of events this week with the rapid spread of the Omicron variant has, once again, changed everything," its producers said in a statement.
"In light of the extreme uncertainty ahead of us this winter, and forced to choose between continuing performances and protecting our company, we've made the difficult decision to close our doors."
Most notably in New York's live entertainment scene, the famed Rockettes have ended their show season early in a shocking move for the city's holiday must-dos.
Radio City Music Hall's Christmas Spectacular made the decision to abruptly shut down on Friday – at first cancelling just one day of shows and soon after, the remainder of this year's run. The theater does not operate under the same union protocols as Broadway houses and reportedly did not require employees to be tested – nor did it require all audience members to be masked.
Two Broadway shows have fallen victim to the same fate. Chicken & Biscuits and Diana: The Musical already opened and quickly closed this season due, in large part, to the financial burden of missed shows and Covid-related delays.
December is typically one of Broadway's highest profit-earning periods, attracting holiday tourists and many traveling from out of town specifically to visit The Great White Way.
Ticket holders for this week's cancelled performances will be able to receive a full refund from their point of purchase, with the average price of a Broadway show ticket ringing in at $126.
Despite the cancellations, most shows that haven't permanently closed up shop are continuing to pay their sidelined cast and crew members, according to the New York Times.
Yet it is unclear how long the theater industry can sustain itself with the inconsistent back-and-forth over whether the show really will go on.
Cover photo: Collage: IMAGO/agefotostock & Xinhua