Labor Notes: Starbucks workers are "winning the war" with solidarity and community support
Chicago, Illinois - In a matter of months, Starbucks workers have won more than 150 unions across the country. Baristas turned organizers shared their recipe for success at this year's Labor Notes conference in Chicago.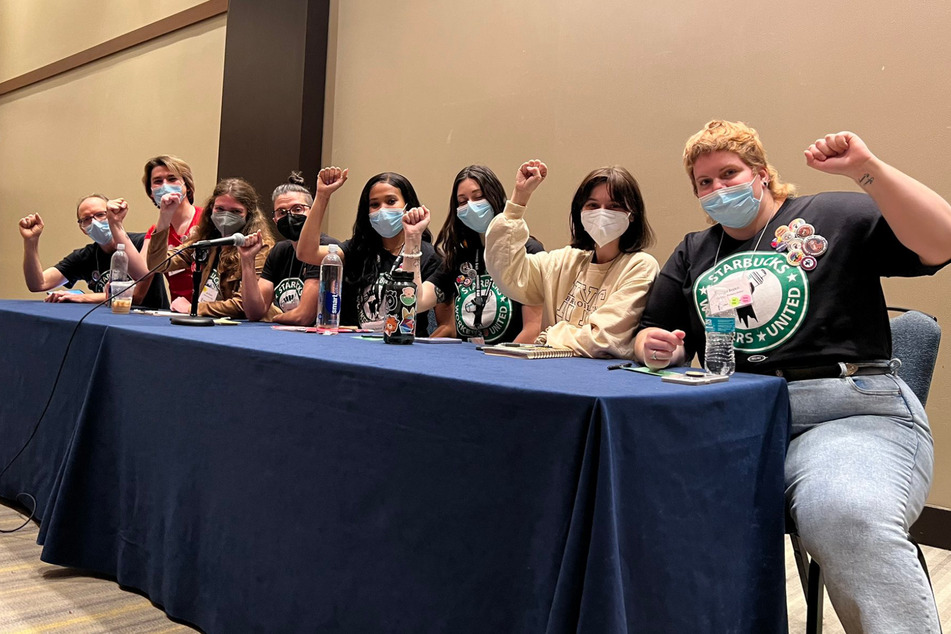 At Friday's panel, entitled A Union Brews at Starbucks, organizers from cafés across the country spoke about the origins of the Starbucks Workers United movement and their fight for Venti union victories.
Jaz Brisack, a leader at the US' first unionized Starbucks in Buffalo, New York, explained that the push at her store was born out of successful union efforts at another local coffee chain called Spot Coffee.
One of Brisack's co-workers, Lexi Rizzo, coined the slogan "We fight for what we love," which became a guiding principle throughout the Starbucks campaign, helping to ground workers as the company sought to undermine their movement.
When Buffalo baristas took the plunge, it inspired others to do the same. Several of the partners on the panel said the activities in New York were their first exposure to unions and workplace organizing.
"To be frank, I did not know what a union was," admitted Kylah Clay, an organizer in Boston, Massachusetts. She got angry when she saw how baristas in Buffalo were treated after going public with their campaign. Though that anger sparked her motivation to learn about unions, "the continued organizing is really out of love for our co-workers," she said.
"I never knew what a union was," agreed Laila Dalton, a fired worker in Phoenix, Arizona. After Dalton was hospitalized, she said the company wanted her to prioritize work over her own health and education.
"They just see us as a body," she said. That realization pushed her over the edge, and together with other co-workers, she began to organize her store.
Building bonds of trust among workers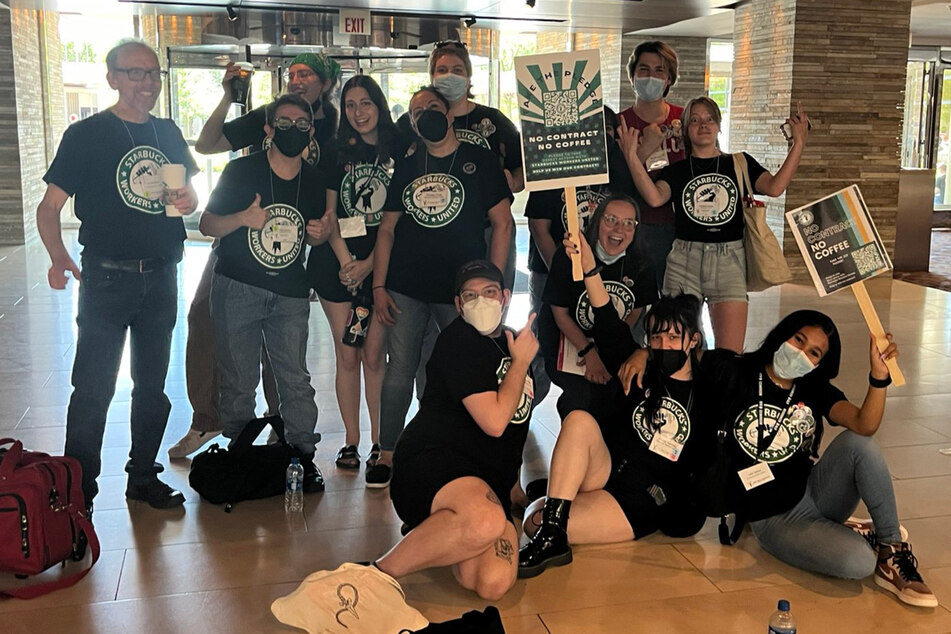 Though Buffalo has charted a path to victory, each time a store files for a union election, it's a leap of faith.
Starbucks has cracked down hard on the union campaign, subjecting workers to emotionally manipulative captive-audience (or mandatory anti-union) meetings and sending corporate representatives to stores to surveil employees. The company has also fired workers and forced others to take leaves of absence for union organizing.
"If you are a threat, if you go against the status quo, they will do anything to get rid of you," said Dalton, who is still in the midst of a legal fight for reinstatement.
The hurdles can be particularly difficult to overcome in states across the South, many of which have anti-worker laws that make it more difficult to form a union, according to Mason Boykin, an organizer out of Jacksonville, Florida.
Workers are conditioned to accept their own exploitation. "We're unfortunately bred with complacency," Boykin lamented, making union victories across the South even sweeter.
In face of the enormous obstacles they face, there is one thing that keeps organizers going: the strong sense of solidarity among baristas across the country. Each store votes independently to unionize, but workers have leaned on each other for emotional support and guidance throughout their individual campaigns.
"This trust, this bond, just builds – it's amazing," said Michelle Hejduk, a union leader from Mesa, Arizona.
"We all love our jobs with Starbucks," added Bill Whitmire, a co-leader of his store's campaign alongside Laila Dalton. As he put it, workers are trying to get Starbucks to live up to their mission of creating an environment where every partner feels included and respected.
"They don't live it on paper, but we live it every day," Whitmire insisted.
Beating Starbucks at their own game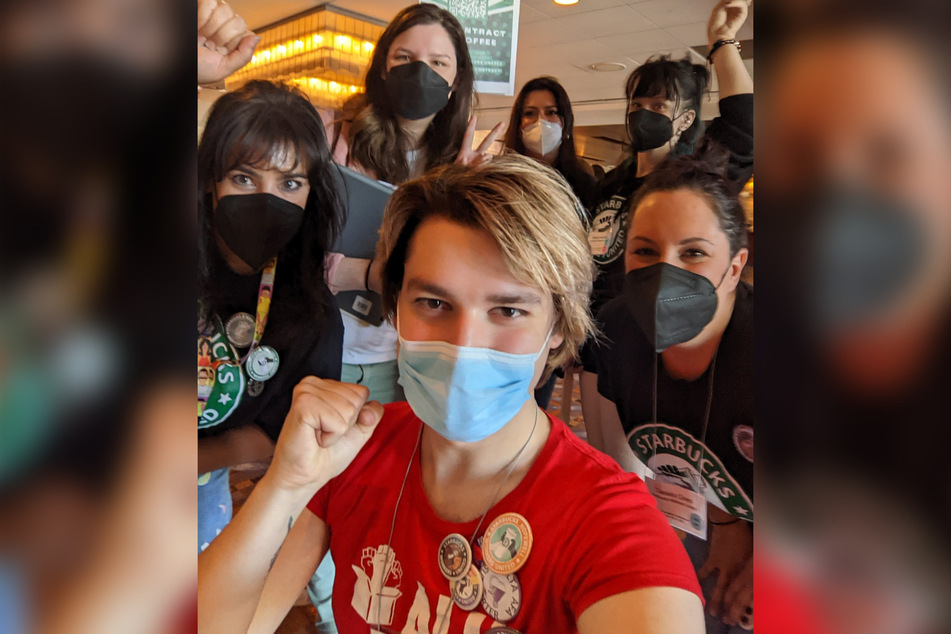 The networks Starbucks organizers have built are an instrumental part of their success.
"Our biggest enemy is fear," explained Will Westlake, a Buffalo organizer recently forced to take a leave of absence.
Buffalo partners have taken the misinformation and fear Starbucks sows to develop training materials that educate baristas on the kind of backlash they will face once they go public with their union campaigns.
Clay said Buffalo union organizers even provided a captive-audience bingo sheet. Though the sessions were still unpleasant, workers felt prepared and were even able to get a few laughs out of how predictable the company's response was.
Workers used to be the ones leaving the meetings in tears, but things have changed now that organizers have joined forces to fight back. "Often times it's the managers who are crying because they are ashamed of what they are doing," Westlake laughed.
"I definitely think we've beaten them at their own game a few times now," agreed Clay.
Winning the war with community support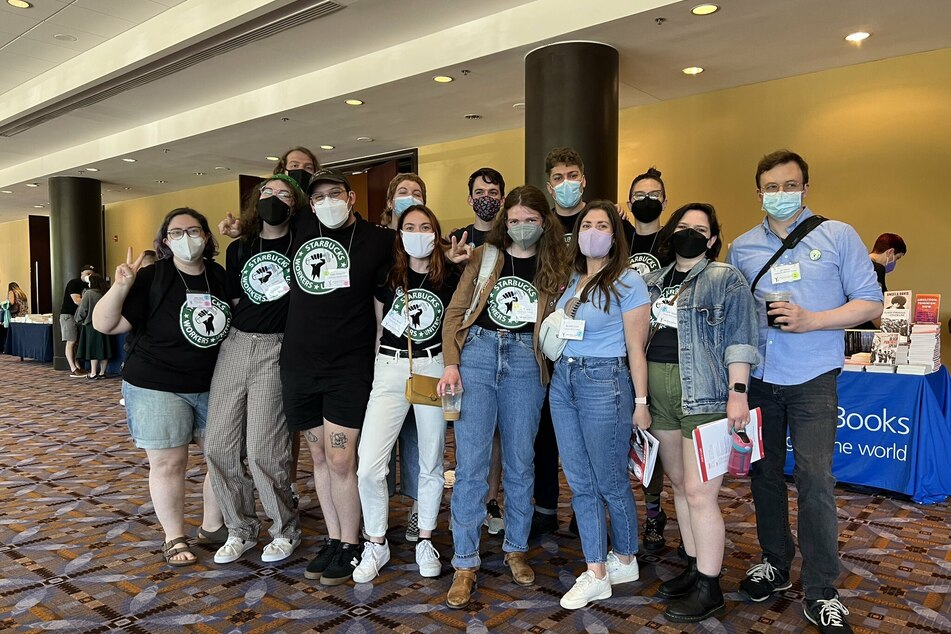 The panelists emphasized that continued community support is integral to their ongoing fight for justice.
Starbucks execs "just cannot compete with the level of loyalty that the working class has for each other," said Alydia Claypool, a worker in Overland Park, Kansas, who was recently reinstated after getting fired by the company.
"Right now, it's a war. We're going to lose battles. We're going to win battles. People are going to get hurt," added Dalton. "As long as we get back up, we continue, we will win this war."
Organizers are calling on customers and other allies to keep growing the movement by signing and sharing a pledge to support Starbucks Workers United.
They are also asking anyone who can to donate to funds for fired partners, attend local rallies or sip-ins, and urge Howard Schultz and other execs to sign the fair election principles and negotiate with the unions in good faith.
"We've got to make it socially unacceptable to be a union-buster, and we need all of your help," Brisack encouraged the crowd.
Cover photo: Screenshot/Twitter/SBWorkersUnited