Biden signs short-term spending bill that staves off government shutdown – for now
Washington DC - President Joe Biden signed a stopgap funding measure Thursday with hours to spare before federal agencies would otherwise have to start shutting down.
The continuing resolution gives lawmakers and the White House nine more weeks to reach agreement on spending levels and negotiate a dozen fiscal 2022 appropriations bills.

The temporary spending bill, which cleared the House earlier in the day on a 254-175 vote, is "not a permanent solution," House Appropriations Chair Rosa DeLauro, a Connecticut Democrat, said during debate.
"I look forward to soon beginning negotiations with my counterparts across the aisle and across the Capitol to complete full-year government funding bills that reverse decades of disinvestment."
Thirty-four Republicans joined all Democrats to back the stopgap measure in that chamber.
The House in July passed nine of its 12 spending bills, at allocations Republicans oppose because funding increases are heavily weighted to non-defense programs, which would receive about 16% more on average versus almost 2% for defense.
House and Senate fiscal 2022 defense policy bills with broad bipartisan support envision a roughly 5%boost for military programs, however.
The Senate Appropriations Committee has approved three bills and hasn't reached agreement on overall subcommittee allocations. Senate Defense Appropriations Subcommittee Chairman Jon Tester, a Democrat from Montana, said Thursday his version would likely be released October 15, suggesting that the remaining bills would also be unveiled then.
Tester was coy about whether his bill would be in line with the defense authorization bill's higher topline. "There's people that can screw it up, but the truth is I think both sides should be relatively happy," he said.
Republicans oppose lifting the debt limit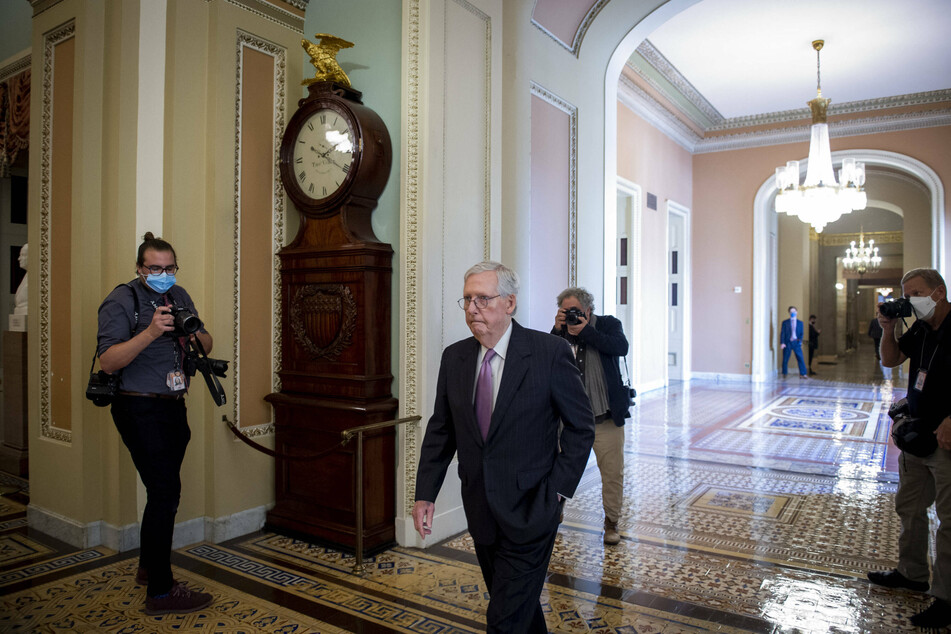 The Senate vote on the stopgap measure earlier Thursday was 65-35, topping a 60-vote threshold party leaders agreed to. All the "no" votes came from Republicans, but passage wasn't really in doubt after Democratic leaders agreed to drop language in the original House-passed version that would have suspended the debt ceiling through the midterm elections next year.
Republicans oppose lifting the debt limit, arguing Democrats should be responsible for that on their own. The Treasury Department estimates it has until about October 18 before needing to severely curtail federal spending virtually across the board, which some economists say could spark a recession.
With no clear path out of the stalemate, Senate leaders continued sparring over the nation's borrowing limit ahead of the CR vote Thursday.
"The conclusion to draw from this week is very clear – clumsy efforts at partisan jams do not work," Minority Leader Mitch McConnell said on the floor. "We're able to fund the government today because the majority accepted reality. The same thing will need to happen on the debt limit next week."
Majority Leader Chuck Schumer argued a debt ceiling breach was too dangerous to be held up because of partisan infighting, and said he'd move to proceed to separate legislation to suspend the debt limit "as early as next week." The House on Wednesday passed the stand-alone debt limit bill, which would suspend the borrowing cap until December 17, 2022, on a mostly party-line 219-212 vote.
Schumer suggested the measure could pass with only Democratic votes if Republicans would agree to a simple majority threshold. "Republicans need to get out of the way, so Senate Democrats can address the issue quickly and without needlessly endangering the stability of our economy," the New York Democrat said.
Before approving the stopgap spending bill, senators rejected three Republican amendments that would have changed provisions in the legislation addressing Afghan resettlement, barred a vaccine mandate for private businesses, and prevented lawmakers from being paid until Congress adopts a budget resolution and clears all dozen of the annual appropriations bills.
Cover photo: IMAGO / UPI Photo