Kamala Harris rallies for abortion rights in Chicago: "Elections matter!"
Chicago, Illinois — Less than two months before the midterm elections, Vice President Kamala Harris rallied a welcoming crowd of abortion-rights supporters in Chicago on Friday where she heralded Illinois Democrats for playing key roles in pushing for reproductive rights and encouraged voters to make their voices heard on November 8.
Harris' appearance in Chicago — her second in a little more than two months — came as two national political issues took on local importance.
On Thursday in neighboring Indiana, a near-total ban on abortions took effect, and, in just the past two weeks, Republican Gov. Greg Abbott of Texas has had migrants who crossed the border into Texas bused to Chicago and other cities to the north, including near Harris' residence in the nation's capital.
"Elections matter," Harris said prior to the rally during a roundtable meeting on the campus of the University of Illinois at Chicago, where she was joined by abortion providers and advocates.
Others who joined Harris were Illinois Govenor J.B. Pritzker and Attorney General Kwame Raoul, two Democrats seeking their second terms in office in November, as well as Chicago Mayor Lori Lightfoot, who is seeking reelection in the municipal election early next year.
"We have a midterm coming up in 53 days," Harris said. "Who your governor is matters. Whether they're going to protect these rights, and support these rights, to freedom and liberty, it matters. Who's your attorney general matters, whether they are going to protect and defend the principles ingrained in the Constitution of the United States. That matters."
Kamala Harris says democrats "have momentum" ahead of midterm elections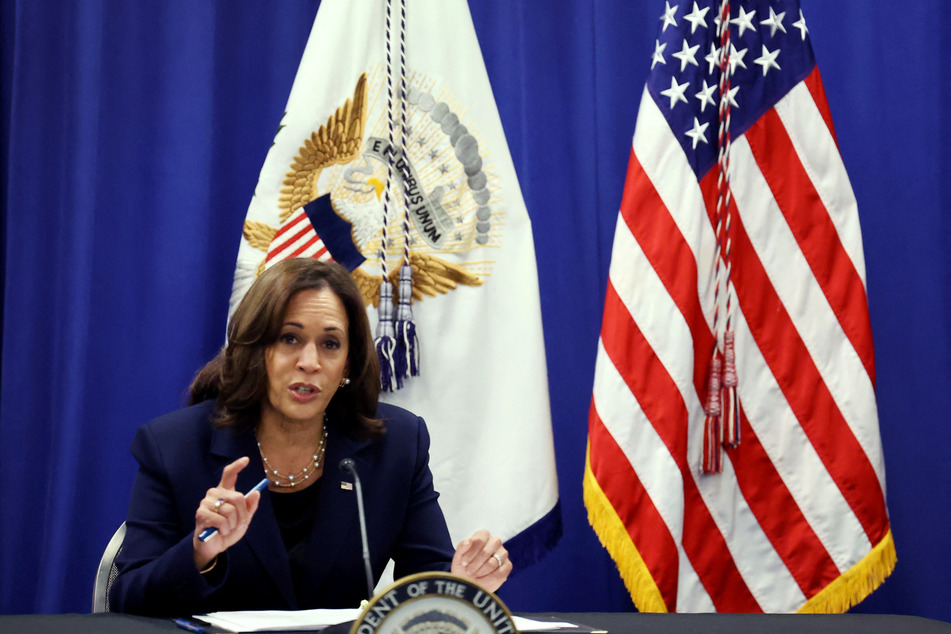 Democrats in Illinois are hoping a voter backlash against the Supreme Court decision overturning Roe v. Wade will buttress their prospects up and down the ballot this fall as Republicans continue to try to make headway by hammering the state's dominant party over issues of crime, a precarious economy, and political corruption.
Before the court's abortion ruling, many nationally viewed it as almost automatic that the GOP would take make inroads with the midterm elections. But following the ruling, Democrats have tried to seize on the abortion rights issue as a way to build support.
"Here's the good news," Harris said told a crowd of about 600 gathered at the UIC Forum for a campaign rally that followed the roundtable. "We have momentum on our side."
Harris noted the recent overwhelming rejection by voters in Kansas of a proposed amendment to the state's constitution that would have allowed lawmakers to place new restrictions on abortion.
"The people there joined together and protected reproductive rights in their state. They said, 'We're not having that.' We know that we stand with the majority of Americans in saying that we need to stand up for that basic, fundamental right," Harris said, also touting Democratic victories in special elections for congressional seats in Alaska and New York.
"From now until Nov. 8 it is up to all of us to build on the momentum, and over these next 53 days, let us say, 'If you believe in the promise of America, if you believe in freedom, equality, justice, then vote for Democrats.'"
During the rally, Harris called Pritzker's opponent, Republican state Sen. Darren Bailey of Xenia, "one of the most extreme anti-choice candidates in the country. Pritzker said those in attendance must help elect candidates who support reproductive rights, union rights, civil rights and other core Democratic principles.
Cover photo: SCOTT OLSON / GETTY IMAGES NORTH AMERICA / GETTY IMAGES VIA AFP