Alabama coach Nick Saban shuts down fans' jab claim against basketball coach Nate oats
Tuscaloosa, Alabama - Legendary Alabama football coach Nick Saban has nothing but love for Roll Tide nation, as he cleared up fans' recent speculation of a potential "jab" against the school's basketball coach Nate Oats.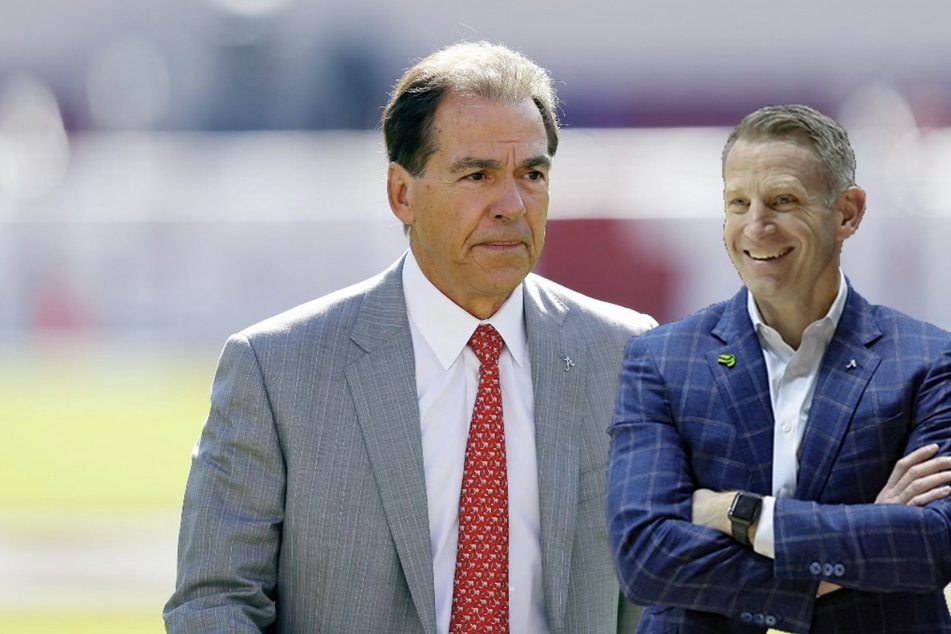 When speaking to reporters on Monday about his freshman football player Tony Mitchell's arrest over marijuana charges, Saban said, "There's no such thing as being in the wrong place at the wrong time."
The statement quickly caught fans' attention, as it was in stark contrast to coach Oats' recent remarks about Alabama basketball star Brandon Miller's presence at a murder scene, which saw a former Crimson Tide hooper charged.
Oats initially stated Miller was "in the wrong place at the wrong time" after it was revealed that he transported the gun used in the January shooting. Oats later apologized for the questionable comment.
Now, Saban is putting any debate over comparisons between the coaches' comments to rest.
The coach was asked by a reporter if he wanted to "clarify" his previous statement regarding Mitchell's arrest at Alabama's Pro Day on Thursday.
"There's nothing to clarify," Saban said. "I don't watch a basketball coach's press conference. How many years have I been coaching? I've never watched one. I never listen to what other people say. That was strictly about our program. It had nothing to do with anybody else. I don't make comments about anybody else. We hope the basketball team does really, really well."
Earlier on Thursday, Oats also spoke to the media and revealed that he didn't take Saban's comments personally.
"He and I talked that night," Oats said. "I didn't take it that way at all. I have a ton of respect for Coach."
Nick Saban visits Alabama basketball ahead of Sweet 16 March Madness showdown
With apparently no hard feelings between the coaches and their respective programs, Saban took a stroll down to Coleman Coliseum on Wednesday to wish Bama basketball the best of luck before they head to Louisville for their Sweet 16 March Madness matchup.
The Crimson Tide is the No. 1 overall seed in the March Madness Tournament and will face No. 5 seed San Diego State on Friday.
Alabama and San Diego State will tipoff at 6:30PM ET.
Cover photo: Collage: Kevin C. Cox & Brandon Sumrall / GETTY IMAGES NORTH AMERICA / Getty Images via AFP