Ukraine war: Peace talks stalled as Russia says it's planning more hypersonic missile attacks
Kyiv, Ukraine - Ukrainian and Russian delegations are due to meet for another round of talks on Monday, day 26 of the war, after Kiev rejected an ultimatum from Moscow for the port city of Mariupol to surrender overnight.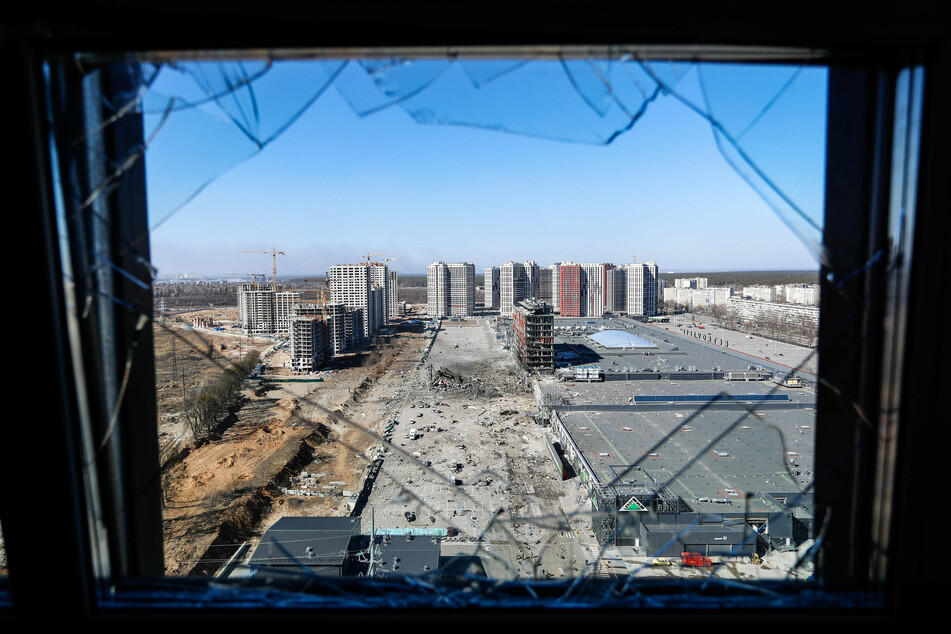 Russia had called for Ukrainian troops in Mariupol to lay down arms and leave on Monday morning, and set a 5 AM deadline (10 PM EST on Sunday) for Ukraine to respond. Ukraine's Deputy Prime Minister Iryna Vereshchuk told Ukrayinska Pravda the response that there would be "no surrender" had been communicated to Moscow.

The talks, which will take place by videolink, were to start in the morning, Ukrainian presidential advisor Mykhailo Podoliak said late Sunday, UNIAN news agency reported.
"Both sides' working groups have worked intensively recently," he said. High level peace talks were held last Monday.
Podoliak believes talks with Moscow to end the war will last several weeks longer, and said there were signs that Moscow's position was becoming "more reasonable" and more realistic. He did not give further details.
Moscow's demands include for Ukraine to be neutral and demilitarize, as well as to recognize the separatist areas in eastern Ukraine as independent states.
Ukraine has so far showed a willingness to compromise over Moscow's demand to stay neutral, but wants stronger security guarantees from the West and will not budge on its territorial integrity.
Ukrainian President Volodymyr Zelensky is insisting on eventually meeting with his Russian counterpart, Vladimir Putin, something that the Kremlin has so far refused to consider.
Meanwhile, Kyiv mayor Vitali Klitschko late on Sunday said multiple residential buildings and a shopping center in the neighborhood of Podilskyi in the capital's west were damaged and caught fire. At least eight death have been confirmed so far, according to the Ukrainian emergency service.
As ever, the situation is rapidly changing. Here are the day's latest development as they come in.
UPDATE, March 21, 5:05 PM EST: Bombs continue to fall on Mariupol as situation worsens for stranded civilians, Biden holds call with allies
Stand-offs on the battlefield and at the negotiating table hardened as peace talks have yet to reach any tangible conclusions. Ukrainian President Zelensky has rejected ultimatums from Russia as a way of ending the invasion.
"Ukraine cannot fulfil any ultimatums from the Russian Federation," Zelensky said on television. "They have to destroy all of us. Then their ultimatum will be automatically fulfilled." He added that compromises with Russia could be implemented only after a referendum, without giving details.
Reports have continued that bombs are falling "every 10 minutes in Mariupol" while hundreds of thousands of people are said to still be without access to basic needs like water, food, and electricity. At least two children are in a critical condition after cars carrying families on the road out of Mariupol towards Zaporizhzhia came under fire, a local Ukrainian official confirmed.
More than 80 people were killed by a Russian attack on a training facility in north-western Ukraine, according to the Russian Defense Ministry. The rocket attack was on a site in Nova Lyubomyrka in Rivne province. In a separate incident, a group of more than 60 Ukrainian soldiers surrendered and were taken captive when a Ukrainian military base in the Kyiv suburbs was overrun, the ministry said. Neither report could be confirmed independently.
Facebook and Instagram were banned on Monday by a Russian court as "extremist" organizations, after an application by the prosecutor general. The two services are already blocked in Russia, along with Twitter. WhatsApp, which also belongs to Meta, is not affected by the ruling, according to the court.

Ahead of his trip to a NATO crisis summit in Brussels this Wednesday, President Joe Biden joined European allies on Monday in a call to discuss the Ukraine war. According to the White House, the telephone conference lasted just under an hour and had been intended to coordinate the allies' response to Russia's invasion of Ukraine.
Russia's military has announced it plans to continue more attacks using its new hypersonic missile in the war on Ukraine. Russia said it had deployed its so-called Kinzhal missile twice in Ukraine in recent days.
UPDATE, March 21, 12:30 PM EST: Russia threatens to sever all diplomatic ties with US over Biden remarks
The US Ambassador in Moscow, John Sullivan, has been handed a letter of complaint protesting the language used by US President Joe Biden of his Russian counterpart Vladimir Putin, a statement from the Foreign Ministry in Moscow said on Monday.
Excoriating his Russian military's actions in Ukraine last week, Biden called Putin a "war criminal" and a "murderous dictator."
"Such statements by the American president, which are unworthy of a statesman of such high rank, bring Russian-American relations to the brink of breakdown," the statement said.
Biden's comments last Thursday that Putin was a "murderous dictator, a pure criminal who is waging an immoral war against the people of Ukraine" had already been criticized by the Kremlin.
UPDATE, March 21, 12:00 PM EST: Russian soldiers open fire on protesters in Kherson
A video on social media appears to show people in the Russian-occupied southern city of Kherson fleeing as Russian soldiers throw stun grenades and fire their guns. At least one person was reportedly injured in the incident, details of which are still emerging.
More graphic – and as yet unverified – footage shows a heavily bleeding person lying on the ground as others attempt to help.
Seven days into the war, the city became the first major city to fall to the invading Russian forces. Ever since then, locals been protesting the occupation, coming out in their droves, flying Ukrainian flags, and often getting in the faces of heavily armed Russian soldiers.
UPDATE, March 21, 11:30 AM EST: No details yet as Russian and Ukrainian sides continue talks
Russian and Ukrainian negotiators plan to "work through the whole day" as the sides seek an arrangement that will end Russia's invasion, says a key Ukrainian politician.
The official delegations met for an hour and a half before breaking up for working group consultations, said David Arakhamia, the head of the ruling Servant of the People's parliamentary grouping, in comments to the Ukrayinska Pravda newspaper.
He provided no details out of the talks.
UPDATE, March 21, 7:30 AM EST: Fresh humanitarian corridors planned
Eight humanitarian corridors for civilians to escape the war in Ukraine are planned for Monday, says the Ukrainian authorities.
The corridors will be used for buses to evacuate and deliver aid, said Deputy Prime Minister Iryna Vereshchuk.
People are to be taken from the vicinity of the besieged port city of Mariupol to the south-eastern Ukrainian city of Zaporizhzhya. Evacuation closer to the capital is planned from the embattled localities north and east of the capital Kyiv, according to the plan.
The plan also calls for evacuation from the greater area of Zyverodonetsk and Lysychansk in the Luhansk region to the town of Bachmut in the neighboring Donetsk region.
UPDATE, March 21, 7:00 AM EST: Damage to chemical plant causes toxic leak
Highly toxic ammonia was leaking from a chemical plant in the north-eastern Ukrainian city of Sumy on Monday morning.
Dmytro Zhyvytskyi, head of Sumy's regional administration, posted on Telegram advising the public about the leak and appealed to all residents in a three-mile radius from the chemical plant to seek out basements or ground-floor apartments where possible to avoid coming into contact with the chemical.
The strong-smelling gas is lighter than air. Zhyvytskyi did not say what had happened to cause the leak from the Sumykhimprom plant.
An independent evaluation at the site was not possible.
In recent weeks, the Russian military has accused Ukraine of preparing a false-flag chemical attack on civilians.
Western states have recently noted an increasing risk that Russia could use biological or chemical weapons.
Russia has repeatedly been accused of spreading misinformation about alleged Ukrainian provocations in order to justify its own attacks.
Cover photo: IMAGO / ZUMA Wire