Best medium sized dog breeds: Top 10
They're not the biggest and they're not the smallest, they don't live the longest, but they don't go too soon either – for many people, medium dogs are the perfect fit! Here are the top ten best medium sized dog breeds.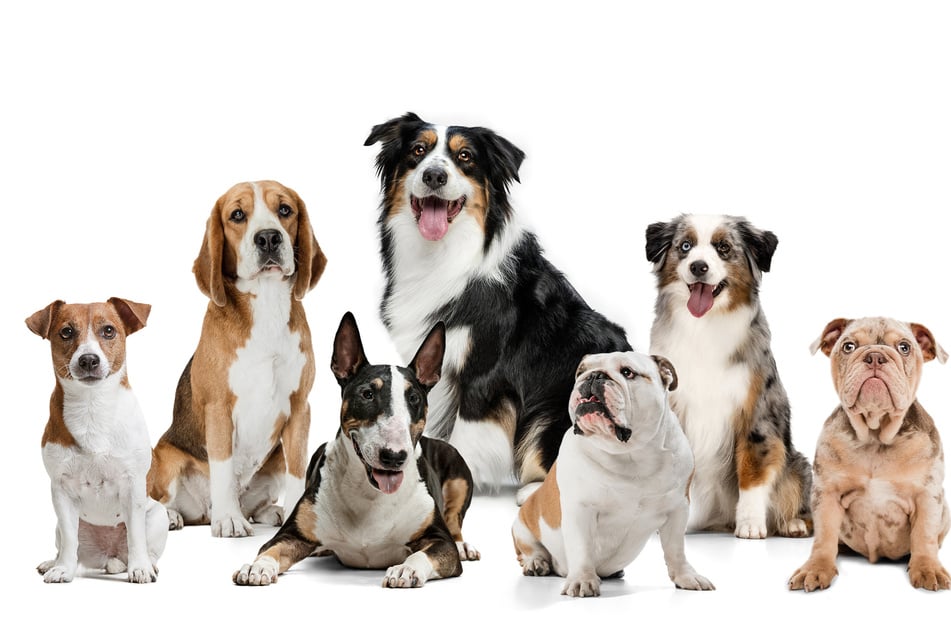 If you're convinced that you and your family need a pooch, but you don't want one of those scrappy little ones and you don't have space for a giant canine companion, then a medium sized dog is your best bet.
Friendly, happy, easily cuddled and far more manageable than their bigger and smaller cousins, these are some of the best dog breeds out there.
TAG24's dog guide is here to take you through a list of the top 10 best medium-sized dog breeds.
Why should you get a medium dog, what can you expect, and what how do you care for it?
Let's take a look!
Why should I get a medium sized dog?
Medium sized dog breeds are some of if not the most manageable dogs in the world. Big dogs make a huge mess, need lots of space, and can be very difficult when not trained properly. Sure, some of the biggest dogs in the world are also some of the best, but there's no need to go that large and many of us simply don't have the space.
On the flip side, small dog breeds can be loud, snappy, incredibly naughty and incredibly obnoxious. They might live the longest out of all doggos, and many of the smallest dogs are incredibly cute, but they certainly don't hold a candle to the likes of the border collie, the chow-chow, or the golden retriever.
So if big dogs are too big, and small dogs are too annoying, what should you go with? Well, you should go with a medium sized dog breed, of course!
Top 10 best medium sized dog breeds
It can be quite intimidating to adopt a new dog, especially when you're looking for the perfect breed. Of course, you should head to a shelter and find a dog in need of a home, but if you have kids you might not want to take a risk. With that in mind, small dogs bite and big dogs can be hard to manage - perhaps a medium-sized dog is your best bet anyway?
Here are the top ten best medium sized dog breeds in the world. It's time to take a look, consider the pros and cons, and make a good choice of doggo!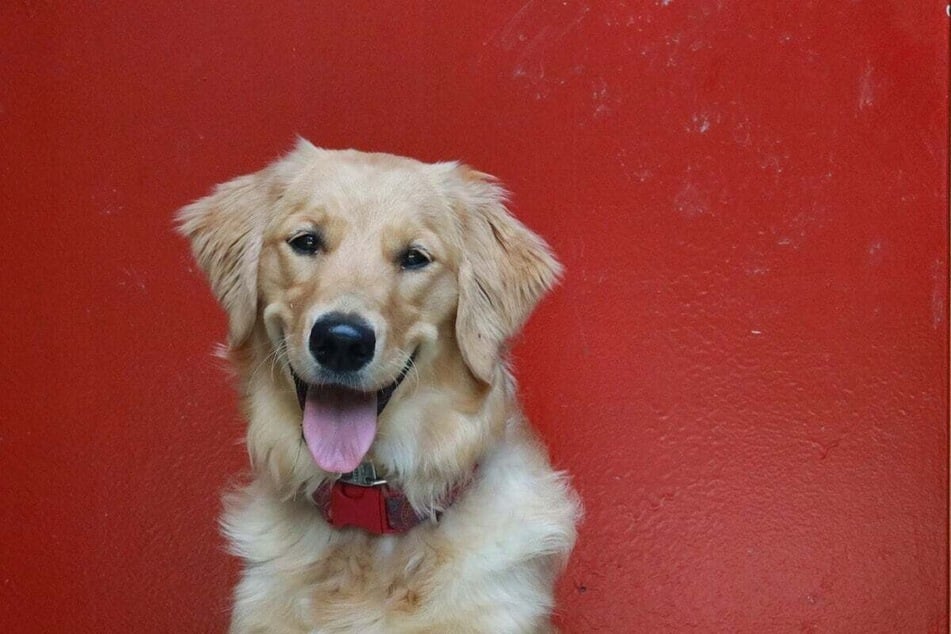 10. Golden retriever
The fact that the golden retriever is one of the most popular dogs in the world among first-time dog owners is very telling. These beautiful doggos generally sit between the medium and large mark, and are some of the smartest dogs in the world. On top of their remarkable intelligence, retrievers also have a penchant for obedience, and are remarkably loving and loyal.
As with any dog, golden retrievers must be trained from a very young age if you want them to do what you say. You need to teach them plenty of words and play with them a lot, making them obedient and keeping them active both mentally and physically. They are remarkably caring and affectionate and will want to spend lots of time with you, so make sure that you have a job that allows for this.
Golden Retrievers are, objectively, one of the best medium sized dog breeds for first-time owners. If you don't have an insane amount of space, but live in a nice and walkable neighborhood and don't want a small dog, they're a great choice.
9. English cocker spaniel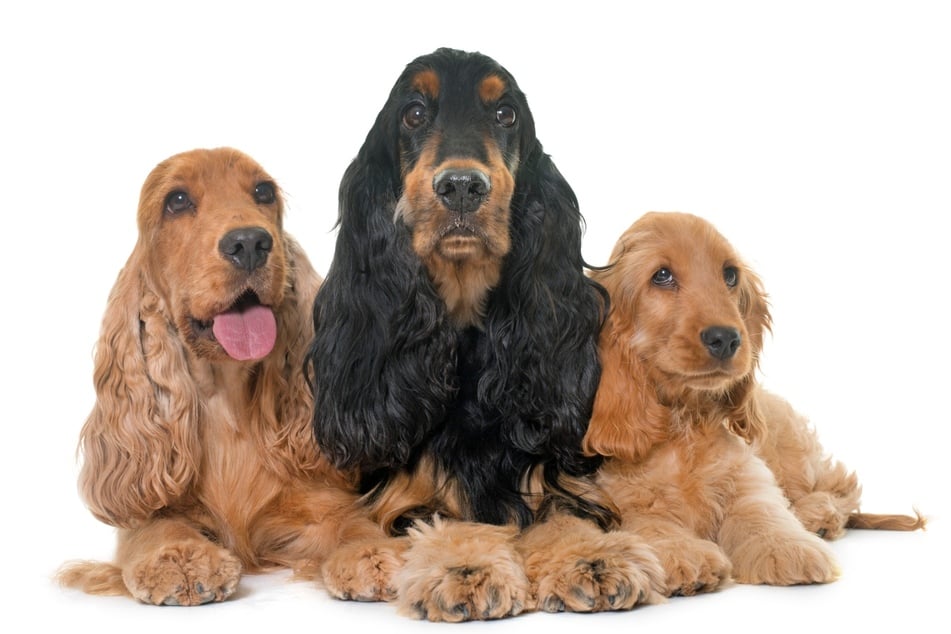 Another medium sized dog breed worthy of mention is a favorite of royals like Prince William and Kate Middleton: the English cocker spaniel.
They are also great for beginner dog owners as they are not too sizeable and are often ridiculously calm and docile. If trained properly, and given plenty of exercise, these beautiful doggos won't cause any trouble what-so-ever.
They can get a bit stubborn, sure, but they are very teachable and easy to train. You need to make sure that they go to dog school and get to do plenty of swimming and agility sports. Indeed, there are few dogs that love playing fetch more than this breed.
The only potential issue that you could face with an English cocker spaniel is its love for barking. This can be resolved with plenty of training and the setting of a rigid schedule, though.
8. Poodles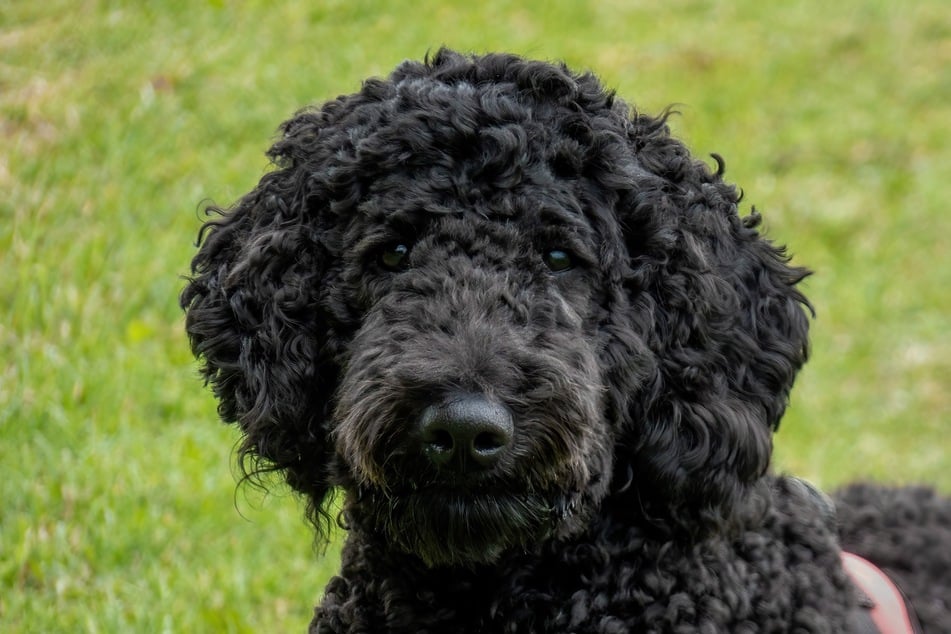 Poodles are famous for being shedless medium sized dogs that have an iconic hairstyle and are perfect for beginners as they don't need a huge amount of attention. Ranging between medium and large in size, poodles are sensitive but adorable little pets that are incredibly inquisitive and easily trained from a very young age. The ease at which they learn is, of course, a huge bonus.
If Poodles are not exercised properly, though, and get bored, then they can start to act-up. This can be said about pretty much any dog breed, but poodles especially need to be challenged both physically and mentally. They quite like music, so you can try playing music to your doggo if you have one, and are perfect for those who want to groom and socialize their dog plenty.
Dogs like the poodle have dense and wooly coats, but don't shed too much. As a result, these medium-sized dogs are also pretty darn good for those of us who suffer from allergies.
7. Lagotto Romagnolo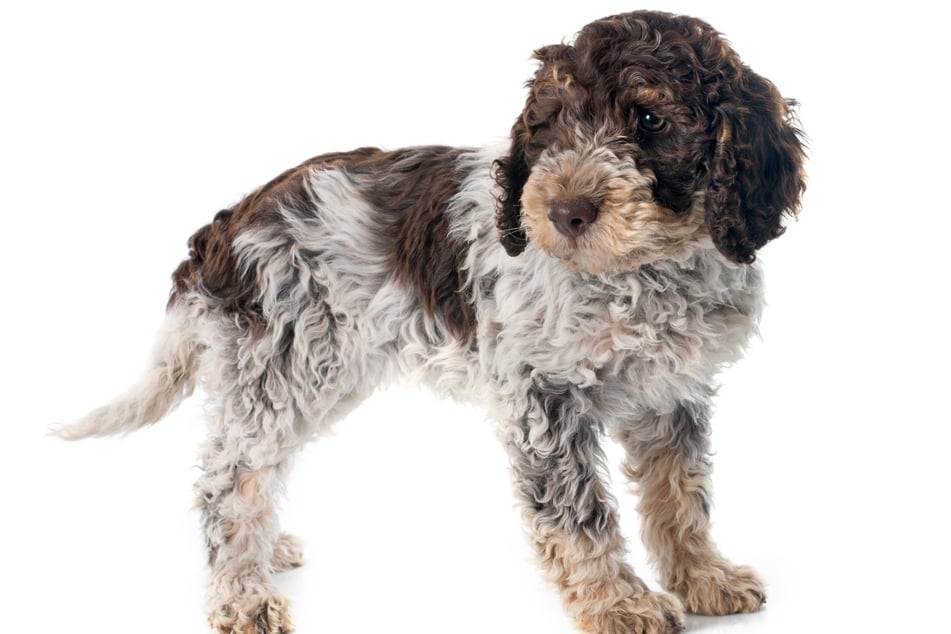 The Lagotto Romagnolo is an Italian water dog with an excellent sniffer and remarkable ruffled fur. They are commonly used to track down truffles, sniffing in the dirt of the Italian forests for those beautiful apples of the earth. Many people mistake these doggos for Poodles due to their curly and somewhat oily coats, but they are much more intelligent and can be trained to do extraordinary things.
A lovable family dog, the Lagotto Romagnolo is also a medium sized breed that doesn't shed. That being said, it isn't a dog that's great for people who suffer from allergies as its saliva, dander and urine can be quite triggering. On top of that, its non-shedding nature leads to a need for Lagotto Romagnolos to be regularly groomed, to prevent matting.
Brushing, or even bathing your medium sized Lagotto Romagnolo after a walk is probably a good idea, as they enjoy rolling around in mud and dirt a little too much.
6. Barbet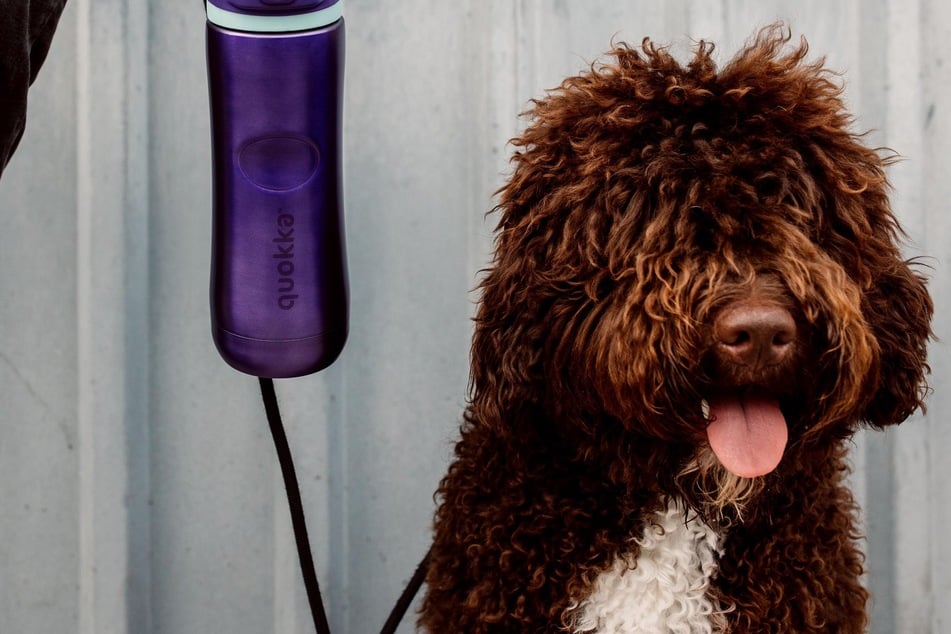 Another water dog, the barbet is famous for having shaggy fur that comes down over its eyes, making it look like it can't see at all. These beautiful dogs have corded, curly coats that distinguish them from the Lagotto Romagnolo and poodle, meaning that they require far less maintenance than their similar medium-sized cousins.
This gorgeous and cuddly cutie loves to be walked and will likely get a lot tangled in its fur when it does so. You might need to give it a brush, but mostly things will be alright. What is certainly necessary, though, is that the barbet's iconic fur is clipped before summer to avoid the risk of overheating.
This is an active dog and a loyal family member, making it one of the best medium sized breeds around. It is suitable for families and people with less dog experience alike, and will make a great companion for years to come.
5. Chow-chow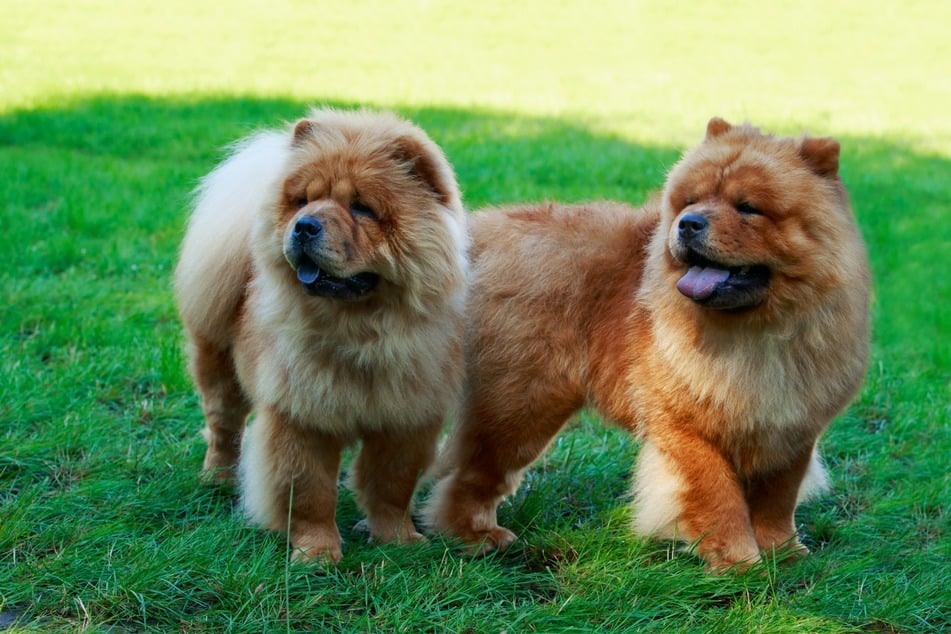 Chow-chows are incredibly famous for their bright blue tongues and intoxicating smiles. They are medium sized dogs that generally only stand about 20–25 inches tall and are remarkably calm. These loving creatures can often be stubborn and willful, and many people believe that they have the temperament of a cat.
It's important to understand that it is very hard to train a Chow-Chow, and as a result this training must begin when they are young, healthy, and malleable. This means chow-chows are not generally considered good beginner dogs and are often not particularly great for families or children. Indeed, they're not really enthusiastic or energetic, and will prefer hide-and-seek and puzzle games to more active alternatives.
Don't be worried about your chow-chow if it doesn't seem to have that same spark a golden retriever has. It's a different personality altogether.
4. English bulldog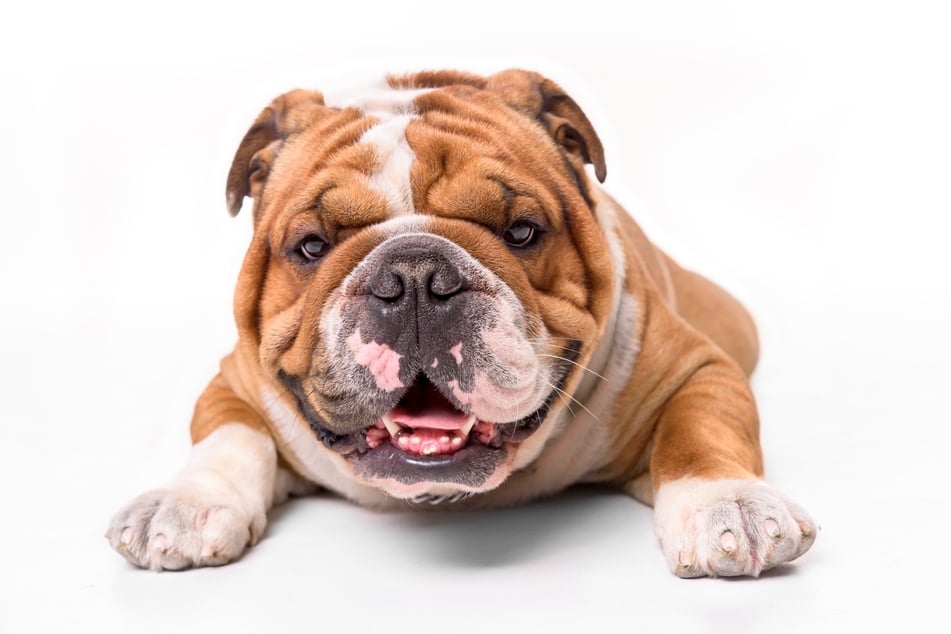 English bulldogs generally stand about 15–20 inches from the ground and are considered on the smaller-end of the medium dog breed scale. They are stockily built, with a broad and muscular chest, a hard look in its eyes, and a flat (often grim) facial expression. Don't be fooled, though, while English bulldogs often look grumpy, they're actually little bundles of joy.
A stubborn but gentle breed, characterized by a love for cuddles, a clumsiness that goes unparalleled, a fondness for children, and a love for food, the English bulldog is well worth a look. They don't look particularly long, but are great for families, calm and sweet, and by no-means dangerous. Instead, they are cozy and obedient, especially with the right training.
Keep in mind, though, that English bulldogs are a medium dog breed that comes with its fair share of problems. Due to their breeding, they are prone to certain physique and health problems. This shortens their lives and can get pretty expensive when you start talking vet bills.
3. Labrador retriever
The Labrador retriever is a cross between (you guessed it) a Labrador and a golden retriever. As a result, you get a dog that is loyal, cute, easy going, funny, and remarkably great for family life. They are popular beginner's dogs, and for good reason. Labrador retrievers are the very definition of "man's best friend", and are incredibly obedient, friendly little pooches.
To compensate for their hard-working nature, though, the Labrador retriever needs to be exercised daily and challenged both physically and mentally. If this doesn't get taken into consideration, they will quickly become restless and unhappy. Make sure that you take your new doggo on plenty of walks, play search and intelligence games, and maybe have a dance or two.
They are ideal family dogs, but are often also used as therapy and guide dogs. As a medium sized dog breed, the Labrador retriever is a bright and bubbly creature, but also a very smart one that is capable of great naughtiness, but also great service to people and the community.
2. Australian shepherd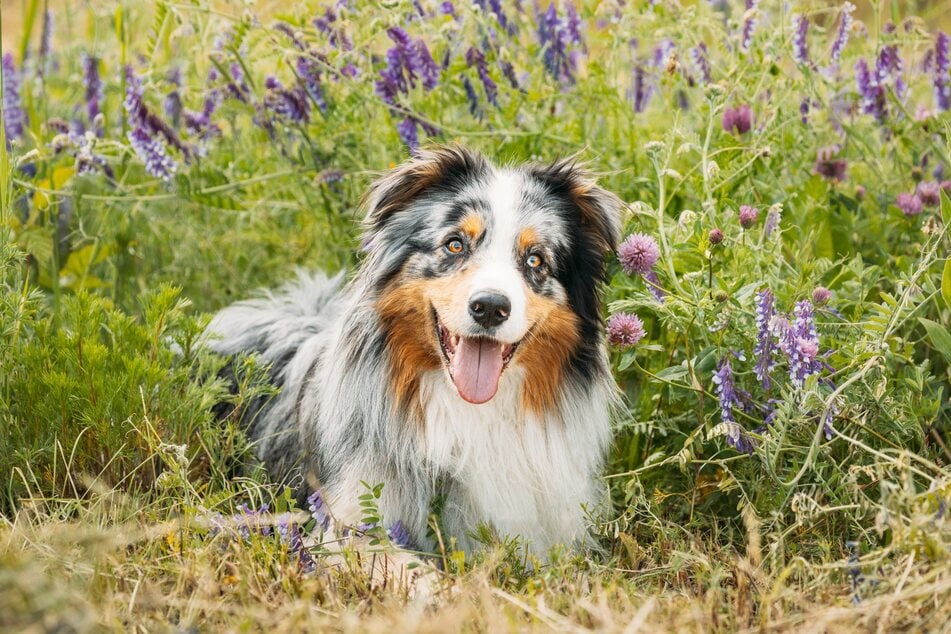 Possibly the greatest dog breed of all time, the Australian shepherd is becoming increasingly popular, and for very good reason. Usually sitting around 18-23 inches in height, the Australian shepherd is actually an American herding dog that features an incredibly distinctive coat and is considered one of the smartest but most high-maintenance dogs in the world.
These qualities are not always to the advantage of the owner, because these intelligent doggos will learn to be sneaky and cheeky alongside their tricks and commands. As a result, it is vital that you get them professionally trained and don't do it yourself. In general, the Australian shepherd is a happy, playful dog with an urge to move at a high speed and spend time with family.
While Australian shepherds don't make idea beginner's dogs, these medium sized dogs are full of self-confidence and love, so what are you waiting for?
1. Border collie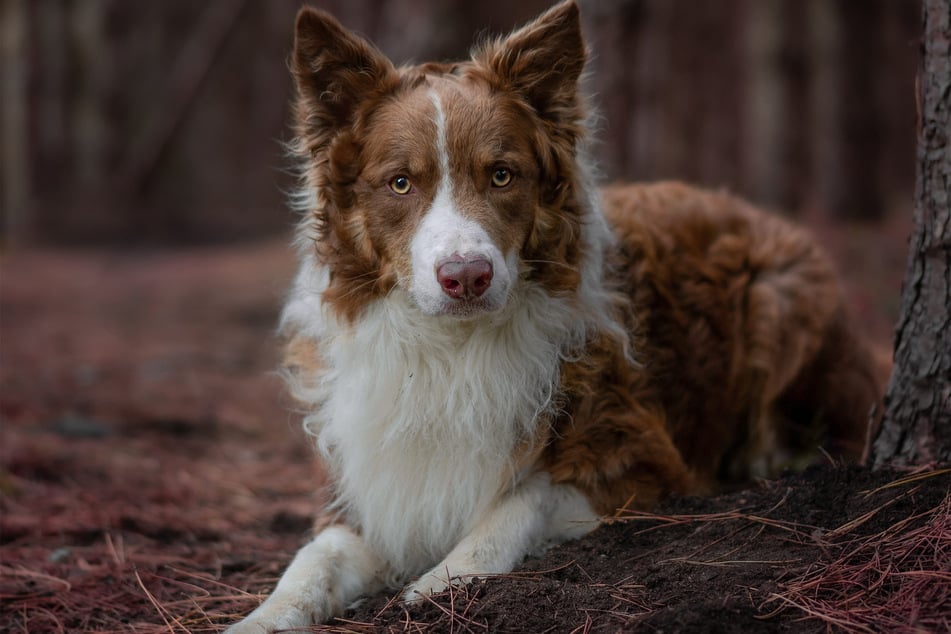 The most important thing to understand when adopting a border collie is that they are the smartest dogs in the world. As a result, these incredible dogs require a lot of work and need to be looked after carefully and strictly. It's not just about training either, you will need to make sure that you're home as much as humanly possible if you adopt one of these beautiful medium sized doggos.
Before adopting a Border collie, make sure to check with your employer about whether it might be okay to take your dog to work with you. They make pretty decent office dogs, so it's not a bad idea, but what's most important is that your dog is not being left at home all day every day. This will lead to serious separation anxiety in your Border collie, and a multitude of health impacts.
While Border collies are rather troublesome dogs, they are one of the best medium sized dog breeds out there. They are loyal, loving, intelligent, and great for families that have plenty of time on their hands.
Get a medium family dog breed that doesn't shed
There are a number of medium-sized family dogs that don't shed, as well, making them perfect for those of us who struggle with allergies. The likes of the poodle, the labradoodle, and the Lagotto Romagnolo are but a few of these incredible doggos, providing all that you could want from a perfect pooch, but without the excessive sneezing.
So have a think about what you want and choose your breed wisely!
Cover photo: 123rf/Melnyk58