Kourtney Kardashian and Travis Barker have a steamy make out among celeb UFC fans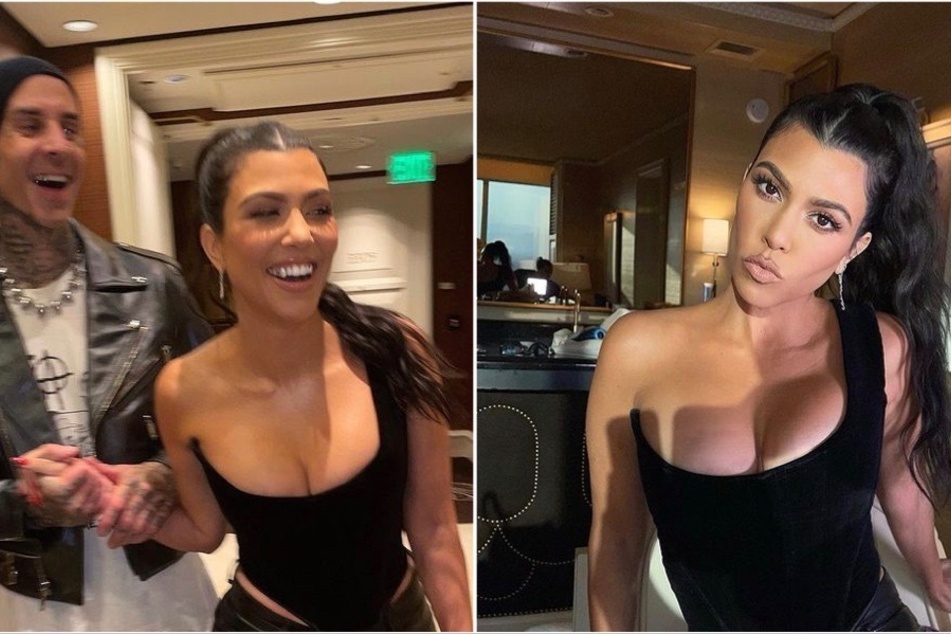 On Saturday, the couple was spotted attending the UFC 264 fight in Las Vegas.
The spicy pair displayed some serious, and slightly uncomfortable, PDA when the arena's camera zoomed in on them.
Travis and Kourtney first gazed lovingly into each other's eyes before exchanging some sloppy, tongue-filled kisses. The two also seemed to both sport fang-like teeth implants as well.
The event was one of two star-studded sporting events this weekend – as other A-listers made an appearance and watched the duo's steamy session.

Dave Chappelle, Justin Bieber, Jared Leto, and former president Donald J. Trump – who received a combination of cheers and jeers from the audience – were also in attendance.
But Kourt and Travis' messy make out seemed to be all anyone could talk about – which seems to be the case these days.
Since the pair went public with their relationship earlier this year, they've been smooching all around town, and some haven't been too happy about it.
Shanna Moakler, who was married to Travis from 2004 to 2008, publicly slammed her ex-husband and his new boo for their "weird" PDA. Shanna even tried to blast Kim Kardashian and allege that she previously slept with her then-husband.
However, the drama still doesn't seem to faze Kourtney and Travis. Recently, the two traveled to Disneyland together with their respective children, and got the rumor mill going about possible wedding bells soon.
The Keeping Up with the Kardashians star has also been sparking pregnancy rumors because of her recent unusual diet.
While we'll certainly keep with this sizzling love story, one thing is for sure – these two are crazy for each other!

Cover photo: collage: screenshot/instagram/kourtneykardash