Olivia Rodrigo's GUTS pop-up in New York City is worth the hype
New York, New York - To celebrate the release of her sophomore album GUTS, Olivia Rodrigo has partnered with American Express and Spotify for a limited-time pop-up shop in the Meatpacking District of Manhattan. Not a bad idea, right?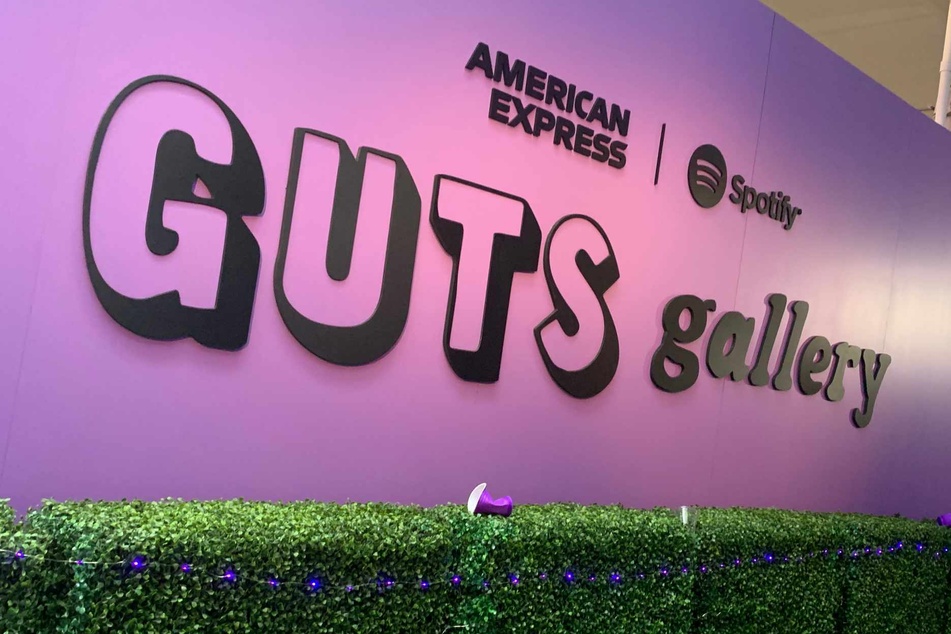 TAG24 caught the Friday leg of Olivia Rodrigo's GUTS Gallery in New York City, and let us tell you: if you haven't been able to check it out yet, get ready to feel some serious jealousy, jealousy!
The singer had a similar and hugely popular pop-up for her first album, so fans already knew that this event was going to be worth it.
Things kicked off on Thursday for an invite-only album listening party with Olivia herself, but the official public event runs from Friday through Saturday at 25-27 Little West 12th Street and features limited edition GUTS merchandise, freebies, exciting giveaways, and photo-ops galore!
Olivia wasn't there in person on Friday... but you never know what could happen, people!

The Olivia Rodrigo GUTS Gallery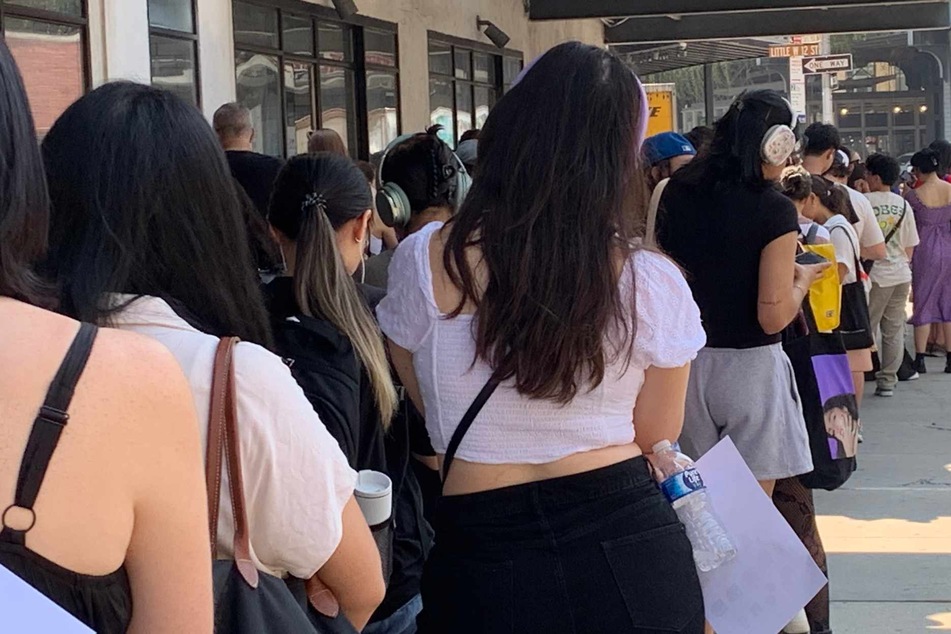 The line wrapped around the block and then some as die-hard Olivia Rodrigo fans waited patiently to get in. The venue has a reported 400-person occupancy, but the place was bursting at the seams with eager young fans.
And even though the album had only come out the night before, everyone there already knew it well.
Cassidy said that her favorite song off the new album was making the bed. "She, like, ripped out my diary, I swear," the 19-year-old laughed. "She understands. She gets it."
Isangel (19) prefers the song pretty isn't pretty. "I've been listening to it all day!" she said.
Fans waiting in line told TAG24 that they'd traveled from as far as Massachusetts, Virginia, North Carolina, Maryland, and even California to experience the GUTS Gallery.
Several out-of-towners had even caught Olivia for her live Today Show appearance earlier in the day. "It was super fun," Maddie (24) said. "It was [my] first time seeing Olivia live!"
But why are so many flocking in for the Gallery? Part of the reason seems to be the limited-edition New York GUTS merch.
"I love the New York City merch! I live in North Carolina so this is a big trip for me and it's really nice to have good memorabilia for that," Alena (16) said.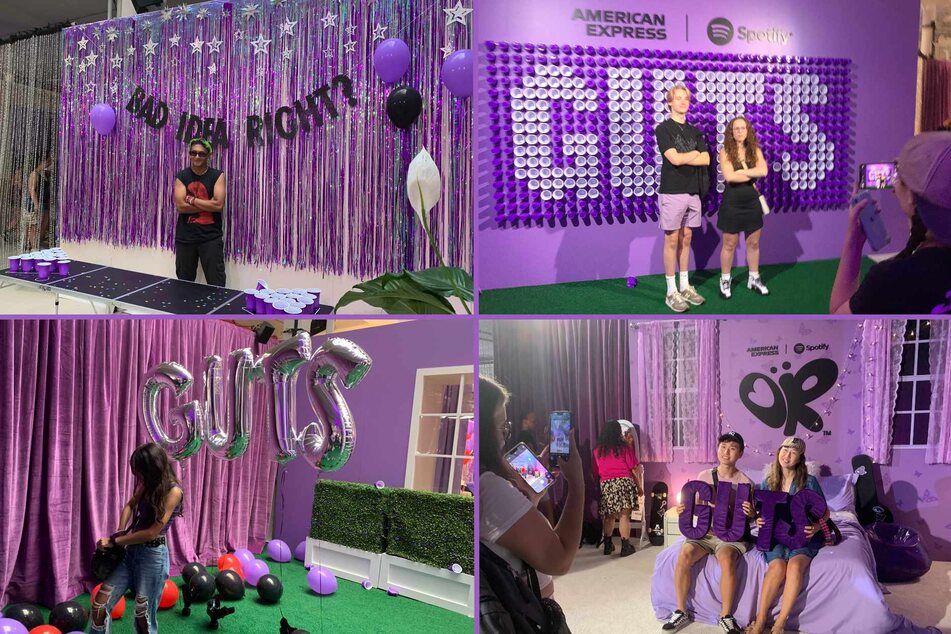 Fans spill their guts to Olivia Rodrigo at the GUTS Gallery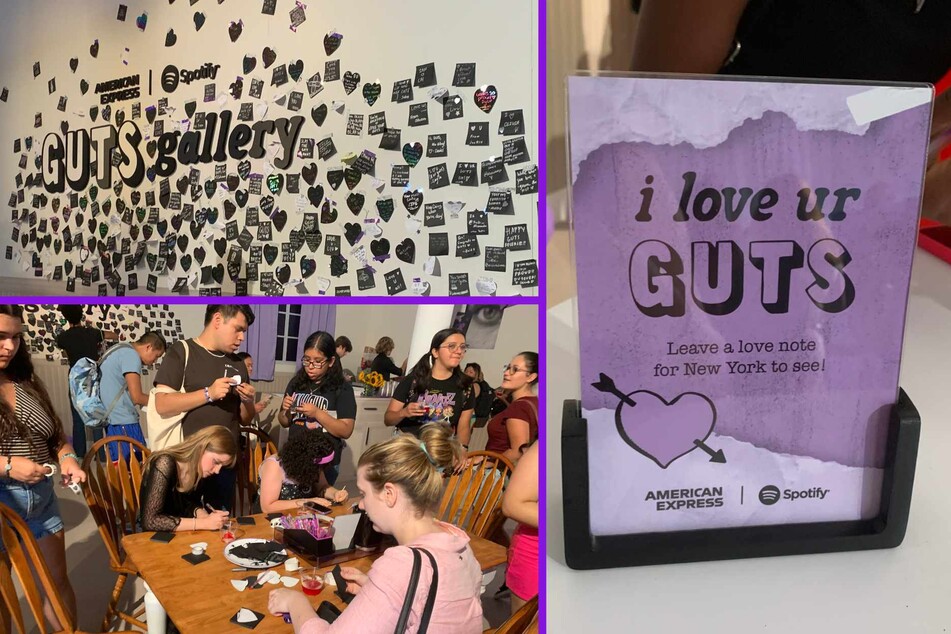 The Gallery has a note-writing station where fans can leave a message for Olivia and the rest of New York on a prop fridge and a notes wall.
So, if you could spill your GUTS out to Olivia Rodrigo, what would you say? Here are some of the answers TAG24 got.
"She did it once again." – Talia (21)
"I'm really proud of her." – Lauren (23)
"I think that I'm the reason that Traitor re-entered the top 25!" - Maddie (24)
"I absolutely love you and you're an inspiration to the world!" - Rowan (14)
"Probably that everything I own now is purple because of her." - Alena (16)
"I've made a lot of friends through your fandom!" - Isangel (19)
"[I'd tell her] that I love her and I'm a ginormous fan!" - Adelyn (6)
"Just... thank you!" Sarah (18)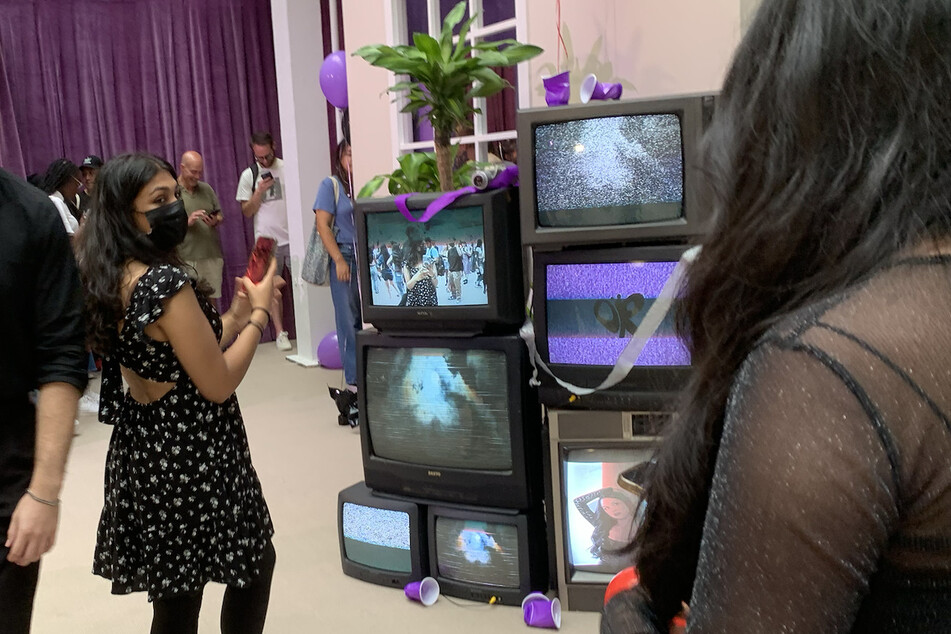 All about the limited-edition New York GUTS Gallery merch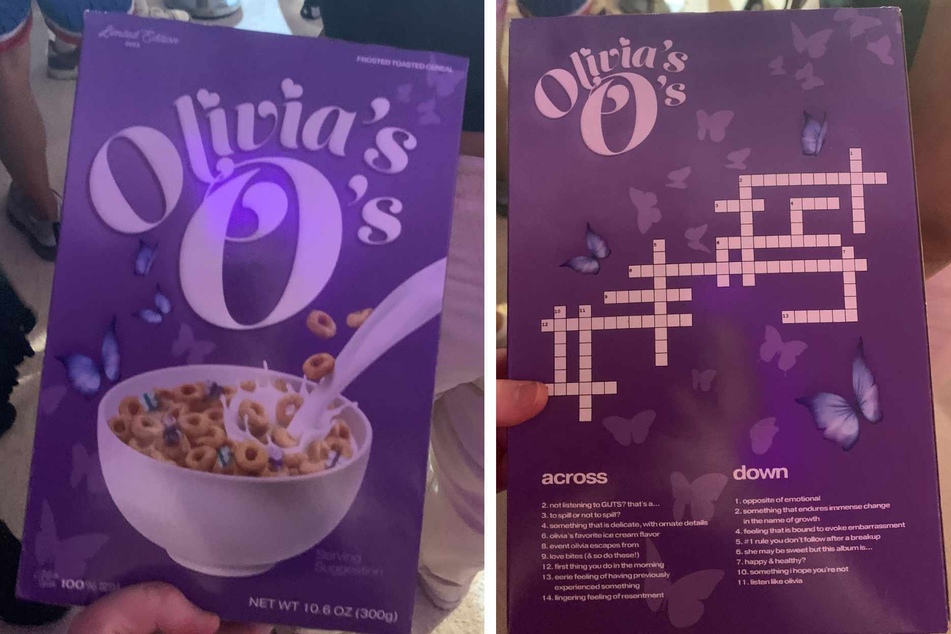 The day started off swelteringly hot and ended in rain, in case you had any doubt of Olivia Rodrigo fans' unwavering dedication. Event organizers from MKG handed out cups of water and umbrellas to those in line throughout the day (TanaCon could never!)
Slowly but surely crowds made their way through the four rooms of photo ops, games, craft stations, and snacks into the merchandise station.
Thick cardstock fliers of the items available for sale had been handed out while visitors were first waiting in line to enter the venue, giving them a decent chunk of time to think about what they wanted to buy once they reached the end of the experience.
Among the offerings were limited-edition apparel (hats, shirts, sweatshirts, and totes), stickers, patches, CDs, vinyl records – records signed by Olivia were just $5 extra – and a set of GUTS rings. The most talked about item on sale was a limited-edition novelty cereal called Olivia O's.
Items were priced high, but not absurdly so. A t-shirt, for example, was going for $40. That's expensive compared to Old Navy, but par for the course when you compare it to t-shirt prices at Broadway shows, sports games, or arena concerts.
The ring set was priced highest at $100, and the cereal for $25 a box. (We knew grocery prices were going up, but this is ridiculous...)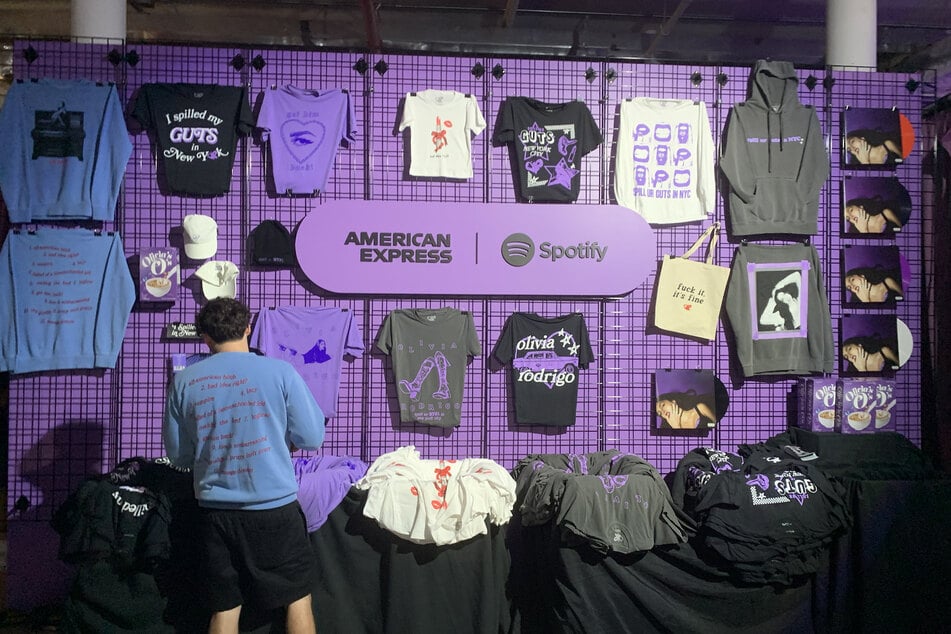 Get gutsy this weekend and don't miss your chance to visit the GUTS Gallery in New York City before it closes up shop for good!
Cover photo: Steffi Feldman