Tulsa Race Massacre survivors Viola Fletcher and Hughes Van Ellis get Ghanaian citizenship
Washington DC - Meet the newest citizens of Ghana! Tulsa Race Massacre survivors Viola Ford Fletcher and Hughes Van Ellis are officially dual citizens.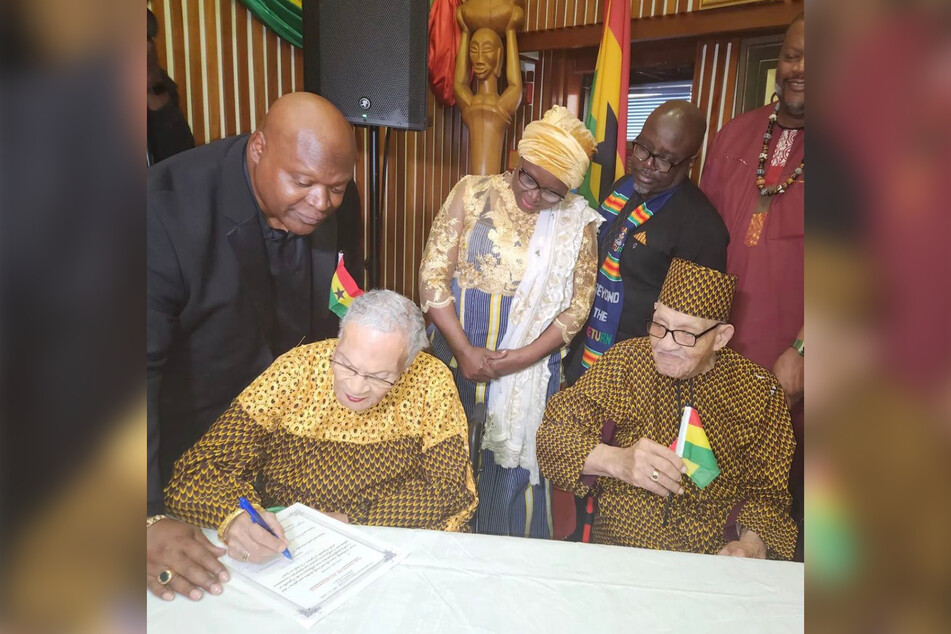 With Tuesday's ceremony at the Ghanaian Embassy, Fletcher (108) and Ellis (102) have become the oldest living African Americans to be granted citizenship of the Republic of Ghana, Justice For Greenwood announced.
Fletcher and Ellis, along with Lessie Benningfield Randle (108), are among the last-known living survivors of the 1921 Tulsa Race Massacre. Through their historic public nuisance lawsuit, they continue to demand reparations more than 100 years after a white mob tore through their neighborhood, murdering hundreds of Black residents and destroying thousands of buildings and homes.
Over the course of two days, the thriving Greenwood District, known as Black Wall Street, had been devastated beyond recognition. The impact can still be seen today in racial disparities across wealth, education, employment, health, and the criminal legal system.
The violence that destroyed the Greenwood community was perpetrated not only by white civilians, but also by city law enforcement officers. Attackers dropped firebombs on the community from US military aircraft and private planes.
Nevertheless, there has been little action at the federal and local levels to compensate the Tulsa Race Massacre survivors and their descendants for the pain and deprivation they have endured over the years.
Viola Ford Fletcher and Hughes Van Ellis honored in Ghana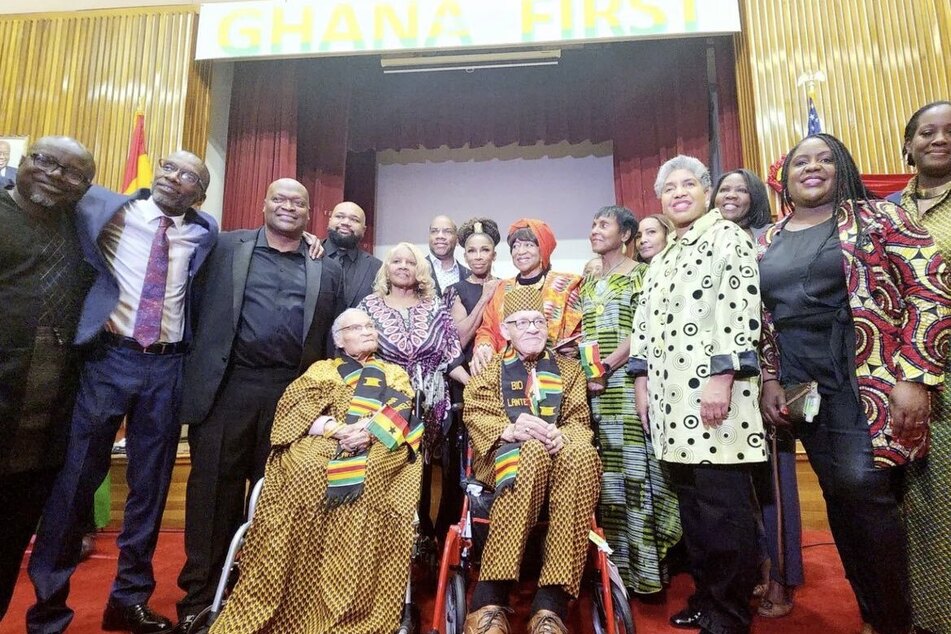 Fletcher and Ellis visited Ghana for the first time in 2021, where they were given a royal welcome and commended for their strength and resilience.
The siblings were also given new names to mark the occasion. As she was crowned a queen mother, Fletcher was honored as "Naa Lamiley" ("Somebody who is strong. Somebody who stands the test of time").
Ellis was made a chief and dubbed "Ike Ohe Ndi Igbo" ("Strength of the Igbo") and "Nii Lante" ("Loves helping other people because he has a kind heart"), according to the Washington Post.
Ghana's president, Nana Akufo-Addo, even granted Fletcher a plot of land in the capital of Accra, which she accepted.
Fletcher described the experience as "wonderful," while Ellis said, "I felt like a king. It made me so proud to be there."
"I let the world know that we are one. I let the world know that nobody can stop us. They tried to burn us, kill us, smoke us, and drag us. We are still here," Ellis explained in an interview at the time.
Ghana provides Tulsa Race Massacre survivors the "respect" the US won't
Fletcher and Ellis' historic citizenship ceremony on Tuesday took on even greater meaning in light of their decades-long struggle for justice in the United States.
"This is very special for me to be along this journey with them, not only for them but for myself," said attorney Damario Solomon-Simmons, who accompanied Fletcher and Ellis to Washington DC. "My uncle, Jake Simmons, was a pioneer in the Ghanaian energy industry and spent many, many hours; many, many days; many, many months over in Ghana, so it's very special."
"I'm very happy for the survivors that they're getting respect from a foreign country that their own country will not give them. It's sad, but at the same time, it gives me great joy that Ghana is recognizing them," he added.
Cover photo: Screenshot/Twitter/Just4Greenwood