Biden delivers sermon on democracy and voting rights at MLK's church
Atlanta, Georgia - Joe Biden on Sunday marked Rev. Dr. Martin Luther King Jr.'s birthday by delivering a sermon at the Civil Rights leader's former church, becoming the first sitting US president ever to do so.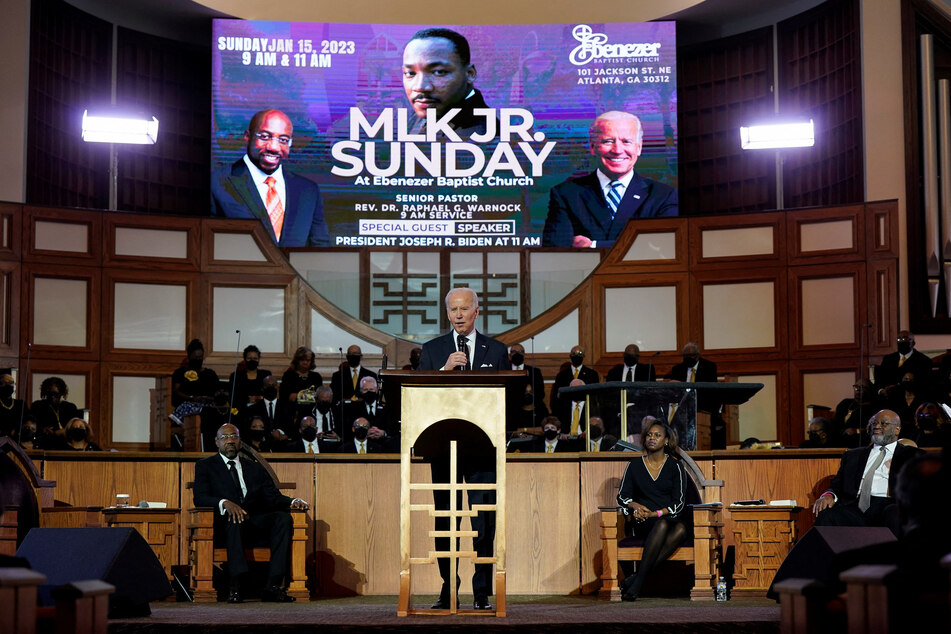 On what would have been MLK's 94th birthday, Biden was invited by current pastor Sen. Raphael Warnock to give a sermon at the Ebenezer Baptist Church in Atlanta, where the late hero served as co-pastor from 1960 until his assassination in 1968.
The president noted that he was "humbled" to become the first sitting president to take the pulpit. "I've spoken before Parliament, kings, queens, leaders of the world – I've been doing this for a long time," he said. "But this is intimidating."
During his remarks, which lasted around 25 minutes, Biden praised Dr. King's legacy and spoke on the need to continue fighting for democracy.
"I doubt whether any of us would have thought during Dr. King's time that literally the institutional structures of this country might collapse, like we're seeing in Brazil, we're seeing in other parts of the world," Biden said, referring to a January 6-style coup attempt in which supporters of far-right ex-president Jair Bolsonaro stormed the Brazilian Congress building.
At home in the US, the president acknowledged there is a lot of work needed to continue the legacy of MLK by protecting democratic institutions under threat and guaranteeing basic civil rights.
Biden remarks on the need for voting rights protections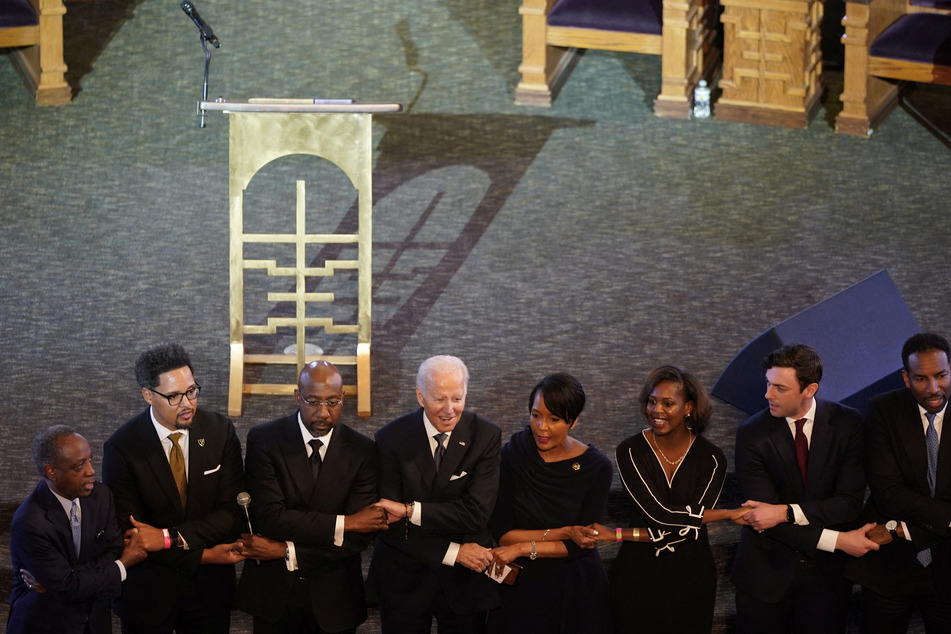 While Biden celebrated the appointment of the first Black female Supreme Court justice, Ketanji Brown Jackson, he said threats to equality still exist, including in the ongoing struggle around voting rights.
"Progress is never easy, but it's always possible and things do get better in our march to a more perfect union," the president said. "But at this inflection point, we know a lot of work that has to continue on economic justice civil rights, voting rights, protecting our democracy."
Expanding access to the ballot box was one of Biden's key presidential campaign promises, but his administration has so far failed to deliver. In a proclamation issued before the sermon, the president once again called on Congress to pass the John Lewis Voting Rights Advancement Act and the Freedom to Vote Act.
Both pieces of legislation failed to make it out of the Senate in January 2022, due in large part to opposition from Democrat Joe Manchin, now-Independent Kyrsten Sinema, and all Republicans. After months of hesitation, Biden in December 2021 finally announced his support for an exception to existing filibuster rules – which require a 2/3 supermajority to pass most legislation in the Senate – to advance voting rights, but it was too little, too late.
The bills have remained stalled ever since.
Republicans threaten more voter suppression in 2023
Meanwhile, Republican-led states have taken advantage of Democrats' inaction to pass a slew of voter suppression laws that disparately impact voters of color. Many of their new redistricting maps, which are set to shape the electoral landscape for the next decade, appear designed to reduce the power of the Black vote.
The conservative-majority Supreme Court has also gutted protections for Black and brown voters that were enshrined in the Voting Rights Act of 1965 – a crowning achievement of the US Civil Rights Movement and MLK's advocacy. The court is expected to release a decision on even further cuts to voting protections by June 2023.
Despite the grim outlook, Biden shared a message of hope, suggesting that winning federal protections is still possible. "Folks, for God's sakes, this is the United States of America," he said. "There's nothing beyond our capacity if we set our mind to it."
Cover photo: REUTERS